Profile: Communications and Media Commission
Updated August 10, 2023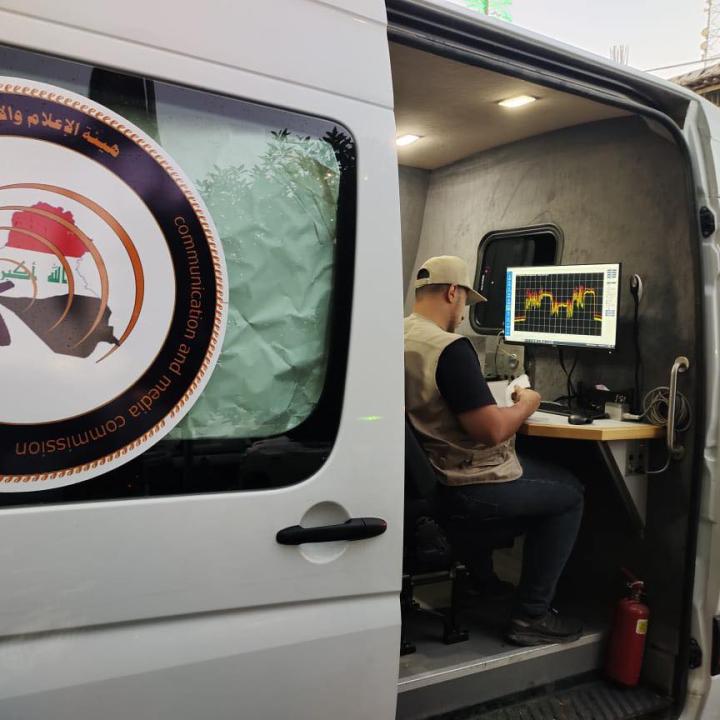 After falling under the control of "resistance"-linked board members, this key Iraqi media institution began a widespread crackdown on freedom of expression.
Name: Hayat al-Ealam wa al-Etesalat (Communications and Media Commission, or CMC).
Type of movement:
"Financially and administratively independent institution" tasked with monitoring and regulating media and communications in Iraq. Membership is now controlled by political blocs aligned with the Coordination Framework and muqawama (resistance) militias.
Role (see Section 5 of Executive Order 65 of 2004):
Manages communications and media licensing processes in Iraq.

Establishes the regulatory regime for telecommunications, broadcasting, and information services by:

drafting and promulgating rules and regulations

"encouraging freedom of expression and press professionalism"

creating effective and mandatory codes of practice governing media-related industries, including copyright protections, fraud prevention, advertising, and media activities during election periods.
History and objectives:
The CMC was established according

to Executive Order 65 of 2004, issued by Paul Bremer, then head of the Coalition Provisional Authority (CPA). Section 4 outlines its organization, which consists of the following bodies and positions:

Board of Commissioners

 (i

ncludes nine members, one of whom is chair)

Director-General

Hearings Panel

Appeals Board

Inspector-General

Any advisory boards that the board or director-general deems necessary

Since 2005, the CMC has implemented requirements set out in Iraq's constitution:

Article 38:

"

The state shall guarantee in a way that does not violate public order and morality: First, freedom of expression using all means. Second, freedom of press, printing, advertisement, media, and publications.

"

Article 103: "The Communications and Media Commission...[is a] financially and administratively independent institution, and [its] work...shall be regulated by law."

Both Executive Order 65 and the Iraqi constitution require the CMC to be independent. The executive order also requires the CMC to be guided by the International Covenant on Civil and Political Rights (ICCPR), to which Iraq is a signatory. Article 19 of the ICCPR enshrines the right to freedom of expression, which is also guaranteed under Article 38(1) of the Iraqi constitution.

When operating under pro-muqawama leadership, the CMC tends to restrict freedom of speech:

On August 9, 2023, the CMC banned public use of the terms "homosexuality, homosexual, and gender" as being incompatible with Iraqi society. The CMC guided that Iraqis should instead use the term "sexual deviancy." International NGOs condemned the decision.

On March 16, 2023, a draft of a new CMC regulation policy on digital content (

Regulation No. 1 of 2023 for Digital Content in Iraq) was leaked. It quickly drew criticism from twelve international organizations (see Figure 1) for exceeding its delegated authorities from parliament and violating various constitutional articles, specifically by considering policies to reduce freedom of expression and criminalize investigative journalism. A full English translation of the draft regulation can be found here.

In February 2023, the German network DW reported that one of its teams had been barred from recording a show in Baghdad by the CMC, which demanded that the crew obtain a

special permit from the commission, in contrast to precedent.

 The CMC did not deny this claim. As a result, the DW team was unable to film its program and had to leave the country on short notice.

On June 17, 2022, CMC d

irector-general Ali Hussein al-Moayad (see below) barred Iraqi channels from hosting Ismail Musabbah al-Waeli, a prominent political critic of Supreme Judicial Council president Faeq Zaidan and various muqawama politicians. Waeli had remarked that Iraq's Federal Supreme Court follows Iranian guidance, a charge that Zaidan is particularly sensitive toward.

In April 2020, under Prime Minister Adil Abdulmahdi, the CMC

suspended the license of major international media outlet Reuters for three months and fined it 25 million dinars for its reporting on the government's COVID-19 response

.

On November 12, 2019, in the midst of the Tishreen protests and under Prime Minister Abdulmahdi's tenure, the CMC suspended

eight television broadcasters and four radio stations for three months due to their coverage of civil society demonstrations and muqawama human rights abuses. Five other channels were given warnings for similar reasons. 

The U.S. embassy in Baghdad

condemned

the suspensions and warnings.
Chain of command:
When the CMC was first established, the head of the CPA had the authority to appoint its d

irector-general

and board members. The commission still operates under this order, which means the prime minister has assumed the authority previously granted to the CPA head. Since Iraq's constitution was passed in 2005, the prime minister has selected an acting CMC d

irector-general

and all commission members; these members then select their chair through a majority vote.

Beginning in 2022, board appointments made by Prime Minister Mohammed Shia al-Sudani—who was nominated to his post by the Coordination Framework (CF), the main muqawama political bloc—helped the CF establish control over the CMC via majority voting power. 

The CMC d

irector-general chosen in 2022—Ali Hussein al-Moayad—is a relative of Ammar al-Hakim, the leader of the Hikma movement and a member of the CF. On August 6, 2023, Sabereen News leaked a letter with a CMC letterhead in which Moayad ordered Iraqi telecommunications providers to give free support to Hikma political SMS text messaging.

CF members now comprise a majority of the CMC board.
Affiliate relationships:
Along with Director-General Moayad, five of the CMC's nine board members are drawn from CF factions:

Mahmoud al-Rubaie, who served as spokesman for the political office of the U.S.-designated terrorist group

Asaib Ahl al-Haq

 before his appointment to the CMC board.

Amtar Rahim al-Mayyahi, a former

Badr Organization

 representative on the Basra provincial council. Her husband is high-ranking Badr member Abu Ahmed al-Rashed.

Mohammad al-Hamad, a figure close to State of Law Alliance chief Nouri al-Maliki. Previously, Hamad served as general manager of Afaq TV. He is now deputy head of the

Iraqi Radio and Television Union

, an offshoot of Iran's

Islamic Radio and Television Union

(IRTVU). In October 2020, the U.S. Treasury Department's Office of Foreign Assets Control

designated

 IRTVU and other Iranian entities for obtaining American voter registration data in order to influence U.S. elections and incite unrest.

Mujahed Abu al-Hail, affiliated with former prime minister Haidar al-Abadi, a CF member.

Moayyad al-Lami, head of the Iraqi Press Syndicate, affiliated with Prime Minister Sudani.

The other four board members are drawn from non-CF factions:

Bassam Salem Hussein, affiliated with speaker of parliament Mohammed al-Halbousi.

Abdulwahhab al-Saffar, affiliated with Khamis al-Khanjar, head of the Sunni Arab Siyada coalition.

Ava Faiq Nadir, affiliated with the Kurdistan Democratic Party (KDP).

Abduladhim Mohammad al-Saleh, affiliated with the Sadrist movement.
Subordinate elements: 
Board Hearing

Appeal Board   

The CMC

controls the .iq domain

, giving it responsibility over the hosting of media outlets tied to designated terrorist organizations—for instance 

al-Etejah Television

, affiliated with 

Kataib Hezbollah

, and Kaf, 

KH's official platform

. 

The CMC controls licensing of telecommunications companies, a highly lucrative business in Iraq with influence over the payment or forgiveness of telecom company debts and the issuance of new licenses.