Militia Reactions to Iraq's Suspension of Telegram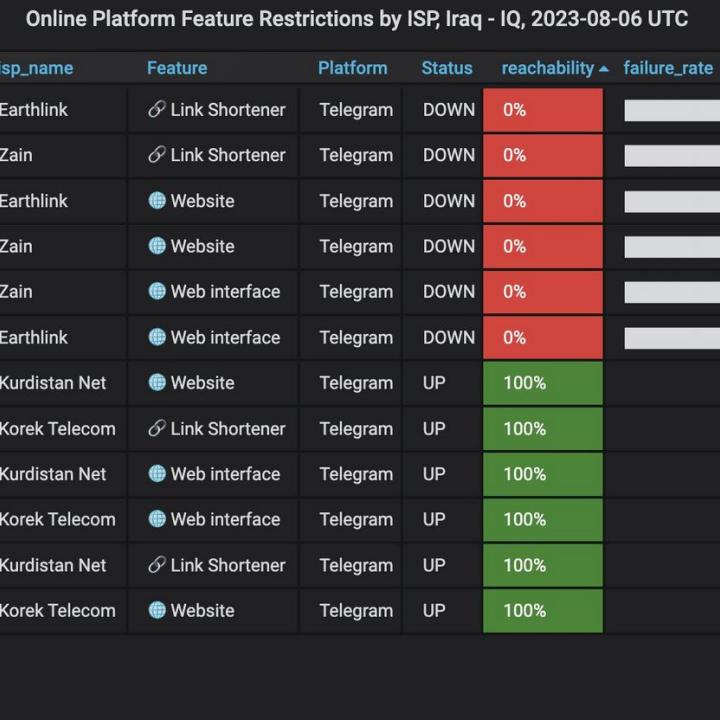 The official ban on their favorite social media app may be temporary, but their response has highlighted divisions within the Shia militia milieu.
On August 6, citing a national security directive issued by "higher authorities" (i.e., Prime Minister Mohammed Shia al-Sudani), Iraq's Ministry of Communications ordered telecom providers to prevent local access to the messaging app Telegram. Two Baghdad-based providers—EarthLink and Zain—complied immediately, while the Kurdistan-based operators Korek Telecom and Kurdistan Net continued providing access in their areas of coverage. In parallel, the ministry asked Telegram to close down specific  "platforms that leak the data of official state institutions and the personal data of citizens." Yet Iraqis could still access the app through virtual private networks.
Why Was Telegram Restricted?
As Iraq enters the campaign season for hotly contested provincial elections on December 18, the main militia political coalition—the Coordination Framework (CF)—appears divided over Telegram's role in the process. Prime Minister Sudani has seemingly sided with former premier Nouri al-Maliki's faction in supporting a crackdown on the app, presumably in order to prevent Maliki's more Telegram-savvy CF rivals from using it during the campaign—namely, Asaib Ahl al-Haq (AAH), Kataib Hezbollah (KH), and his bitterest opponent Muqtada al-Sadr. Such restrictions could impede the Sadrists from rapidly mobilizing opposition against Maliki's electoral infrastructure across southern Iraq, as they did when a number of Maliki-linked offices were targeted on July 17. If the goal is indeed to disadvantage Sadrists and youth protesters, these elements have done little in response so far, perhaps because the restrictions will be removed soon.
In contrast, muqawama (resistance) Telegram channels have rapidly lashed out at Sudani and his government, especially Communications Minister Hayam al-Yasiri and the head of the Communications and Media Commission (CMC), Ali al-Moayad, accusing them of following the American ambassador's commands. Sabereen News posted a graphic that showed Yasiri, Moayad, and Ambassador Alina Romanowski with the caption, "The Godfathers of blocking and closing Telegram in Iraq. #the nation of Romanowski" (Figure 1).
Another image posted by some militia elements showed nine Telegram channels confronting Romanowski, President Joe Biden, former prime minister Mustafa al-Kadhimi, and UN special representative Jeanine Plasschaert, with the caption, "Don't be ungrateful. We were the ones who fought their mean methods and exposed them. I swear we will not be quiet" (Figure 2).  
Sabereen also posted a message on CMC letterhead purportedly giving Moayad—a relative of CF member Ammar al-Hakim, the leader of the Hikma movement—seventy-two hours to lift the Telegram ban. Otherwise, the letter threatened, information would be released proving that Moayad misused his post by ordering the telecom providers Zain, Asiacell, and Atheer to provide unlimited free text messaging to publicize Hikma political rallies (Figure 3). The full letter was later published by Sabereen News.
The Big Losers: AAH, KH, and Nujaba
In response to the controversy, AAH military spokesman Jawad al-Talibawi tweeted, "We were surprised by the banning of this application [Telegram] in Iraq. [It is] an incomprehensible measure that overtook the most important achievement after overthrowing the dictatorship, which is the freedom of speech and expression guaranteed by the constitution. We ask the Iraqi government to reconsider this measure that caused damage to one of the Iraqi people's rights. We also ask them to fix the security leaks [that harm] citizens and the state through correct measures and methods, not by banning applications and shutting down platforms that had an important role in defending the state and the holy sites" (Figure 4).
Meanwhile, muqawama Telegram channels appealed for help from members of parliament and other associated politicians. Mustafa Sanad—a fast-rising parliamentarian from Basra who is associated with KH—criticized the ban and wrote, "Government sites are moving from the Russian Telegram to the Israeli Viber" (Figure 5), incorrectly describing the latter firm as an Israeli company (Viber's original founders were Israeli, but the app has been owned by the Japanese company Rakuten since 2014).