Iraq's "Muqawama Government" Drives Out Prominent LGBTQ Advocate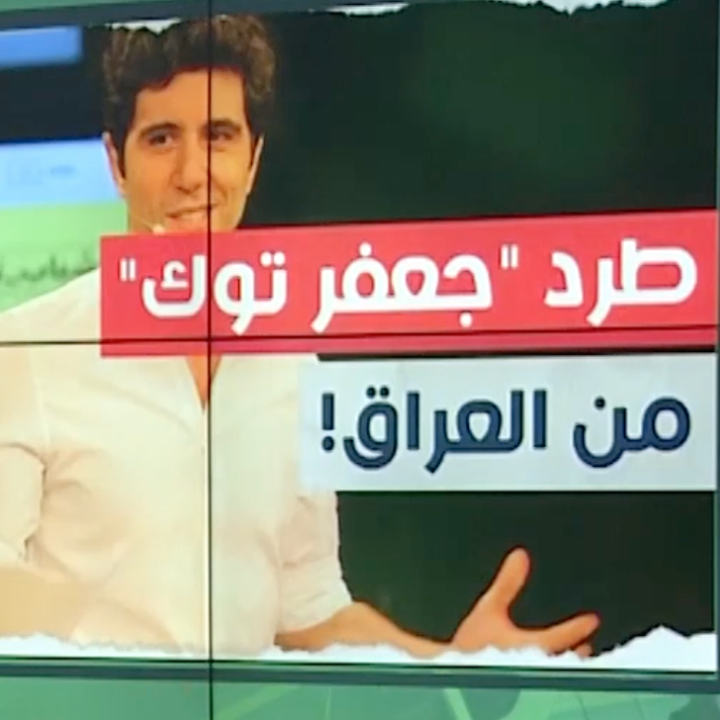 Officials appear to be cracking down on freedom of speech and alternative lifestyles opposed by the self-styled militia "resistance."
On February 2, 2023 Jaafar Abdul Karim, host of the television show JaafarTalk, had to leave Baghdad with his team due to security concerns. Broadcast by the German network DW, JaafarTalk is famous for covering sensitive topics in Iraq and the wider region, such as gay and transgender rights, gender-based violence, and lack of gender equality. 
According to DW, Karim was threatened with arrest by the Iraqi government, with representatives of the Interior Ministry reportedly visiting his hotel in the capital and informing him that he was barred from filming unless he received a special permit from the Communications and Media Commission (CMC). His program was due to film at al-Zawraa Park in downtown Baghdad on February 3; DW stated that it had acquired a permit in advance through the normal process.
The CMC is an independent institution established under the Iraqi constitution to regulate the media sector, in keeping with Article 38, which guarantees "freedom of expression by all means" as long as it "does not violate public order and morality." In 2022, U.S.-designated terrorist group Asaib Ahl al-Haq (AAH) and other factions of the Iran-backed Coordination Framework (CF) took steps to exert control over the CMC's six-member board. For one, they restored the previously ousted chair Ali Hussein al-Moayad, a relative of Hikma movement leader Ammar al-Hakim. Moayad also has the support of a new board member: AAH official Mahmoud al-Rubaie. In addition, reports indicate that Amtar Rahim al-Mayyahi of the Badr Organization was appointed, along with Mohammad al-Hamad, a figure close to State of Law Alliance chief Nouri al-Maliki. Previously, Hamad served as general manager of Afaq TV and deputy head of the Iraqi Radio and Television Union, an offshoot of Iran's Islamic Radio and Television Union (IRTVU). In October 2020, the Treasury Department's Office of Foreign Assets Control designated IRTVU and other Iranian entities for obtaining American voter registration data in order to influence U.S. elections and incite unrest. In short, CF players now control a majority of the CMC board.
Since last year, the CMC has been increasingly active in attempting to silence opponents of the muqawama (resistance) by imposing restrictions and other controls on media channels and presenters. For example, on June 17, it barred Iraqi channels from hosting Ismael Musabah al-Waeli, a prominent political critic of Supreme Judicial Council president Faeq Zaidan and various muqawama politicians. Waeli had remarked that Iraq's Federal Supreme Court follows Iranian guidance, a charge that Zaidan is particularly sensitive toward (Figure 1).
Increasing Use of "Lawfare" Against Media Figures
Militia media had attacked JaafarTalk for years before the latest incident, claiming that it goes against Iraqi culture and promotes "unnatural demeanors"' deemed harmful to Iraqi society. Although many non-muqawama Iraqis criticize JaafarTalk as well, the militias are leading the current campaign against the show, its host, and the LGBTQ themes that it often discusses. On December 8, 2022, lawyer Ahmed Shahid Marhoon filed a lawsuit against Jaafar Abdul Karim in an Iraqi court, requesting that the judiciary bar him from entering the country (Figure 2). 
On December 22, 2022, Marhoon joined muqawama journalist Sarmad Salam Lafta in a joint lawsuit against Ahmed Albasheer, the political satirist whose show is also aired on DW (Figure 3). Lafta has previously worked for the media committee of the Badr Organization's Islamic Cultural Center (Figure 4). 
Meanwhile, on January 10, senior AAH parliamentarian Ali Turki described the CF-led government of Prime Minister Mohammed Shia al-Sudani as a "muqawama government," adding, "The muqawama has come to represent the official view of Iraq, and it is the one running affairs today." No government official corrected this statement, nor did anyone counter AAH leader Qais al-Khazali when he characterized Sudani as "a general manager" and no more.
The muqawama appear to be ramping up their control and censorship in the media space, in particular seeking to silence critics who bring to light evidence of Iranian and militia perversion of the judicial, executive, and legislative branches. This campaign includes accelerated use of lawfare against media programs and their presenters.