Profile: The Iraqi Radio and Television Union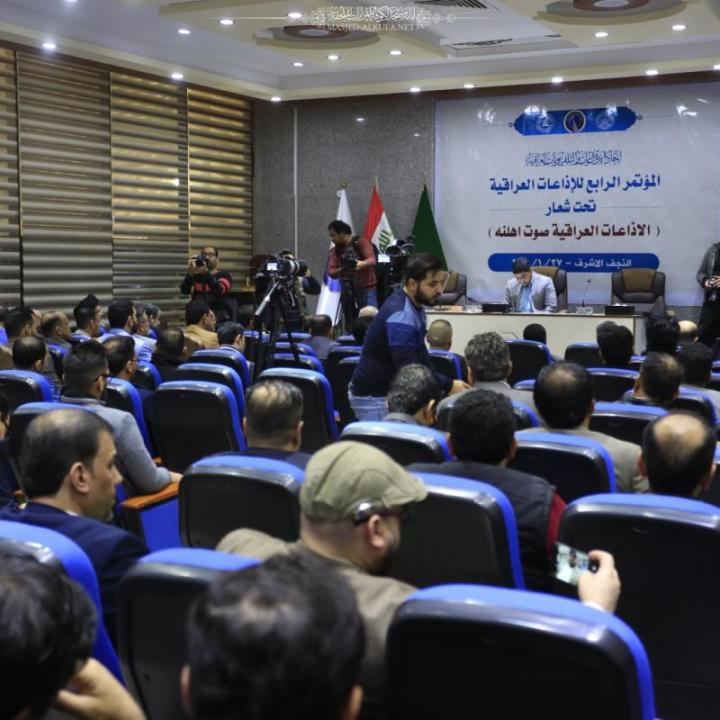 An overview of Iraq's offshoot of the Islamic Radio and Television Union, an Iranian umbrella group that provides support to "resistance" media outlets.
Name: Etehad al-Ethaat wa Telfezyounat al-Iraqiya (Iraqi Radio and Television Union, Iraqi RTVU). (This profile was last updated on October 22, 2022).
Type of movement: Media organization that supports nonkinetic information operations and propaganda activities in Iraq by providing funds and infrastructure for muqawama (resistance) outlets. Supports domestic counter-U.S. operations, domestic counter-political/social moderate operations, and foreign counter-Saudi operations
History and objectives:
The organization is an offshoot of Iran's Islamic Radio and Television Union (IRTVU).
Launched on June 22, 2012, in Najaf. Held a founding conference on September 17, 2013, in Baghdad.
Iraqi cleric Muhammad Dhiya al-Beedhawee was elected as the union's head on June 22, 2012, then quickly replaced by Hamid al-Husseini, an Iraqi cleric with close ties to the Iranian Supreme Leader's office. Husseini holds the rank of colonel in Iran's Islamic Revolutionary Guard Corps (IRGC), a connection that began forming after he fled Iraq during the Saddam Hussein era.
The union's deputy head is Mohammad al-Hamad, who manages the satellite network Afaq TV and has close ties with former prime minister Nouri al-Maliki, the secretary-general of the Islamic Dawa Party.

The union's secretary is Mohammad Ali al-Zuhairi.

The 

speaker and head of PR in the union is Adnan al-Arabi who used to speaker for the Iraqi Ministry of Higher Education and Scientific Research.

Mahmoud al-Hashemi is the union's advisor on research matters. He is also the head Markaz al-Etehad lil Dirasat al-Esteratijiya (Union Center for strategic Studies), a

 

research institute established by the 

Iraqi RTVU.
The union has helped create a sustainable infrastructure for muqawama television and radio channels in Iraq. Since its establishment, the numbers and capacity of Iraqi muqawama editorial and technical cadres have grown exponentially. The union also helps sustain these channels through funding provisions, technical/logistical support, and training.
The organization plays a critical role in devising disinformation/propaganda strategies for its member groups—a mission emphasized by union chief Husseini.
Chain of command:
The Iraqi union is a subordinate branch of IRTVU, which is funded and run by Iran. As shown by Husseini's background, the Iraqi organization has close ties with the IRGC and the Iranian Supreme Leader's office.
Affiliate relationships:
Ten Iraqi television and radio channels comprise the union's founding committee, including al-Ahd TV (belonging to the militia Asaib Ahl al-Haq), al-Ghadeer TV (belonging to the Badr Organization), and Afaq TV (owned and run by the Islamic Dawa Party).
The union claims to include 110 media outlets as members, most of them belonging to muqawama groups. Among them are al-Etejah TV (run by Kataib Hezbollah), al-Nujaba TV (run by Harakat Hezbollah al-Nujaba), and iNEWS (run by Kataib Sayyid al-Shuhada). The union has also included some non-muqawama Islamic outlets and even some seemingly liberal channels (e.g., Asia TV, which is owned and run by the Iraqi National Congress).
Subordinate elements:
The union has a website with an Iraqi (.iq) domain, an active Facebook page, a dormant YouTube channel, and a mobile app available on iOS and Android systems.