Bennett's Bahrain Visit Further Invigorates Israel-Gulf Diplomacy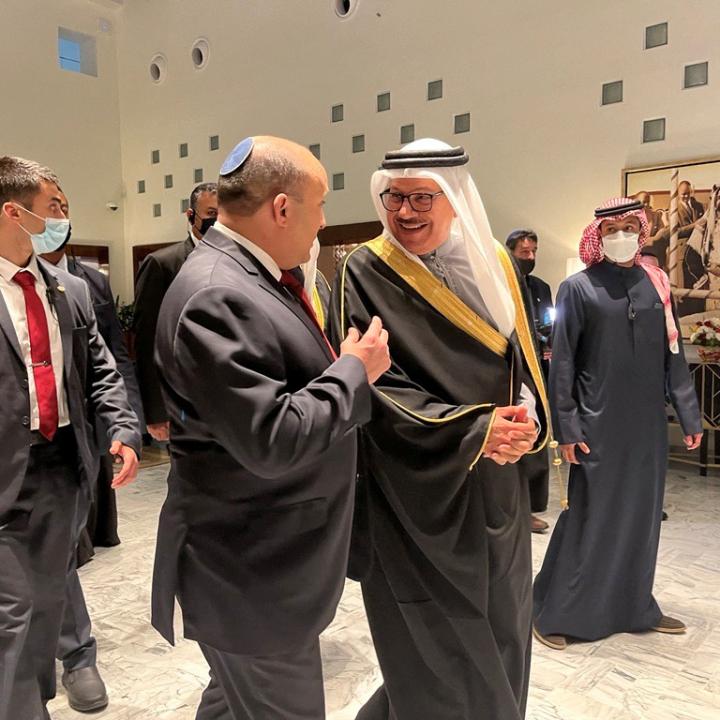 The trip reflects the diplomatic competition between Manama and Abu Dhabi, and also suggests that a breakthrough with the Saudis could be close.
Another week, another senior Israeli visit to the Gulf. Earlier today, Prime Minister Naftali Bennett flew across Saudi Arabia en route to Bahrain. The trip was even more historic and diplomatically significant than that of Defense Minister Benny Gantz, who took the same route on February 2 to sign security agreements with the island state and visit the local U.S. Navy headquarters. Manama already opened diplomatic relations with Jerusalem in 2020, so it is unclear what extra level of relations can be achieved with such high-level visits. But given the island's literal and political connections with Saudi Arabia, Bennett's move will increase speculation that open, perhaps even formal, Israeli relations with Riyadh are imminent.
In part, Bahrain appears to be playing diplomatic catch-up with the United Arab Emirates, which hosted Bennett in December. The island's ruler, King Hamad, has advocated friendships between members of different religions for years, and the island has a small, fifty-member indigenous Jewish community with its own synagogue and cemetery. Yet Crown Prince Muhammad bin Zayed of Abu Dhabi, the de facto ruler of the Emirates, has achieved a higher public profile for his country's progress on Arab-Jewish relations. Additionally, the UAE's economic relations with Israel appear to be much more developed than Bahrain's, including many years' worth of significant trade activity and, more recently, multiple daily airline flights. (The impact of an ongoing squabble between Israel and the Emirati business hub of Dubai over preflight security procedures remains unclear.)
Bahrain's major diplomatic advantage is that it is linked to Saudi Arabia by a causeway, which essentially makes it an integral part of the Saudi economy. Hence, Riyadh has likely permitted and even encouraged Bahrain's increasing closeness to Israel. Crown Prince Muhammad bin Salman, who oversees most of Saudi Arabia's day-to-day affairs given the advanced age of his father, King Salman, is known to privately advocate ties with Israel—not just for economic reasons, but also to meet the challenge of Iran.
Israeli diplomatic progress with other Gulf states has been slower. Oman welcomed Binyamin Netanyahu when he was prime minister but is apparently cautious about more such diplomacy because of its geographical proximity to Iran, with which it shares offshore oil and natural gas fields. Qatar has the same problem—the world's largest offshore gas field lays astride its maritime boundary with Iran. The country also publicly advocates a more pro-Palestinian position than Bahrain or the UAE. Even so, Doha still maintains discreet links with Jerusalem, and social media regularly carries evidence of executive jets flying from Israel to Qatar—albeit after making brief stops in Cyprus or Jordan to avoid being labeled as direct flights. Kuwait has taken the hardest line in favor of the Palestinians, in part reflecting the stronger influence of public opinion in that country.
Most of Bahrain's population is unlikely to be happy about the uptick in Israeli diplomacy either, though perhaps for a different reason: the perceived economic and political discrimination that the Shia Muslim majority faces from the Sunni rulers who facilitate this outreach. Yet the more significant politics to watch probably lie within the royal family itself. King Hamad supports outreach to Israel based on his personal views about regional and religious affairs; his eldest son Salman, the prime minister and crown prince, endorses such diplomacy as well. Yet Salman may be sidelined by family hardliners, who view him as weak and regard the island's Shia community as pro-Iranian. Another of the king's sons, Sheikh Nasser, is increasingly prominent. A rivalry that developed under the king's late uncle, the long-serving prime minister Sheikh Khalifa, appears to have been reconstituted.
The next few weeks could prove to be even more significant. On February 22, Saudi Arabia celebrates its first Founding Day, an event that may be accompanied by political changes such as elevating the crown prince's role. Indeed, this new regional diplomacy has many moving parts.
Simon Henderson is the Baker Fellow and director of the Bernstein Program on Gulf and Energy Policy at The Washington Institute.