Israeli Defense Minister's Visit to Bahrain Marks Major Advance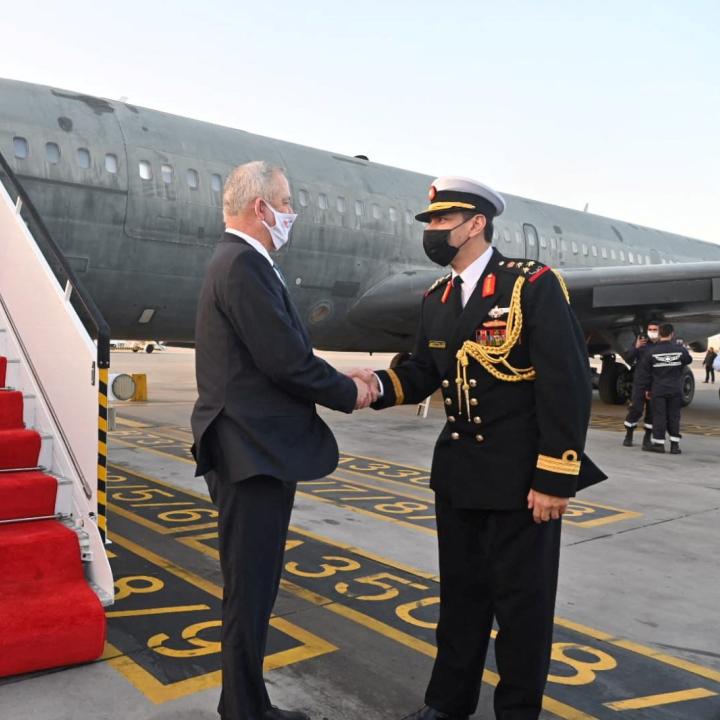 Iran is the dominant issue as top officials meet to finalize security pacts.
Israel's diplomatic efforts in the Gulf are making further advances this week. Earlier today, Defense Minister Benny Gantz flew to the island kingdom of Bahrain—significantly, in an Israeli Air Force refueling tanker that received permission to cross Saudi airspace. Greeted by his Bahraini counterpart Abdullah bin Hassan al-Nuaimi, Gantz is also expected to meet with King Hamad bin Isa al-Khalifa and his prime minister son, Crown Prince Salman, in addition to visiting the headquarters of the U.S. Fifth Fleet and NAVCENT, the naval headquarters of U.S. Central Command.
Although Foreign Minister Yair Lapid traveled to Manama last September for the high-profile official opening of the Israeli embassy, Gantz's visit represents a significant step forward. Building on Israel's shift into CENTCOM's area of responsibility, Jerusalem is now closely observing and participating in Washington's Middle East defense planning. In essence, CENTCOM's priority role is ensuring the free flow of oil and natural gas from the Gulf to the rest of the world. The principal perceived threat to that flow is Iran, which in recent days has been judged complicit in a Yemeni Houthi missile and drone attack on the United Arab Emirates.
Interestingly, the Gantz visit gives the perception that Israel's relations with Bahrain have leapfrogged its ties with the UAE. Yet the increasingly overt cooperation is not without risks. Bahrain's Sunni Muslim royal family rules a country with an estimated 65-70 percent Shia population. Politically underrepresented and economically disadvantaged, many of these Shia reportedly look at Iran favorably. For its part, Tehran demanded sovereignty over the island for decades until dropping the formal claim in the 1970s.
Consequently, Gantz's visit could spur protests among elements of the Shia community and even some Sunnis who oppose links with Israel. Although high-profile displays will probably be deterred by the often heavy hand of local security forces, the U.S. embassy website has long warned the several thousand American service personnel living in Bahrain about potential Shia hostility. For instance, the site includes a map of the island showing red-marked areas where U.S. government employees cannot go, and additional yellow areas where they cannot go at night. One red area is in Manama itself, close to NAVCENT headquarters. Relatedly, foreign diplomats counseled Israeli embassy staff last year against shining an image of their national flag on the new building.
It is not clear whether the details of any security pacts signed this week will be revealed in public. Traditionally, Manama has concentrated on internal security, hiring police recruits in Oman and Pakistan who can become eligible for citizenship after their years of service. Bahrain's Air Force currently operates F-16s, and its naval forces are expanding. Some of its vessels are also participating in the current NAVCENT exercise alongside Israeli ships.
Simon Henderson is the Baker Fellow and director of the Bernstein Program on Gulf and Energy Policy at The Washington Institute.