Saudi Arabia Adjusts Its History, Diminishing the Role of Wahhabism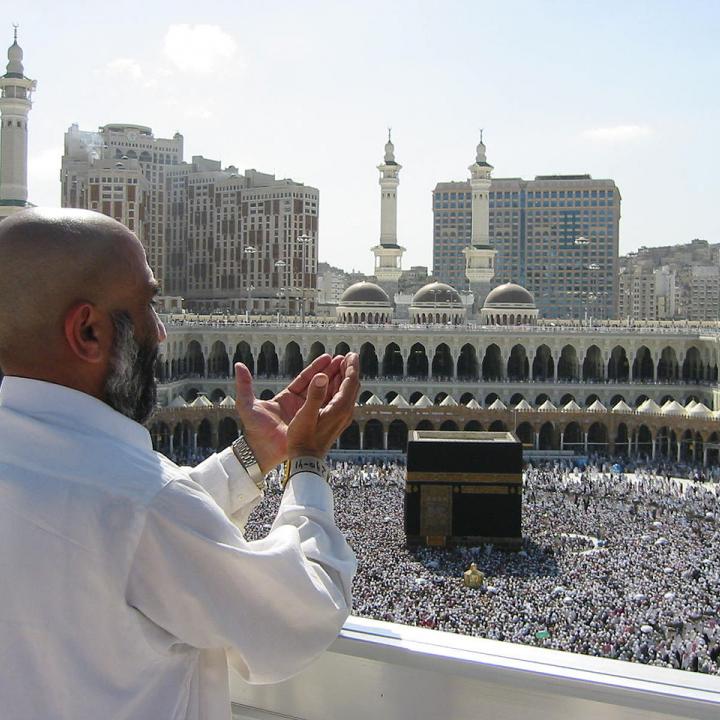 The first celebration of Founding Day, on February 22, could be accompanied by other changes.
Since King Salman became monarch in 2015, and especially since his favorite son, now thirty-six-year-old Muhammad bin Salman—known as MbS—became crown prince in 2017, the underlying theme of political change in Saudi Arabia has been more nationalism and less religion. Parallel to this trend has been the question of when eighty-six-year-old King Salman, whose health is declining, might give up at least one if not more of his current three roles: Custodian of the Two Holy Places of Mecca and Medina, king, and prime minister. MbS already runs the country on a day-to-day basis, although his father continues to chair the weekly Council of Ministers meetings. But notably, President Biden refuses direct contact with MbS, apparently because of the crown prince's association with the 2018 murder of the dissident journalist Jamal Khashoggi in Istanbul.
The latest development in Saudi Arabia is significant: the equivalent of the United States deciding independence did not occur in 1776. For many years, scholars have described the historical origins of Saudi Arabia in terms of an alliance between a tribal leader named Muhammad bin Saud, who ruled the area around the town of Dariyah, in central Arabia, and an Islamic preacher named Muhammad ibn Abdul Wahhab, who had sought refuge in 1745 after fleeing from nearby villages for preaching an Islamic orthodoxy that criticized local practices. Together, the men became allies and hatched a plan to combine Muhammad bin Saud's tribal leadership and fighting prowess with Abdul Wahhab's religious zeal to have a jihad (campaign) to conquer and purify Arabia. The relationship was cemented by family intermarriage, including the pairing of Muhammad bin Saud with one of Abdul Wahhab's daughters. The alliance was judged to be the beginning of what became known as the first Saudi state.
But now, according to a decree issued by King Salman on January 27, the first Saudi state has been declared to have been founded in 1727, eighteen years before Abdul Wahhab fled to Dariyah. The year 1727 reflects when Muhammad bin Saud took over local leadership upon the death of his father, Saud bin Muhammad. An article in the Saudi English-language Arab News daily on January 31 describes how Saudi historians have conducted extensive research to support the significance of the new date. The article describes Dariyah, now a historical site on the northwest edge of the modern capital, Riyadh, as then itself a city-state and says Muhammad bin Saud was determined to transform it into a nation-state and "bring peace and unity to the wider Arabian peninsula."
The Saudi government, while perhaps not completely rewriting history, is certainly tweaking it. On the website of the Saudi embassy in Washington DC, viewed January 29, are these lines on the history of the first Saudi state: "Muhammad bin Abdul Wahhab and Muhammad bin Saud formed an agreement to dedicate themselves to restoring the pure teachings of Islam to the Muslim community. In that spirit, bin Saud established the First Saudi State, which prospered under the spiritual guidance of bin Abdul Wahhab, known simply as the Shaikh."
By February 9, that same section of the website read: "In that spirit, bin Saud established the First Saudi State in 1727, which prospered under the spiritual guidance of bin Abdul Wahhab, known simply as the Shaikh."
The new Saudi Founding Day later this month will not be a national day. That is still September 23 every year. But in choosing 1727 as the start of the first Saudi state, King Salman and his son and crown prince, Muhammad bin Salman, are diminishing the historical role of the Wahhabi clerical establishment, which until Salman became king was often described as a coalition partner of the al-Saud, albeit a junior one.
In Saudi counting, there have been three Saudi states so far. The first lasted until 1818, when Dariyah was occupied by the Ottoman Turks, who executed the ruler at the time, a great-grandson of Muhammad bin Saud. The second Saudi state dates from 1824 until 1891, when the ruler was forced to flee to what is now Kuwait, along with his eleven-year-old son, Abdulaziz. Eleven years later, that same Abdulaziz led a small group in an attack on Riyadh and seized control. Abdulaziz, the father of current King Salman, then spent thirty years conquering Arabia, in part with religious shock troops known as the Ikhwan, before establishing Saudi Arabia in 1932 and declaring himself king.
Despite claims of simple continuity, al-Saud rule has had to display considerable ingenuity in coping with historical challenges and intrafamily tensions. In 1982, King Fahd, an elder brother of King Salman, introduced a Basic Law, which to the surprise of then crown prince Abdullah declared the position of crown prince to be a gift of the king, rather than Abdullah's by right. When Abdullah became king in 2005, he established an Allegiance Council to broaden the number of senior princes involved in confirming a new king. Since becoming monarch in 2015, King Salman, supported by MbS, has engaged in almost internecine tactics to see off rivals. A crown prince and a deputy crown prince, both seen by Abdullah as future kings, are now detained in special royal prisons. One was reported to have been tortured by suspension from his ankles.
The expectation that February 22 will see further new announcements has been increased by King Salman's return to Riyadh after two years of COVID exile in a palace in NEOM, the futuristic city being built on the northern Red Sea coast. And MbS missed attending the opening of the Beijing Winter Olympics because of an unspecified "scheduling conflict."
Prospective changes that further dampen the crown's ties to fundamentalist Islam could prompt pushback, either by other members of the royal family or by religious leaders, or by a combination of both. Other royals are resentful that they have been marginalized, and the once well-funded clerical establishment has been steadily undermined by MbS's tactics. Additionally, some may sense this is the last chance to stop MbS from becoming king. Measures by the royal court to block such opposition can also be expected.
For the United States, these changes, and world tensions, may mean it is time to deal more directly with MbS. In a phone call on February 9, however, President Biden spoke only with King Salman about energy, Iran, and Yemen. On the Saudi embassy website, under "Saudi Leaders," all the kings from Abdulaziz onward are listed with their biographies. MbS is also listed, but the link to his bio is not yet live.
Simon Henderson, the Baker Fellow at The Washington Institute, is the author of three Institute studies on the Saudi royal family, "After King Fahd" (1994), "After King Abdullah" (2009), and "A Fifty-Year Reign? MbS and the Future of Saudi Arabia" (2019).