Gas Likely to Top Agenda of Qatar's White House Visit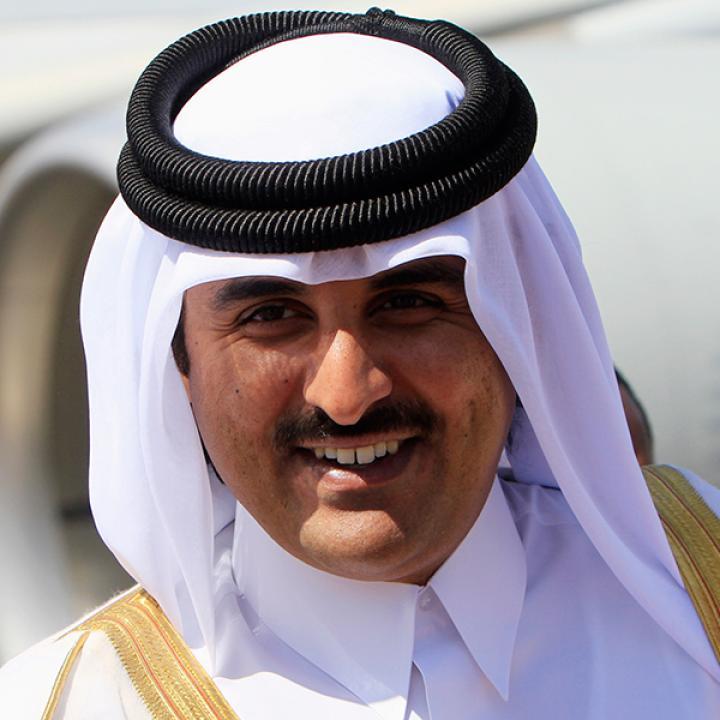 Originally planned as a thank-you for crucial assistance in last summer's withdrawal from Afghanistan, the meeting will probably focus on Doha's potential role in addressing the Ukraine crisis instead.
When Qatari leader Emir Tamim bin Hamad al-Thani visits the While House today, his tete-a-tete with President Biden will be marked by an extraordinary role reversal. Instead of the typical economic and military requests that leaders of smaller nations present to Washington, it will be Biden making the big ask: please help with Ukraine.
The reason is that despite Qatar's small population (around 300,000 citizens) and land area (about twice the size of Delaware), the country also has the world's third-largest gas reserves after Russia and Iran, which it exports in significant amounts as liquefied natural gas. President Biden likely hopes that some Qatari LNG tankers can head to Europe in the event that the Ukraine crisis spurs Moscow to cut or reduce Russian gas exports, which account for 40 percent of European demand. At the moment, most of Qatar's exports are already committed to customers in Asia under long-term contracts, so Washington reportedly aims to persuade some of those customers to let a few of those cargoes go to Europe instead.
This U.S. policy dilemma fits well with Qatar's traditional style of balancing allies, rivals, and adversaries—or playing them against each other. The Gulf state hosts the region's largest U.S. military contingent at the giant al-Udeid Air Base south of Doha, from where missions against the Islamic State and al-Qaeda have been flown. Yet its gas reserves are concentrated in the offshore North Field, which is contiguous with Iran's South Pars field, requiring delicate diplomacy with Tehran over the relative volumes extracted from the shared resource. Doha must also handle Moscow with care given their competition for supply contracts in Asia and Russia's status as a great power.
Qatar's hedging strategy—not to mention its wealth—has often infuriated its Arab neighbors, as illustrated by the commercial and diplomatic isolation that Saudi Arabia, the United Arab Emirates, and Bahrain imposed in 2017. That rift ended abruptly last year without any concessions by Doha; apparently, Riyadh changed its policy, though antipathy continues to simmer in Manama and Abu Dhabi. As such, Gulf-influenced press outlets and social media networks will likely mark Emir Tamim's Washington visit with a cacophony of negative stories about Qatar's supposed misbehavior, including allegations that it is close to Iran, that it mistreats foreign workers—particularly those involved in constructing facilities for this year's World Cup—and that it supports terrorism, the Muslim Brotherhood, and Hamas.
Apart from the two main bullet points—asking Doha to send gas to Europe and act as an intermediary with the Taliban in Afghanistan—the White House agenda will likely focus on possible Qatari diplomatic help with Iran. Just last week, Foreign Minister Muhammad bin Abdulrahman visited Tehran and met with President Ebrahim Raisi, among others.
Biden might also bring up the prospect of continuing Qatari assistance for Palestinians in the Hamas-controlled Gaza Strip. Thus far, Doha has given generous humanitarian aid and agreed to finance the provision of Israeli gas for a power station outside Gaza City. While such support is not without controversy, officials in Israel and elsewhere concede that it is helping the territory.
In return, Qatar has its own asks. On the military front, Doha wants to purchase advanced F-35 fighter aircraft, but the activities of the Chinese company Huawei inside its borders would be a major obstacle. In terms of civilian exports, Boeing may have an opportunity for sales to Qatar Airways, which is currently involved in a major dispute with the rival European manufacturer Airbus over faulty paint.
In diplomatic terms, the emir's trip will be labeled as the first visit by a Gulf leader to the Biden White House. The optics may also serve as a reminder that the Gulf's other two main political personalities—Crown Prince Muhammad bin Salman and Sheikh Muhammad bin Zayed, the de facto leaders of Saudi Arabia and the UAE—have yet to achieve comparable closeness with the administration.
Simon Henderson is the Baker Fellow and director of the Bernstein Program on Gulf and Energy Policy at The Washington Institute.