What to Expect (or Not) from the Arab League Summit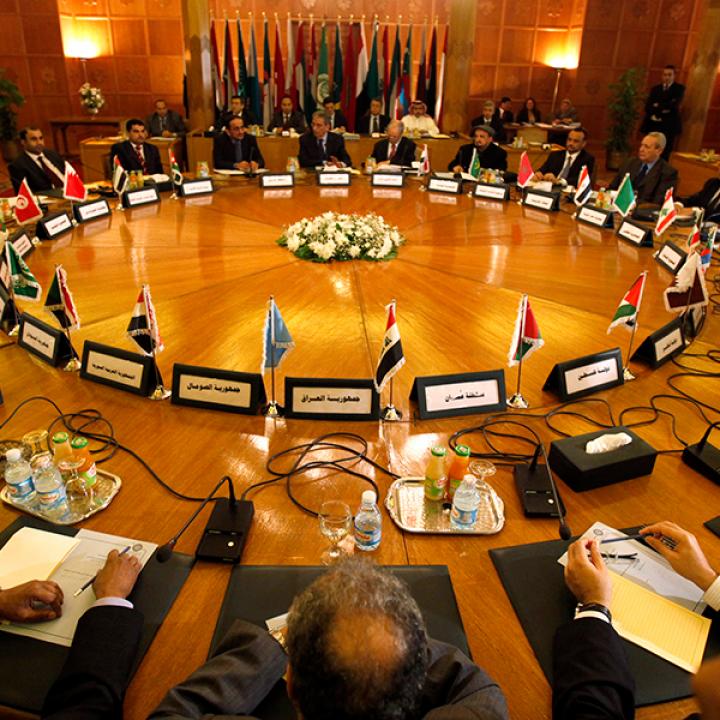 Participants will probably issue potent-sounding statements on Iran, oil production, and other key issues, but their rhetoric is unlikely to result in any substantive policy shifts or internal dispute resolution.
On November 1-2, officials will converge on Algiers for the first Arab League summit since the onset of the COVID-19 pandemic. The organization's meetings seldom produce headlines, much less consequential results, and the next gathering is unlikely to diverge from this trend. Indeed, a headline earlier this month from Egypt's flagship government daily al-Ahram read "Few expectations for Arab Summit." Absent tangible deliverables, the event will likely mirror previous ones by highlighting policy divisions among Arab governments, especially if not all heads of state attend. For instance, Saudi Arabia's crown prince (and new prime minister) Muhammad bin Salman will not be participating, reportedly on doctor's advice.
September Ministerial Meeting
The Arab League's most recent gathering was a ministerial conference convened in September at the organization's headquarters in Cairo. Participating foreign ministers covered a lot of ground during the three-day gathering, including modified perennial resolutions on Palestinian issues and the ongoing conflicts in Libya, Syria, and Yemen; critical statements on Iran and Turkey's interventions in Arab states; and discussions of developments in Comoros, the Djibouti-Eritrea border dispute, and Somalia.
The most public controversy arose when Egyptian foreign minister Sameh Shoukry and his delegation walked out of a session chaired by Libya's representative because she had been sent by the Tripoli-based Government of National Unity (GNU), a faction that Cairo does not recognize. This issue may resurface during the upcoming summit.
Algeria's Role
Algiers has apparently been using its designation as this year's host to further its recent foreign policy assertiveness. When the previous summit was held in March 2019, the government was preoccupied with the Hirak mass protest movement against longtime president Abdelaziz Bouteflika and the broader system of power. Today, the leadership is feeling significantly less vulnerable. The Hirak has lost momentum since Bouteflika's ouster and subsequent developments, while the country's hydrocarbon resources are in high demand, particularly amid the Ukraine war—a shift that became more conspicuous when the leaders of France and Italy visited the country this summer. Algiers seems to believe that the time has come to demonstrate its importance on the regional and global stage, as evidenced by its proposal to join the BRICS grouping alongside Brazil, Russia, India, China, and South Africa.
Accordingly, Algerian officials have devoted significant efforts over the past year in preparation for hosting this Arab Summit. Most notably, they have convened multiple reconciliation talks between rival Palestinian leadership camps in order to present a more united front against Israel, even reaching an agreement earlier this month among fourteen factions. Although this accord has been widely dismissed as yet another empty promise that will not be implemented, Algiers sees the deal as a way to promote the notion that it is furthering Arab unity.
Divisive Issues
Despite Algeria's bid for unity, this summit is more likely to reflect the Arab League's fragmentation and dysfunction, especially on the following issues:
Embracing Assad. Algiers has been a vocal supporter of reintegrating Syria into the league, which suspended Damascus in November 2011 due to Bashar al-Assad's brutal suppression of a popular uprising. With the assistance of Iran and Lebanese Hezbollah, the Assad regime has killed more than half a million Syrians over the past decade and forced nearly seven million refugees into exile. Yet despite the conflict remaining unresolved, several member states—including Algeria, Bahrain, Egypt, Jordan, Tunisia, and the United Arab Emirates—have been agitating for Syria's rehabilitation into the Arab polity since 2021, with some of them reopening embassies in Damascus, meeting with senior Syrian leaders, hosting Assad himself for official visits, and/or contemplating energy deals that benefit his regime. There is no league consensus on this issue, however, and the United States has encouraged Arab partners not to embrace Assad diplomatically. Algiers initially indicated that it would press for ending Syria's suspension at the summit, but continued Arab disagreement has led it to shelve the topic.
Ethiopia diplomacy. Algeria's recent foreign policy assertiveness has also included efforts to strengthen ties with fellow African Union member Ethiopia. In July, President Sahle-Work Zewde was invited to Algiers for a three-day state visit, followed by Prime Minister Abiy Ahmed in August; the latter visit included an agreement to "intensify commercial and educational cooperation." These meetings rankled Egypt, which is mired in a dispute with Addis Ababa about the fill rate of the Grand Ethiopian Renaissance Dam (GERD). Cairo's Nile water concerns are of an existential nature, so Algeria's flirtation with the Ethiopians threatens to further erode its bilateral ties with Egypt.
Libya disagreements. Egypt and Algeria have also clashed over the nature of Libya's participation in the Arab League. Algiers invited the GNU to the summit as part of a bid to play mediator among Libya's competing governments. Cairo's aforementioned refusal to deal with the GNU, combined with its anger over Algeria's burgeoning relations with Ethiopia, will likely make for some awkward interactions next week—if President Abdul Fattah al-Sisi even attends.
Algeria-Morocco rift. This longstanding rivalry will likely be on full display at the summit. Algiers and Rabat have been intensively courting other African and Arab countries over the past year as their bilateral relations have soured. Their primary area of contention is Western Sahara. In 2020, the Trump administration recognized Moroccan sovereignty over this disputed territory, much to Algeria's chagrin. Less than a year later, Algiers cut diplomatic ties with Rabat and stopped exporting natural gas via Morocco to Europe. This summer, King Mohammed VI indicated that Morocco was amenable to reestablishing "normal relations," but it is unclear if he will attend the summit given the generally poor state of their current relationship. His participation could presage a resumption of diplomatic ties.
Topics of Consensus?
While the summit will be characterized more by divergence than convergence, member states may be able to reach full consensus on a few matters:
Turkey criticism. At its September ministerial conference, the Arab League issued a communique criticizing Ankara for its "interference in the Arab states' internal affairs," specifically its military presence in Iraq, Syria, and Libya. The published resolutions from that meeting echoed these points—though Algeria, Djibouti, Libya, Qatar, and Somalia all registered reservations, with Doha arguing that the league was guilty of a "double standard" by singling out Turkey's actions in Libya while not mentioning interventions by certain Arab states. Notwithstanding hopes that Ankara will eventually reconcile with Egypt and various Persian Gulf states, summit participants will no doubt use the forum as an opportunity to criticize both Turkey's military interventionism and its signing of an energy and investment memorandum with Libya's GNU—perhaps culminating in a tough statement from the league itself.
Opposition to Iran. Attendees at the summit may also be inclined to rhetorically flog Iran, another country with an extensive track record of interfering in their internal affairs. The Iran resolution issued after the league's September ministerial focused in part on condemning the broad range of the Islamic Republic's destabilizing behavior in the Middle East, including its terrorist proxy militias in Iraq, Lebanon, Syria, and Yemen. Yet even this relatively straightforward position will likely prove controversial at the summit. Host Algeria's relations with Tehran are friendlier than perhaps any other league member's, while Iraq and Lebanon are dominated by Iran-backed militias and generally refuse to criticize the regime's foreign aggression in any way.
As for the ongoing mass protest movement in Iran, many Arab officials are no doubt pleased with the emergence of significant domestic opposition to the regime. Yet they may still be reticent to publicly embrace the movement due to concerns about Iranian retaliation and/or the potential for similar demonstrations in their own countries.
Oil production. Summit participants may rally around Saudi Arabia in support of the recent OPEC+ decision to cut production by 2 million barrels per day. On October 14, Arab League secretary-general Ahmed Abul Gheit issued a statement supporting the reduction and indirectly accusing Washington of "politicizing" an economic issue. Two days later, Algeria, Bahrain, and Oman issued similar statements.
Palestinian issues. Although participants will not be able to reach consensus on these matters, odds are high that the summit will result in multiple non-binding, non-actionable Arab League statements in support of the Palestinian cause. Even states that have signed onto the Abraham Accords or other normalization efforts with Israel will presumably provide rhetorical support to the Palestinian cause in the context of a league gathering.
Conclusion
In the end, Algeria will be able to claim that it is playing a central role in fostering Arab unity simply by hosting the summit. Yet the event's true success will be measured by how many heads of state actually show. Given the rampant divisions among league members and the abysmal prospects that their differences will be overcome in the immediate future, this year's Arab Summit is likely to pass with little notice and few accomplishments.
Sabina Henneberg is a Soref Fellow at The Washington Institute. David Schenker is the Institute's Taube Senior Fellow and former assistant secretary for Near Eastern affairs at the State Department.