Saudi King Gives Up Prime Minister Role to Crown Prince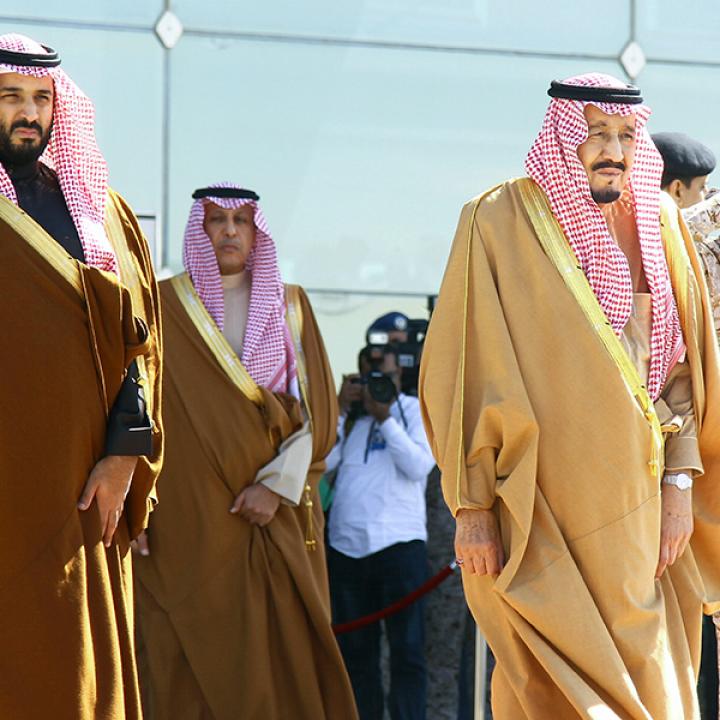 The transfer further boosts his son's authority and could even be a prelude to an unprecedented abdication.
Earlier today, Crown Prince Muhammad bin Salman (aka MbS) was named as Saudi Arabia's new prime minister. The surprise announcement—which goes against both the kingdom's Basic Law and its traditional arrangement of having the king serve as premier—makes the de facto political power that MbS has held for some time now effectively de jure.
His eighty-six-year-old father, King Salman, has suffered increasingly failing health since ascending to the throne in 2015, but he has bravely continued to make certain public appearances (e.g., chairing the weekly Council of Ministers meetings, which he will apparently continue to do despite no longer holding the title of prime minister). Elevating MbS to that role may mean that the king is considering abdication—an unprecedented step given that Saudi monarchs usually rule until they die.
Previously, MbS served as deputy prime minister and defense minister. No replacement has yet been named for the first role, but the latter post will now be filled by his younger full brother Khalid bin Salman, a former F-15 pilot who has been promoted from deputy defense minister and is arguably the crown prince's most trusted advisor. Both men are only in their thirties. Other ministerial changes were announced, but two key posts remain unchanged: Prince Faisal bin Farhan is still foreign minister, and Prince Abdulaziz bin Salman, an elder half-brother of MbS, still holds the oil portfolio as energy minister, suggesting no policy change on that front.
In other policy terms, the move might affect the prospects for Israeli-Saudi normalization. King Salman has been seen as a brake on that process, slowing most efforts to establish public relations with Jerusalem. Yet Riyadh's foot could ease off the pedal somewhat if abdication is truly in the cards (though recent Saudi opinion polls suggest that the citizenry would not embrace such moves).
No change is expected in relations with the United States, though commentators have noted that as prime minister, MbS will now have sovereign immunity when traveling abroad. Previously, he may have been wary about visiting the United States for fear of facing potential legal action over the murder of Washington Post columnist Jamal Khashoggi. Whatever the reasoning behind his elevation, the change could prove quite significant for Saudi Arabia and its foreign relations.
Simon Henderson is the Baker Fellow and director of the Bernstein Program on Gulf and Energy Policy at The Washington Institute, and author of its succession paper "A Fifty-Year Reign? MbS and the Future of Saudi Arabia."