The SDF Is Caught Between Turkey and the Islamic State Again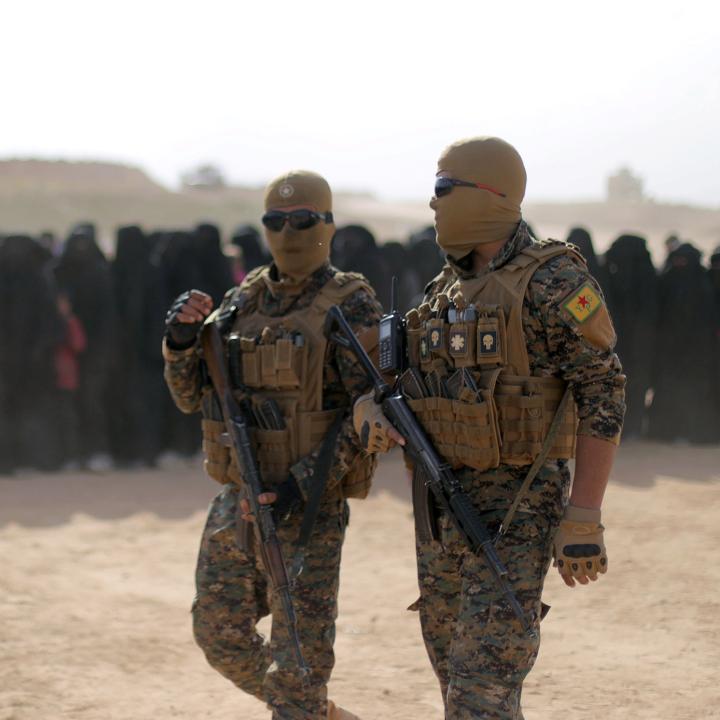 As happened with past incursions, Erdogan's latest invasion threats and preparatory strikes are fatally distracting the SDF from its crucial counterterrorism mission—and at a time when jihadist activities against it are on the rise.
On September 28, the U.S.-allied Syrian Democratic Forces announced the seizure of one of the largest Islamic State weapons caches since early 2019, when the terrorist group lost its last parcel of territory. Both the size of the discovery and its location are a testament to the growing threat that IS poses in northeast Syria. According to the SDF, the cache contained around 200 rocket-propelled grenades, 600 AK-47 magazines, and 21,000 rounds of ammunition, all located on a farm in al-Qairawan village near Tal Hamis—that is, within fifty miles of the key SDF town of Qamishli to the north and the vulnerable al-Hawl displaced persons camp to the south.
Meanwhile, Turkish president Recep Tayyip Erdogan has repeatedly threatened since May to launch another military incursion into Syria, for the fifth time since 2016. Any such operation, if it happens, will depend on diplomatic wrangling between Ankara, Iran, Russia, and Syrian dictator Bashar al-Assad, as well as Erdogan's calculations regarding Turkey's upcoming elections, deteriorating economy, and military activity in northern Iraq. Per his recent statements and pro-government media reportage, Erdogan's ideal goal for an invasion would be to target Tal Rifaat, Manbij, and Kobane in order to oust the People's Defense Units (YPG), the Kurdish force that serves as the SDF's military backbone but which Turkey considers a terrorist organization. Yet he would likely settle for just one of these targets—presumably Tal Rifaat, the least politically sensitive option—depending on U.S. acquiescence and what he achieves diplomatically.
In any event, Ankara's overarching strategy remains the same: to confine the Kurdish-dominated SDF to its eastern holdings or at least break up its territory into noncontiguous enclaves, in line with Erdogan's repeatedly stated intention to create a "security area" extending thirty kilometers into Syria. Yet carrying out this plan could seriously compromise U.S. and SDF efforts to prevent an IS resurgence, so Washington should take urgent steps to ensure that Turkey backs off.
An Emboldened IS
Despite ongoing counterterrorism efforts, IS has recently been gathering strength in northeast Syria and intensifying its activities in SDF territory. Interestingly, this is not reflected in the group's official attack statistics: via its weekly al-Naba newspaper, IS claimed 224 attacks in Syria between January and September, a decrease of more than 28 percent from the same period last year. Yet the group has recently underreported its activities in Syria, likely to conceal its capabilities in preparation for larger operations. Indeed, one report found that it claimed only 25 percent of the attacks it carried out in the Badia region in 2020 and early 2021. Another study discovered stark underreporting last year, especially in Hasaka, leading up to the group's large-scale but unsuccessful assault on that province's al-Sinaa prison.
Regarding the September 28 weapons seizure, the SDF stated that it discovered the cache after interrogations conducted during its latest sweep in al-Hawl, which resulted in the arrest of some 300 IS operatives. According to the SDF, these interrogations further revealed that IS was planning to use the cache to assault al-Hawl, indicating that its Syrian cells may still be capable of planning large operations.
IS activities inside al-Hawl likewise point to the group's enduring organizational strength. In addition to the reported arrests, the twenty-four-day SDF operation in the camp freed IS captives and seized explosives and military equipment that cells were likely stockpiling for a future operation. These preparations are reminiscent of the al-Sinaa assault, which paired a multi-axis IS attack with a simultaneous revolt inside the prison.
IS operatives have also become more brazen about attacking the SDF directly. One senior member of the force noted that IS has significantly increased its targeting of SDF personnel, often posting imagery of these actions online. For example, after killing six SDF members in Deir al-Zour on September 11, the group published a photo of their corpses. Operatives inside al-Hawl have reacted more aggressively to SDF raids as well, in one instance killing two fighters.
The Erdogan Factor
The uptick in IS attacks has occurred within a more permissive environment exacerbated by Erdogan's threats of invasion. Turkish forces have already intensified their campaign of drone strikes and shelling against SDF positions, directly targeting commanders and civilian officials whom Ankara claims are members of the Kurdistan Workers Party (PKK), a designated Turkish terrorist organization. As of September, the Syrian Observatory for Human Rights (SOHR) had reported fifty-eight Turkish drone strikes on the SDF this year, killing fifty-six fighters and ten civilians. The fatalities included SDF deputy commander Salwa Yousef, who gained much respect within the U.S. military for her courage and contributions to the war against IS.
The Qamishli-based Rojava Information Center has counted even more Turkish drone strikes, reporting sixty-two in just one month (July 19 to August 18) while noting that drone flights over northeast Syria tripled during this period. It also logged near-daily artillery and mortar shelling of villages along SDF frontlines by both the Turkish military and the Syrian National Army, Ankara's Syrian proxy militia coalition; these attacks reportedly killed twenty-nine fighters and seventy-five civilians.
Consequently, SDF leaders have felt compelled to focus more on preparing for a potential Turkish invasion and increasing their force protection measures—all at the expense of the fight against IS. This situation evokes past reductions in SDF capacity prior to Turkey's three major military operations against the group (an early 2020 air campaign was more focused on protecting Idlib jihadist group Hayat Tahrir al-Sham from the Assad regime):
Operation Euphrates Shield (August 2016-March 2017):

Turkish forces seized Jarabulus, al-Rai, and al-Bab from IS, with the goal of preventing SDF expansion into those areas and establishing a base for follow-on operations against the Kurdish-led force. The operation delayed the SDF campaign to liberate the IS capital of Raqqa to June 2017.

Operation Olive Branch (January-March 2018):

Turkish forces seized Afrin from the SDF, delaying the latter's campaign to liberate the last bits of IS territory to late 2018; a large IS counteroffensive in October-November pushed back the SDF's frontlines, which were weakened after fighters deployed elsewhere to oppose Turkish forces.

Operation Peace Spring (October-November 2019):

Turkish forces seized Ras al-Ain and Tal Abyad from the SDF; afterward, IS attack claims increased by 20 percent, and SDF raids against the group halted for a month, contributing to a general pause in coalition counterterrorism activities.
Indeed, Turkey's strategy of launching incursions into Syria has repeatedly set back the fight against IS and is doing so again today. At a time when the terrorist group is measurably gathering strength in the northeast and more brazenly striking the SDF, now is a particularly dangerous moment for an external shock that could erase the progress Washington and its partners have made.
Policy Implications
The United States should take action to prevent President Erdogan from making good on his invasion threats. International diplomatic pressure has been helpful in this regard, but more is needed to curb Turkey's drone strikes and shelling of SDF positions. The Biden administration should take a tougher stance on the matter, even threatening to reverse the planned sale of F-16 fighter jets to Ankara if it does not back off. In addition, some of the 900 U.S. troops stationed in Syria should be repositioned closer to Turkish-occupied areas and the northern border, thereby reassuring Washington's SDF allies while helping to deter further Turkish attacks.
The administration should also consider sanctioning certain leaders on the local councils established to govern Turkish-occupied areas of Syria. Some of these figures have been accused of malign activities, from perpetrating human rights abuses against Kurdish populations to serving as conduits for Turkish support to jihadist groups (e.g., prominent Syrian National Army elements such as Ahrar al-Sham; the U.S.-designated terrorist group Hayat Tahrir al-Sham).
In the longer term, Washington should continue doing what it can to strengthen the SDF and build up northeast Syria's economy and infrastructure. The recent exemption of SDF territories from U.S. Caesar Act sanctions is a welcome step, but open border crossings and better security are needed to spur economic growth—improvements that may require Washington's help to resolve longstanding issues between the SDF and the neighboring Kurdistan Regional Government in Iraq. Meanwhile, continued financial support is needed to enhance SDF detention facilities and ease pressure on the force so it can focus more on the counter-IS fight. But all these efforts will be in jeopardy if Turkey invades again.
Ido Levy is an associate fellow with The Washington Institute's Military and Security Studies Program and a PhD student at American University's School of International Service.