Detention Facilities in Syria, Iraq Remain Vulnerable to Islamic State Attacks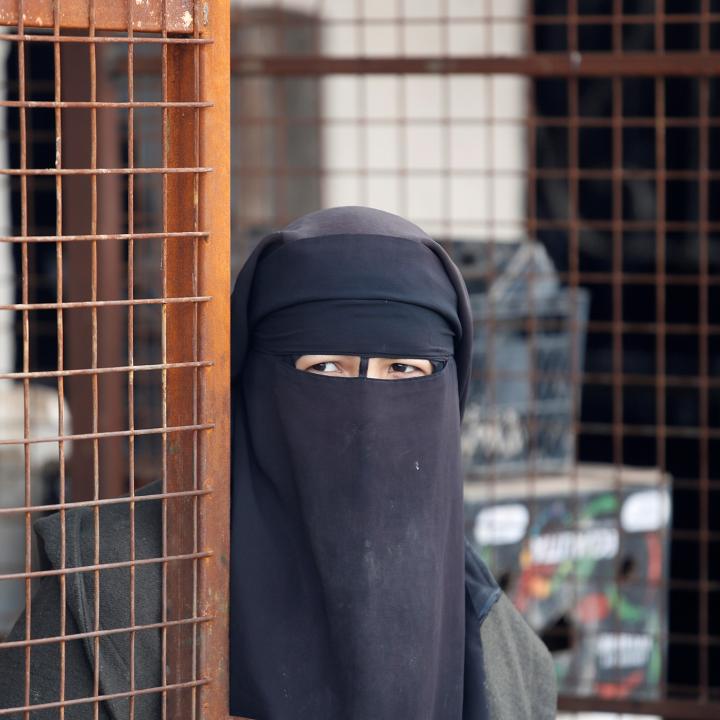 An attempted suicide operation against al-Hawl camp highlights the ongoing risks posed by indefinite detention of foreigners associated with IS.
On September 20, an Islamic State (IS) cell attempted a suicide attack targeting al-Hawl displaced persons camp in northeast Syria. Despite its territorial losses, IS continues to harbor grand ambitions for returning to power across Syria and Iraq. Part of this goal entails repeatedly exhorting members and affiliates to attack prisons and camps across the region in order to free men, women, and children associated with the group. These detainees are viewed as vital to spreading IS ideology, improving its operational success, and facilitating its future resurgence.
Current Status of Detention Facilities
With a resident population of nearly 55,000 people, al-Hawl lies at the center of debates regarding the indefinite detention policy that has been applied to such facilities by default. Specifically, these discussions have emphasized the role of women and minors associated with IS—the majority of the camp's adult residents are women, and the U.S. government estimates that nearly half of all individuals held there are under twelve years old.
Regarding place of origin, Iraqi women and children make up the largest group of foreigners held in the camp, estimated at 25,000. Al-Hawl also holds around 2,000 women and 8,000 minors from fifty-seven other countries. The remaining detainees hail from Syria.
Other camps and prisons across Syria and Iraq hold an estimated 10,000 foreigners. Including al-Hawl, this means around 43,000 foreigners affiliated with IS remain in these facilities, hailing from almost sixty countries including Iraq. The majority of these individuals are women and minors.
Security Threats and Responses
In early 2022, IS operatives attacked Ghweiran prison in northeast Syria to free individuals affiliated with the group. As State Department counterterrorism official Ian Moss noted in July, "The attack made clear that we cannot artificially separate our concern about the displacement and detention issues from the broader political context in northeast Syria for the simple fact that the more financial resources and room to operate [IS] enjoys, the more complex and/or frequent their efforts to free detainees and recruit in displaced persons camps will be." Video evidence taken during the attack showed that foreign male minors were being held in areas of the prison alongside adult men, increasing the opportunities for recruitment, indoctrination, and exploitation.
The group's ability to operate in detention facilities is best illustrated by the situation in al-Hawl. The camp has become a hotbed of IS activity, with the group running religious courts, policing women and children, and spreading its ideology to the next generation. Criminal activity is rampant as well, with the World Health Organization counting 85 deaths in al-Hawl last year due to crime alone.
To tackle these problems, the Kurdish-led Syrian Democratic Forces (SDF) carried out a two-week security operation in March 2021, arresting 125 IS-affiliated individuals. Yet while this effort caused an immediate downturn in IS activity at the camp, the group has since been able to regain a foothold there. According to the SDF, IS members and affiliates have killed forty-four residents and humanitarian workers this year alone, including fourteen women and two children.
Over the past month, the SDF sought to quell this resurgence by carrying out "Operation Humanity and Security" with U.S. support. On September 18, U.S. Central Command (CENTCOM) released a statement commending its "SDF partners" for completing the twenty-four-day security mission. Beginning August 25 and concluding September 17, units involved in the operation broke up many of the camp's IS networks, arrested approximately 300 individuals associated with the group (including 36 women), and confiscated weapons and explosives. They also freed six women (including two Yazidis) who had been held and tortured by IS affiliates. When debriefed about the mission, SDF personnel emphasized the prominent role that women played in both maintaining the IS networks and disrupting the operation as it took place.
Latest Attacks on al-Hawl
IS likely viewed the SDF-led operation as a direct threat to its base of support—one that demanded a response. Because gender dynamics play a paramount role in the group's motivational rhetoric, such an operation would be seen as targeting IS women and children, necessitating retaliation from male fighters who feel compelled to be seen as protecting them.
Unsurprisingly, IS attempted to attack al-Hawl just days after the SDF-led mission concluded. On September 20, seven IS operatives sought to rig two vehicles with explosives, but one of the vehicles prematurely exploded about ten kilometers outside the presumed target, al-Hawl. When SDF personnel arrived on the scene, two attackers exited the second vehicle wearing suicide vests; one detonated himself, while the other was killed before he could do so. According to CENTCOM, the second vehicle was rigged with at least fifty kilograms of explosives. In total, four IS personnel were killed and one arrested, with no SDF injuries or casualties reported.
Four days later, IS claimed responsibility for the suicide operation via one of its Telegram channels. Contrary to SDF statements, the group contended that the attack had resulted in thirteen deaths or injuries. It also described the incident as part of its "ongoing revenge for imprisoned women" at al-Hawl, in line with previous rhetoric casting the release of detainees as central to the group's sense of grievance and its strategy in Syria and Iraq.
U.S. Policy Implications
Across multiple administrations, the U.S. government has been vocal in calling for the repatriation of IS-affiliated persons to their countries of origin. The United States itself had repatriated thirty-nine individuals as of July. France acknowledged the seriousness of the current situation this summer when it repatriated fifty-one women and minors, the largest such action since 2019. Overall, however, Paris and other European partners have been hesitant to repatriate their citizens, and convincing them to accelerate the process is still very much an ongoing challenge.
European reluctance is only part of the problem—the vast majority of individuals remaining in al-Hawl are Syrians and Iraqis. While the Syrian question remains unanswered amid the country's political limbo, the Iraqi government has actively sought to bring back its citizens since May 2021. As of June 2022, it had repatriated approximately 2,500 Iraqis from al-Hawl, at a pace of roughly 150 families per month. On September 12, however, CENTCOM chief Gen. Michael Kurilla noted that the current pace of repatriation is too slow and would take four years to complete. Baghdad is attempting to ramp up its efforts, but obstacles persist, including security concerns, documentation problems, and social cohesion issues.
In addition to providing support for Iraq and other countries who are dealing with the repatriation issue on a larger scale, Washington should redouble its efforts to garner international cooperation on the matter and reiterate the dire implications for allied nations. On September 28, Deputy Secretary of State Wendy Sherman applauded the recent International Committee of the Red Cross decision to appoint a new special coordinator for northeast Syria, noting, "This coordinator will play an important role in improving conditions at [al-Hawl] camp and detention centers there." Indeed, the decision is a much-needed step in the right direction. Yet while arguments for repatriation often focus on the humanitarian facet, this year's cycle of IS attacks and SDF operations underscores the perilous security implications if the situation is left unchecked. IS will only continue targeting detention facilities across Syria and Iraq, since freeing its affiliates is still central to its plans for resurgence.
In short, Washington needs to emphasize that the facts on the ground are undeniably showing what activists, humanitarian workers, and academics have been warning about for years: the de facto policy of indefinite detention is producing a significant security threat for the United States and other countries around the world, one that coalition partners have not faced since IS lost its last bit of territory in 2019. Many partner governments may argue that repatriating IS adherents and sympathizers would present ample domestic security risks of its own, but U.S. officials need only remind them that the so-called IS "caliphate" served as a launchpad, planning center, and incitement factory for some of the worst mass-casualty terrorist attacks they have ever faced. Moreover, a proactive and well-planned strategy will help mitigate risks related to repatriation, enabling countries to monitor potential threats rather than having them slip past their borders undetected. To turn away from the path that the international community seems determined to go down once again, Washington should urge its partners to let the evidence—not politics—guide their policy.
Devorah Margolin is a senior fellow at The Washington Institute. Previously, she helped lead a Department of Homeland Security-funded study on best practices for reintegration programming aimed at returning spouses and minors.