Battle for al-Sinaa Prison: The Enduring Islamic State Threat in Syria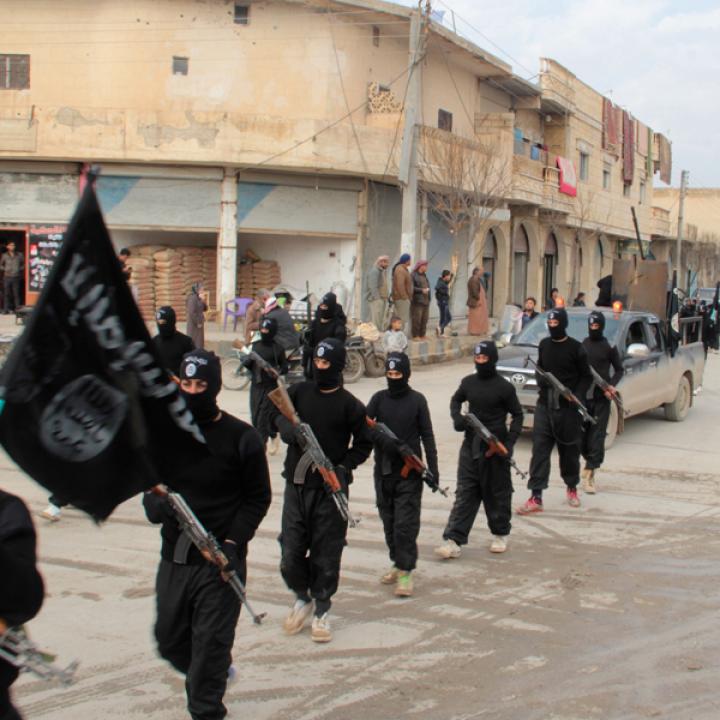 The military response to a major prison attack exhibited the strength of the U.S.-SDF partnership, but it also highlighted ongoing counterterrorism shortcomings.
On January 26, the U.S.-backed Syrian Democratic Forces (SDF) declared an end to the seven-day battle that raged in Hasaka city after the Islamic State (IS) attacked al-Sinaa Prison. The operation was the terrorist group's deadliest and most complex in Syria since the fall of its "caliphate" in March 2019. According to the Syrian Observatory for Human Rights (SOHR), the battle left at least 79 SDF members, 7 civilians, and 246 IS fighters dead, along with 45,000 locals displaced according to the UN.  
The scope of the battle demonstrates the enduring strength of IS, as well as the international community's failure to address the underlying problems that keep the group alive. The SDF and the U.S.-led coalition delivered a strong response, but the incident simultaneously revealed significant shortcomings in terms of anticipating such large attacks, contesting the information space, and limiting the group's freedom of movement into and inside Syria. To address these challenges, the United States must continue its strong partnership with the SDF while working with other governments to do more about prisoners and refugees.
The Battle for al-Sinaa
Once the territorial military campaign against IS drew to a close in 2019, the SDF began executing an aggressive coalition-assisted counterterrorism campaign. The result was record-low numbers of IS attacks, mainly reduced to small-scale strikes that did not claim more than a few casualties. Yet the assault on al-Sinaa—the largest prison in northeast Syria, holding up to 5,000 IS-linked individuals mostly from Iraq and Syria, including up to 850 boys brought to the caliphate by their parents—was a dramatic upsurge. Some 300 attackers approached from multiple axes, and two suicide vehicle bombs were employed. The first bomb breached the prison perimeter and the second damaged a nearby fuel depot, likely as a distraction. IS fighters then occupied certain prison blocks, while inmates staged coordinated riots and took approximately fifty hostages, per SOHR. Outside the prison, some attackers infiltrated the Ghweiran and al-Zuhour neighborhoods of Hasaka city, harassing SDF reinforcements with small arms, rocket launchers, and snipers.
In response, the SDF committed 10,000 fighters to retaking the prison and sweeping the infiltrated neighborhoods in a small battlespace of about two square kilometers. To hinder this campaign, IS cells elsewhere in SDF territory carried out attacks in solidarity with the prison assault.
The coalition responded swiftly as well, sending Apache helicopters and F-16s to conduct airstrikes while American and British ground forces helped cordon off the area with armored vehicles and snipers. Videos of the operation showed joint SDF-coalition mobile patrols, with SDF units deploying their own T-62 tanks and other armored vehicles. SDF teams also methodically cleared residential areas with small arms and light vehicles supported by coalition air coverage, indicating solid retention of urban battle tactics refined in the 2014-2019 war against IS.
Inside the prison, SDF fighters advanced block by block while negotiating with IS hostage-takers via loudspeaker. By January 26, SOHR reported that the SDF had taken back most of the prison, freed most of the hostages, and compelled the surrender of some 1,600 IS members. Neighborhood clearances are ongoing as of this writing; there is no confirmation on the number of IS escapees.
Preparing the Attack
How did IS pull off such a large operation after almost three years of aggressive counterterrorism efforts? Cells of fighters were assembled from different areas, indicating substantial organizational cohesion and flexibility. Although some of these cells had likely been based in northeast Syria for some time, the group probably pulled more experienced operatives from other areas, including Assad regime territory, northern Iraq, and portions of Syria controlled by Turkish forces or proxies. According to the SDF, captured IS fighters stated that the operation took as long as six months to prepare.
Unlike in SDF territory, the IS insurgency in regime zones was in full swing well before the prison attack. IS cells, sometimes with dozens of fighters at a time, have been regularly inflicting double-digit casualties on pro-Assad forces despite the latter's substantial air and ground support from Russia and Iran. As a result, the group now enjoys near-freedom of movement in the central Badia desert region. According to an August 2020 Newlines Institute report by Gregory Waters, veteran fighters in the Badia have recruited and trained dozens of members at a time in mobile camps, then inserted them into SDF territories and other areas, facilitating their movements by bribing regime soldiers.
In Iraq, IS draws on manpower using a smuggling route through the restive Anbar region and its relatively unguarded border with Syria. Such operatives are likely experienced, since IS has been claiming attacks in Iraq more than in any other country. During the prison campaign, the SDF reported capturing IS fighters who came from Iraq.
SDF sources also claim that some captured fighters came from Turkish-controlled areas in Syria. Turkey was a destination for many IS members following the caliphate's collapse, so it would not be surprising if the group still has active networks extending from there or adjacent areas in Syria.
Finally, SOHR reported that some of the prison attackers were non-Iraqi foreign fighters. These had most likely been operating in Syria for some time. Since most IS foreign cadres arrived in 2014-2016, that would make them quite experienced indeed.
Policy Implications
The assault on al-Sinaa demonstrates that IS has largely retained its organizational cohesion and remains a considerable threat to the region. Northeast Syria is still far from experiencing a full-blown IS resurgence, but repeats of this episode would be worrisome. It is not difficult to imagine a far worse outcome had coalition forces not been present. Hence, the most important takeaway for Washington is that keeping troops on the ground to support the SDF still provides outsize policy benefits compared to the costs of maintaining their presence.
The synergy between the two partners was evident during the battle—SDF fighters worked closely with coalition personnel and employed tactics they developed together during the 2014-2019 war, such as methodical cordon-and-search tactics, roadblocks for potential suicide bomb routes, and the use of armored bulldozers to protect infantry in breaching actions. The proficient response undoubtedly resulted from their seven years of close cooperation. The United States should therefore continue deepening the partnership, which it effectively sustains today with only 900 U.S. troops.
At the same time, the fact that such a complex operation at the SDF's largest detention center took the partners by surprise reveals a significant intelligence gap. Security experts and practitioners have been well aware that SDF facilities are vulnerable, that IS was intent on freeing inmates, that IS cells remain active in prisons and refugee camps (most notably al-Hawl), and that these cells are able to communicate with outside networks. In addition, IS regularly exploits unrest in SDF areas and employs intimidation and extortion to coopt local residents—tactics it may have used to support the prison assault. The United States should therefore investigate whether friendly forces have sufficient operational security, whether IS was able to infiltrate or bribe SDF prison guards, and to what extent the group embedded itself in nearby civilian populations.
The incident also highlights the coalition's continuing deficiency in the information space. IS inflamed its supporters with its initial reporting of the attack, and the group's unverified claims even reached the pages of major newspapers. In contrast, SDF reporting received little attention and was sullied by blatant propaganda alleging Turkish support for IS operations. The coalition took until the battle's fourth day to respond, with a formal press release that rightly praised the SDF and reaffirmed U.S. commitment, but little else in the way of countering the IS narrative. Moreover, after the hostage-takers publicly highlighted the numerous children held in such prisons, the SDF failed to deliver any real explanation for this. (Boys detained at al-Sinaa were brought to the caliphate by their parents, and although they are held separately from the men, they still live in squalid conditions—the SDF cannot absorb them, and their communities of origin mostly refuse to repatriate them.) The SDF needs legitimacy to govern and keep IS down, so the coalition should work with its partner to improve its responsiveness.
Ultimately, however, there is a limit to how much the SDF can do even with coalition support. The two partners have carried out a commendable counterterrorism campaign, but IS will be able to sustain itself so long as it remains largely free to move personnel in the Badia, cross the Iraqi border, and draw on operatives from Turkish-controlled portions of Syria. Most important, the SDF cannot indefinitely hold the estimated 10,000 IS-linked prisoners and 56,000 refugees currently languishing in northeast Syrian detainment sites.
Accordingly, the United States should work with the Iraqi government to bolster border security and absorb the roughly 29,000 Iraqis at al-Hawl. It should also pressure Turkey to improve its border security, especially as it continues to occupy some portions of northern Syria and attack SDF positions. And while Washington should continue urging countries to repatriate foreign nationals detained in Syria, the time has come to spearhead an ad hoc international tribunal aimed at addressing this longstanding impasse.
Ido Levy is an associate fellow with The Washington Institute's Military and Security Studies Program.