Will the Putin-Erdogan-Raisi Summit Spark a Turkish Incursion into Syria?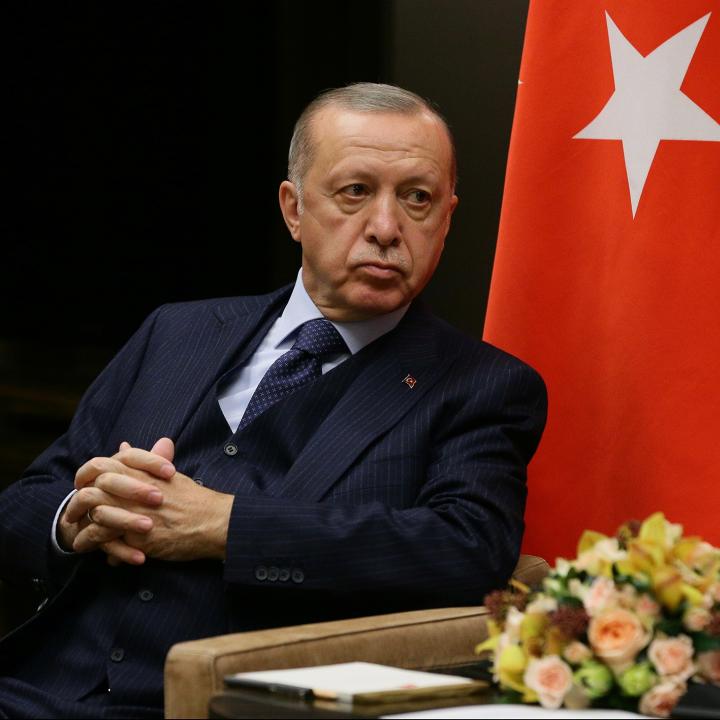 Moscow and Tehran may well assent to another cross-border operation, but Turkey's choice of targets will depend on multiple U.S., Russian, and Iranian interests.
The July 19 Tehran summit between Presidents Recep Tayyip Erdogan, Vladimir Putin, and Ebrahim Raisi will likely determine whether a brewing Turkish incursion into Syria actually takes place. In recent years, Ankara has focused its cross-border efforts on undermining the Kurdish-led People's Defense Units (YPG), which controls parts of the country's northern territory. If Moscow and Tehran wind up greenlighting another incursion, their negotiations with Erdogan will likely determine which YPG-controlled areas Turkey and its local proxies seek to capture.
Turkey's Goals
The United States has partnered with the YPG to fight the Islamic State (IS) for several years now, particularly since the Kurdish group folded into the Syrian Democratic Forces (SDF) umbrella organization. Yet Ankara remains focused on the fact that the YPG is an offshoot of the Kurdistan Workers Party (PKK), a Turkish group designated as a terrorist entity by Ankara and Washington alike.
At first, Turkey grudgingly went along with U.S. assistance to the YPG because Washington indicated that the partnership would be temporary, transactional, and tactical. In the interest of preventing an IS resurgence, however, U.S. policy has since evolved into an open-ended commitment to the YPG-led SDF—a policy born of the group's proven ability to retake large swaths of Syria from IS with U.S. help. In response, Turkey has carried out four cross-border incursions since 2016, breaking apart the SDF-controlled zone.
As part of this ongoing strategy, and in the context of Russia tactically drawing down some of its forces in Syria since the Ukraine invasion, Ankara now wants to create new incisions in SDF-controlled regions. Three potential targets seem most likely: Tal Rifaat, Manbij, and/or Kobane.
The first candidate will be at the center of Erdogan and Raisi's dialogue in Tehran. Iranian-backed militias are currently deployed in Nubl and al-Zahra, two Shia villages near Tal Rifaat, so Ankara would need to convince Iran to get out of the way if it wishes to take over this enclave. Yet Raisi will likely insist that Turkey look for other targets, and Erdogan may well accede given the two countries' recent policy of avoiding direct military clashes and deconflicting their interests.
Putin, too, will likely push Erdogan to look at points east of Tal Rifaat, mainly Manbij and Kobane. Yet the United States considers Kobane symbolically significant, as the de facto birthplace of the U.S.-YPG relationship after the two partners broke a 2014 IS siege there in dramatic fashion. Washington would be angered by such an attack, an outcome that Putin would of course relish. Erdogan is still courting President Biden, however, and presumably wants to avoid a public diplomacy debacle in Washington.
Therefore, Turkey's most likely target appears to be Manbij, or perhaps a limited incursion into Tal Rifaat. Either move would require Moscow's assent, which Putin has previously been willing to grant in return for land swaps—namely, Turkey taking territory from the YPG while Bashar al-Assad's regime receives territory held by Turkish-backed rebels in Syria. Yet the amount of land that Ankara can swap has shrunk significantly of late. Much of it lies in Syria's Idlib province, where hundreds of thousands, if not millions, of already displaced Syrians would likely head for the border if their areas were swapped to Assad—a scenario that Erdogan no doubt hopes to avoid given his own country's growing economic problems and anti-refugee sentiments.
To sidestep this potential refugee obstacle, Erdogan may decide to leverage the Ukraine war. Specifically, he could offer to help Putin establish a "wheat corridor," enabling grain exports from Russian-occupied Ukrainian ports and other Black Sea locales in exchange for Moscow's assent to a Syria incursion.
Assad's Calculations
For the Assad regime, any Turkish incursion would represent another blow to its rhetorical aim of restoring control over the entirety of Syria. Even if Putin and Erdogan decide to give Assad a bite of territory in Idlib, any such areas would be inimically hostile to his rule, forcing him to devote precious resources to holding them. An incursion into Tal Rifaat would deny the regime two vital resources: water supplies and a local airfield. It would also knock Iranian-backed militias down a peg and send them southward. Meanwhile, the highly motivated Kurdish militiamen deployed in Tal Rifaat would be pushed eastward, including those elements said to share the Assad regime's Alawite origins.
Indeed, a Turkish incursion may drive the SDF closer to Damascus, and possibly toward Tehran as well, as part of the perpetual horse trading conducted by the various players that have divided the country into respective spheres of influence. The Assad regime would likely be amenable to this shift because it desperately needs more electrical power and fuel supplies, which can be obtained more easily via increased oil and natural gas transfers from SDF-controlled areas in the east. Energy trading will now be easier following last week's passage of UN Security Council Resolution 2642 on cross-border aid, which specifically lists electricity as part of permitted early recovery activities.
Policy Recommendations
If an incursion is greenlit and winds up falling on Tal Rifaat, it would mean that Turkey is looking to press its advantage as Russia redeploys some forces out of Syria—and to block Iran from benefiting. This would also represent the "least bad" scenario for the United States, since Tal Rifaat has never been part of the U.S. sphere of influence or the many Syrian deconfliction agreements. The worst outcome would be an incursion into Kobane, which would upset the status quo and likely drive the SDF into a disadvantageous settlement with the Assad regime, thereby constraining Washington's ability to maneuver against Damascus—and potentially IS. In contrast, a limited operation into Tal Rifaat or Manbij would likely elicit a less negative U.S. response.
Turkey's stance on Sweden and Finland's NATO accession may shape responses as well. Nordic ties with the YPG became a crisis point in recent decisions regarding NATO's expansion, so Washington will be keen to avoid a new crisis with Ankara over Kurdish issues. Although the initial impasse has been hurdled, Turkey will still hold veto power over the Swedish and Finnish bids over the next year.
If by chance an incursion is delayed because of Russian or Iranian objections, Washington will have a little more breathing room to work toward its optimal result in the long run. In broad terms, this would entail recognizing Turkey's concerns in Syria while limiting its displacement of SDF forces so long as the fight against IS continues.
Soner Cagaptay is the Beyer Family Fellow and director of the Turkish Research Program at The Washington Institute, and author of A Sultan in Autumn: Erdogan Faces Turkey's Uncontainable Forces. Andrew Tabler is the Institute's Martin J. Gross Fellow and former director for Syria on the National Security Council.