Ukraine Invasion Ushers in Algeria's Return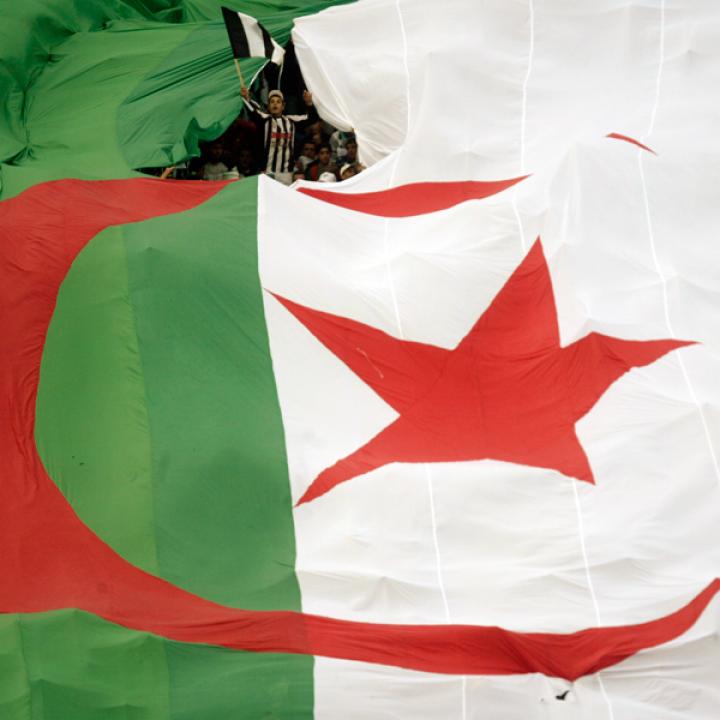 Although the wave of Western overtures is understandable, Algeria is unlikely to make up for Europe's energy supply gaps or take other actions that give the appearance of choosing sides.
Since the beginning of the year, as Russian threats against Ukraine escalated into an invasion, Algeria has hosted a highly unusual parade of foreign ministers, culminating in the announcement that Secretary of State Antony Blinken will visit on March 30. The renewed U.S. and European interest also coincides with Algeria's return to political stability after years of uncertainty. Given the war's upward pressure on energy prices and the likelihood that they will rise even further if Russian energy supplies to Europe are disrupted, Algeria cannot lose. If it increases its energy exports to Europe, it will boost its revenues substantially; if it does nothing, it will still benefit from the highest energy prices in a decade and a half. How has Algiers worked its way into such a favorable position, and what implications does its posture hold for Western policy on Ukraine?
Domestic Stabilization
Algeria's domestic circumstances are the most stable they have been in five years, in large part because the government has done away with much of the state capture that marked the final years of President Abdelaziz Bouteflika's administration. During that period, Bouteflika's younger brother Said consorted with oligarchs of every stripe, giving them sweetheart deals in numerous sectors. Today, he and those oligarchs are serving long prison sentences.
Also in the rearview mirror is the uncertainty wrought by the Hirak movement's calls to completely gut Algeria's political system, as well as the incertitude of the late president Abdelkader Bensalah's transitional government. When President Abdelmadjid Tebboune succeeded Bensalah in December 2019, he executed his roadmap to the "New Algeria," which he intended to depart from Bouteflika's "old" Algeria and institutionalize the values demanded by Hirak protesters. Although low participation rates and popular skepticism rendered his plan less successful than he envisioned, it nevertheless produced a new constitution and legislative elections, followed by local and municipal elections.
These developments helped curb the cryptic power struggles that had long been the hallmark of Algerian politics. Whether that shift is temporary or permanent, President Tebboune has seized the opportunity to actually govern. He is starting to promote policies and intervene in the legislative agenda, and although his interventions do not always yield the best results, the simple fact that he is steering Algeria's executive branch is a sign of progress. The country is now able to tackle long-overdue debates about subsidy reform, a new investment code, and the informal economy.
To be sure, the economic situation for many Algerians remains difficult. The value of the dinar is plummeting, food prices are rising, and the employment outlook is bleak. Yet oil and natural gas receipts are refilling Algeria's coffers after a long plummet—from more than $200 billion in foreign exchange reserves in 2012 to roughly $40 billion in 2021. As a result, President Tebboune will likely revive Bouteflika's old playbook of "buying the peace." Subsidy reform is being postponed, and direct payments are being made to the unemployed. As long as energy prices remain high, the government will likely make good on back pay to public sector workers, increase their wages, and perhaps even raise the minimum wage. Injecting all of this liquidity into the economy could accelerate inflation given that the country has no way of absorbing it all, but this is a gamble Tebboune appears willing to take.
Limited Leverage on Gas and Russia
Having stabilized its domestic circumstances, Algiers is making headway on foreign policy. A torrent of diplomats has sought audience with President Tebboune, including Spanish foreign minister Jose Manuel Albares in January, Italian foreign minister Luigi Di Maio in February, and two key visitors this month: U.S. deputy secretary of state Wendy Sherman and Portuguese foreign minister Augusto Santos Silva. After Secretary Blinken's scheduled March 30 visit, French prime minister Jean Castex will reportedly travel to Algiers sometime in the coming weeks, while Algerian foreign minister Ramtane Lamamra is expected in Washington in April.
The main driver behind these visits is Algeria's role as an energy supplier to the EU. Washington and European capitals want assurances that even if Tebboune's government proves unwilling to increase these exports, it will reliably deliver the amounts it has already committed to, especially if Russian supplies are disrupted. Yet Western leaders are anxious about the country's ties to Moscow.
Thus far, Algeria has repeatedly assured customers that it is a secure energy source and will honor its gas supply contracts to Europe. Less clear, however, is whether it can increase these supplies in the near term. Its exports are already at full capacity through two pipelines and four liquefied natural gas trains.
In theory, Algeria has a spare 700-800 million cubic meters per year that it previously gave to Morocco as a transit fee for the Maghreb-Europe Gas Pipeline. It closed that pipeline last November in retaliation for a Moroccan cyberespionage campaign, so it could conceivably export those volumes to Spain or Italy through its two other pipelines. Yet the amounts in question are ultimately inconsequential to the present crisis. For instance, the EU imported 155 billion cubic meters of gas from Russia last year alone, according to the International Energy Agency."
Another theoretical option is for the government to temporarily throttle the gas volumes it supplies to local industries, many of which are state-owned, in order to free up more for export. But this would mean slowing domestic industrial activity in exchange for increased hard currency receipts—an unlikely and politically risky gamble. It could also redirect some of the gas it injects into mature oil fields to maintain reservoir pressure, but that would cause an immediate drop in oil production. With Algeria's Sahara Blend crude trading around $124 per barrel, the government would effectively be robbing Peter to pay Paul.
In short, Algiers knows it does not have significant additional volumes readily available for export, but it can still leverage the extra attention it is getting in order to increase foreign direct investment over the long term. The country has suffered from lack of investment in the upstream for nearly a decade and needs to make up for lost time. Toward that end, Energy Minister Mohamed Arkab and Toufik Hakkar, the CEO of national energy firm Sonatrach, are walking in lockstep, sending the same message and promoting Algeria's secure energy potential to as many visiting delegations as possible.
Much has been made of Algerian relations with Moscow. The country does indeed buy a lot of Russian military equipment, but that is because the Kremlin sells it to Algiers without conditions. Moreover, it has readily purchased equipment from other countries whenever it feels the need—for example, its navy includes Chinese, French, German, and Italian vessels as well as British and Italian rotary aircraft.
More broadly, Algeria almost never engages in quid pro quo diplomacy; once it takes a foreign policy position, it tends to hold fast. More often than not, that position centers on presenting itself as a neutral arbiter of international conflicts rather than choosing sides. The Ukraine war is no different—Algiers will endeavor to stay out of the crisis entirely, and it will not feel beholden to Moscow just because it has purchased Russian military hardware. The government may be willing to help broker a ceasefire, but ultimately, it recognizes that becoming involved could lead to perceptions that it is carrying water for one party or another. And Algeria is no water carrier.
Given this reluctance to engage in transactional diplomacy, the United States and EU have few options for getting what they want from Algiers. The government can host multiple foreign delegations and entertain their overtures, but in the end it may decide that sitting on its hands is in Algeria's best interest—which it very well may be. Even if the government makes no changes to its export policies, its hydrocarbon profits are on track to reach their highest level since 2008, when Sonatrach recorded annual revenue of $72 billion.
With Tunisia drifting toward authoritarianism, Libya on the cusp of civil war, and Mali facing intensified instability, Washington should recognize the value of Algeria's regained political and economic stability. In the current crisis, this means respecting the government's calculations about its situation at home and supporting its preferred posture of peace broker in conflicts abroad.
Geoff Porter is a professor of political science at Fordham University and president of North Africa Risk Consulting, a firm specializing in political and security risks in the region's hydrocarbons sector. This PolicyWatch has been published under the auspices of The Washington Institute's Diane and Guilford Glazer Foundation Program on Great Power Competition and the Middle East.