Tunisian Jihadism in the Shadow of a Coup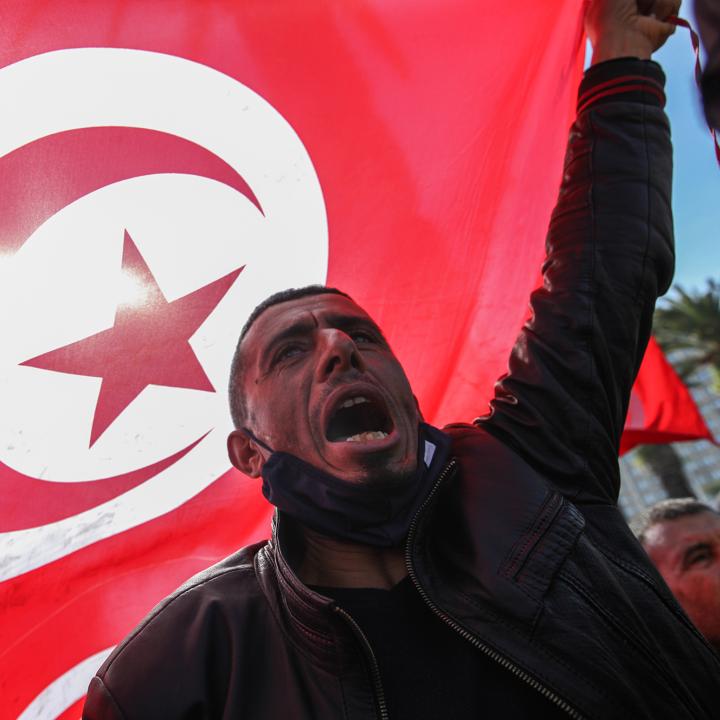 If the West delays on pressing Saied to resume the democratic transition, it risks undermining the progress made so far in establishing a professional, apolitical counterterrorism infrastructure.
As the threat of jihadist attacks in Tunisia faded to a manageable issue in recent years, reforms related to professionalization, transparency, and rule of law became central to moving the country's counterterrorism architecture forward. Yet last year's coup by President Kais Saied raised new questions about this progress, with observers wondering whether his authoritarian instincts would lead counterterrorism to be politicized as it was prior to the 2011 revolution.
Based on comparative data over the past decade, there are no signs that this has been the case—at least so far. Arrest statistics from 2021 actually declined from the previous year and appear to support the notion that jihadism remains a less drastic problem than it was in 2015-18 (see table and analysis below). Meanwhile, last year saw the most terrorism prosecutions since 2011, suggesting that although the judicial process still needs improvement, no backsliding has occurred on that front under Saied's watch. Yet even if terrorism arrests have not been visibly politicized like they were under former dictator Zine al-Abidine Ben Ali, Saied's general drift toward more authoritarian measures—most recently his dissolution of the Supreme Judicial Council—merits close attention in the coming months given its potential effects on domestic mobilization and related trends.
Degrading the Jihadist Movement in 2021
Despite the slight increase in attacks compared with 2020, last year's total is still far lower than in the previous decade. Moreover, all but one of the attacks in 2021 involved operatives using improvised explosive devices against security forces in rural mountainous areas; the lone exception was a failed stabbing attack in Tunis. In other words, there were no large-scale, sophisticated attacks focused on crowded civilian areas, unlike the string of mass-casualty incidents seen in the past.
The spike in prosecutions can be partly explained by the system recovering after a COVID-year dip. It also signals that Saied's judicial changes have not (yet) spurred a regression to a less transparent judicial process in relation to counterterrorism—though the system still needs to be strengthened via additional targeted reforms.
As for arrest numbers, the lack of drastic change indicates that authorities are operating under largely the same parameters they used before Saied's coup. The most notable 2021 cases included the following:
January:

An unnamed leader of the al-Qaeda branch Katibat Uqba bin Nafi (KUBN) is arrested.

April:

An Islamic State (IS) attack against a security headquarters in Sfax is thwarted.

October:

Authorities re-arrest Sayf al-Din Rayis, former spokesman for the jihadist group Ansar al-Sharia in Tunisia (AST); they also apprehend members of an IS media cell in Bizerte and IS recruitment cells for women in El Kef and Tozeur.

December:

In Ariana, an alleged Nigerian member of Boko Haram is arrested while attempting to transit Tunisia to Europe; in Tozeur, an individual involved in the 2016 Bastille Day attack in Nice, France, is apprehended.
Similar to prior years, the military also announced the killing of various senior jihadist figures, including IS official Hamdi Dhouib and five KUBN leaders: Abdelbaqi Bouziane, Badr al-Din Wanisi, Talib Yahyaoui, Tariq Selimi, and Sassi Silouba, three of whom are of Algerian origin. In mid-November, the Interior Ministry added an individual named Sabr bin Khamis Khalaf Allah to its terrorism wanted list, though without indicating his affiliations.
Regarding their status inside Tunisia, both IS and KUBN are currently in a weakened state. KUBN has not claimed an attack there in almost three years, suggesting that it may be defunct, or that its members have moved to other theaters—perhaps in the Sahel, where there are greater opportunities to conduct operations with al-Qaeda branch Jamaat Nusrat al-Islam wal-Muslimin (JNIM). IS claimed only one attack in Tunisia last year, its lowest annual total there.
The weekly IS newsletter al-Naba did publish an editorial on the coup last July, depicting Tunisia's situation as further proof that advancing Islam through democracy and peaceful means does not work. This predictable argument served two purposes: indicting the Tunisian Islamist political party Ennahda, and promoting the "correct" path of jihad, sharia, and tawhid (pure monotheism). In light of such views and the lingering public uncertainty about Tunisia's political future, one might think the jihadists would rapidly take advantage of the coup. So far, though, none of the local IS or al-Qaeda affiliates have been able to muster much beyond online rhetorical points—similar in some ways to the status of isolated homegrown extremists in Western countries.
Outstanding Issues
Regarding the challenge of repatriating Tunisian foreign fighters and their families from prisons and camps in Iraq, Libya, and Syria, the government made little progress in 2021. This is unsurprising given the lack of political appetite for such measures among local communities.
In March 2021, three women and five children were returned from Sirte, Libya—the former "capital" of the IS "province" in that country. Yet numerous Tunisian detainees remain in northeast Syria, where a recent IS prison attack reiterated the unsustainability of leaving such individuals in prisons and camps abroad. Besides giving IS the perpetual opportunity to free dangerous operatives, long-term detainment might also sow the seeds of indoctrination among a new generation of future Tunisian jihadists—a sobering thought given the country's disproportionately large foreign fighter mobilization to Syria last decade.
Tunisia's approach to domestic imprisonment has been problematic as well. On top of continued worries over reports of torture within the prison system, National Counterterrorism Committee chief Mounir al-Kseksi noted in March 2021 that up to 70 percent of individuals convicted in terrorism-related cases had not received any rehabilitation or reintegration services by the time their prison sentences ended.
Meanwhile, some opposition figures have shown signs of seeking to politicize counterterrorism issues. For example, Abir Musa, the populist leader of the Free Constitutional Party, has incessantly called on authorities to classify Ennahda as a terrorist group and arrest its members for alleged terrorist acts. When Ennahda was in power from 2011 to 2013, its mismanagement did facilitate the growth of AST. Yet Ennahda did not actively support that group or plan any form of terrorism. Rather, its ineffective "light touch" approach was due more to incompetence and the naivete of believing it could woo an al-Qaeda branch into joining the democratic experiment.
Going forward, Musa seems poised to vie for the presidency amid Saied's continued failure to resolve any of the underlying economic issues that led a majority of the population to back the coup. Given Musa's known views, her ascension to that post would likely close the door on further efforts to enshrine a professional, apolitical counterterrorism apparatus—a goal that Washington has striven to help Tunis reach for years.
Therefore, the U.S. government and its European allies should urgently press Saied to do the following:
Back off from his authoritarian drift.

Restore the parliament.

Resume Tunisia's democratic transition.

Seriously reform the economy so that it does not benefit oligarchs alone.
If the West delays on these issues, it risks undermining the progress made so far in establishing a sustainable and professional counterterrorism infrastructure in Tunisia. That would in turn make the local fight against jihadists much more difficult, especially if they regain some semblance of organization and support via the people's legitimate grievances over economic mismanagement. So long as the coup fallout is not resolved, any reform efforts related to the government's counterterrorism infrastructure will likely stall or backslide.
Aaron Y. Zelin is the Richard Borow Fellow at The Washington Institute and a visiting research scholar at Brandeis University.