Mali and MENA: The Future of Counterterrorism in the Sahel and Maghreb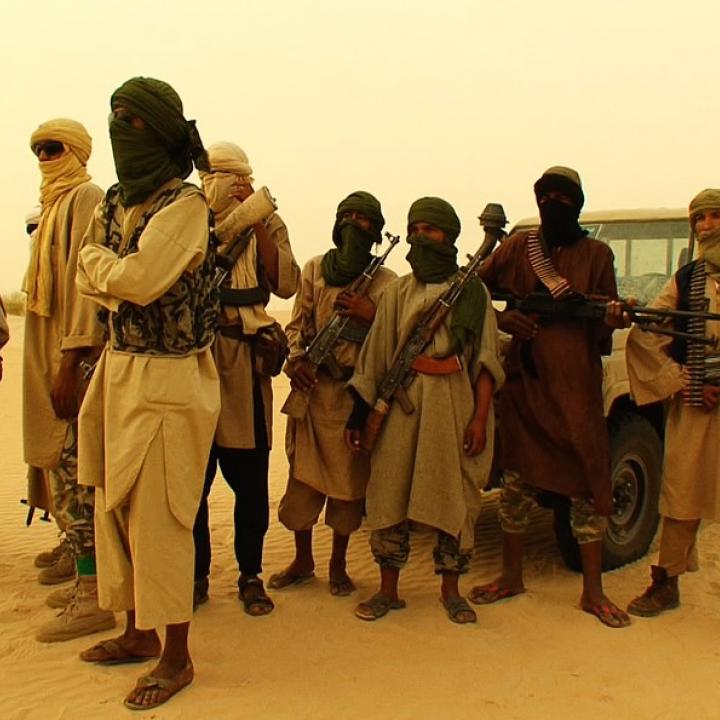 As the Ukraine war creates a critical juncture for European security, France and its partners are pulling military resources out of Mali, raising questions about how best to address persistent terrorist threats and growing Russian footprints in the surrounding regions.
On February 17, France, Canada, and twenty-seven European and African partners announced a coordinated relocation of their military resources—including the primary contingent of 2,200 French soldiers—from Mali to neighboring countries. The decision came after months of political tensions with the Malian junta, increasing Russian influence on the ground, and, most recently, the escalating crisis in Ukraine.
French forces have been in Mali for nine years, sending up to five thousand troops there at the peak of the deployment. Their goal was to prevent terrorists from establishing a territorial caliphate or using Mali as a springboard for expanded threats abroad, whether in Europe or against Western interests in the Maghreb and West Africa. Other countries later joined the French deployment. Yet deteriorating political relations with local authorities have brought an end to this presence inside Mali. And while international stakeholders have outlined their commitment to continue fighting terrorism in the wider Sahel, doing so amid local troop relocations and the war in Europe will require concerted, coordinated action by Paris and its partners.
Evolution of the Coalition Presence
In 2013, France launched Operation Serval in response to Mali's request for support in preventing al-Qaeda and allied groups from seizing the country's capital of Bamako. In 2014, Operation Barkhane succeeded Serval with the expanded aim of targeting al-Qaeda, the Islamic State, and local terrorist groups.
The February 17 relocation announcement marks the second restructuring of Barkhane in the past few months. In July 2021, President Macron announced that the French Army would close bases in north Mali. This transformation was prompted by the evolution of the threat itself, as terrorist leaders had mostly relocated from the north to the "three borders region" between Mali, Niger, and Burkina Faso. It also resulted from other military actors—Europe's Task Force Takuba and the regional force G5 Sahel—ramping up their contingents, allowing France to lighten its footprint.
The United States has provided significant support to each of these operations, particularly through intelligence, surveillance, and reconnaissance (ISR) capabilities and transportation. During an October 2021 meeting in Rome, President Biden and President Macron committed to increase their cooperation in Sahel.
The Malian Junta's Flight Forward
After Mali's military junta came to power via a May 2021 coup, its relations with Western and African countries deteriorated rapidly. The transitional authorities soon adopted nationalist rhetoric that was hostile toward the French presence, and these declarations sometimes played well among Bamako's urban population. The junta also swiftly deviated from the transitional roadmap it had agreed to with the Economic Community of West African States (ECOWAS), announcing that it planned to stay in power for five years.
On the military front, Malian authorities progressively hampered France and Europe's freedom of operation, denying overflight authorizations and setting barriers against the rollout of Western forces in local missions. As tensions mounted, the junta hired the Wagner Group, one of Russia's most potent private military companies. Officially, the junta justified this move as a way to advance the fight against terrorists, but in practice, Wagner's mercenaries have been acting more like a praetorian guard since their deployment early this year—an arrangement that reflects the junta's desire to cling to power, as many observers and officials have noted.
This progressive political and military rupture prompted ECOWAS and the European Union to adopt economic sanctions against the junta in January. Ultimately, France and its partners decided to redeploy in an attempt to work around the junta and fight terrorist groups from neighboring countries.
Potential for Elevated Terrorist Threat in North Africa
The redeployment of European forces will be a major strategic change for the Maghreb and Sahel. It is highly unrealistic to assume that a few hundred Wagner mercenaries and the Malian Armed Forces will have the capacity to secure 900,000 square kilometers of at-risk northern territory and lead an effective counterterrorism action there. First, they lack an effective chain of command and ISR capabilities. Second, they probably lack the political will, as the junta seems focused on consolidating its power in Bamako rather than projecting influence toward peripheral areas. Third, observers have reported that a portion of Wagner's mercenaries in Mali could be Syrians and Libyans instead of former Russian operatives, and that they are more likely to focus on securing revenue sources than effectively fighting jihadists. Therefore, the risk of Mali once again becoming a rear base for terrorist groups is significant.
That scenario would reverse the substantial gains made in recent years and bring various Arab countries under greater jihadist threat. Indeed, among the many operational commanders and supposed terrorist "emirs" France has neutralized, most originated from Maghreb countries such as Algeria, Mauritania, Morocco, and Tunisia—including notable al-Qaeda and Islamic State leaders Abdelmalek Droukdel and Adnan Abu Walid al-Sahrawi.
Libya could be at risk as well. The country's southernmost region, Fezzan, has previously been a significant rear base for terrorists. Today, few if any local forces are available to monitor smuggling routes or the movement of fighters across that porous border. Thus, the departure of allied forces from Mali could have ripple effects far abroad, facilitating the reconstitution of supply routes and funding sources for numerous terrorist groups at work across the Sahara.
The Junta May Seek Middle Eastern Support
Under sanctions from Mali's major economic and political partners in ECOWAS and the EU, the transitional authorities failed to issue a 47 million euro bond in January. The country has experienced chronic budget deficits, so officials have been exploring other avenues of support.
On February 10, Foreign Minister Abdoulaye Diop visited Doha to meet with his Qatari counterpart, Muhammad bin Abdulrahman al-Thani. According to several Malian outlets, he asked for financial support to circumvent the effects of economic sanctions. Two days later, he met with Iranian foreign minister Hossein Amir-Abdollahian in Tehran, where they announced a planned bilateral coordination mechanism. Yet neither of these initiatives has materialized yet.
Algeria's Ambivalence
In theory, Algerian authorities may view the reconfiguration of Operation Barkhane with cautious optimism, perhaps welcoming the departure of their former colonial ruler from the southern border. They might also consider playing an active diplomatic role to revive the 2015 Algiers peace agreement, which secured a ceasefire between Tuareg armed groups and the Malian government. And given their strong relations with Moscow, they may even be comforted by the prospect of having more Russian influence next door via the Wagner Group.
In practice, however, the sudden relocation of European counterterrorism forces southward could trigger strategic vertigo in Algiers. Regarding diplomacy, the parties made very little progress on implementing the Algiers peace agreement after Mali's first coup in August 2020 and even less so after the second coup last May. Currently, Mali's junta shows no interest in improving the situation in the north, and the deployment of Wagner proxies there in the coming months could spark Tuareg tensions that spill across Algeria's lengthy, sparsely monitored southern border—precisely where some of the country's most significant hydrocarbon resources lie. Moreover, Wagner's record of crippling nearby states (e.g., the Central African Republic) might give Algiers pause. The potential for ambivalence was reflected in a January 10 statement from the Algerian president's office, which spoke of the sanctions against the junta in restrained terms at a time when most other countries took the side of ECOWAS.
Conclusion
The most pressing issue is how best to rearticulate the Western military apparatus in the Sahel. As Europe's primary security partner in the region, the United States might see an interest in accompanying the transformation of the French and allied military footprint in order to counter terrorist groups in the three borders region and the Sahara. Neighboring countries such as Niger and Burkina Faso are particularly vulnerable to such groups and are therefore willing to continue cooperating with Western forces. Terrorist elements are also trying to expand in coastal countries along the Gulf of Guinea. And in North Africa, engaging other governments (e.g., Morocco and Egypt) on these issues in the medium term could help mitigate potential threats.
To limit the potential spillover in Maghreb countries, Western stakeholders should maintain political and economic pressure on the Malian junta by promoting the democratic process and curbing Moscow's influence. In the context of the Ukraine war, every possible breakthrough by Russian assets should be carefully monitored. An emphasis on strategic communication to counter Russian and jihadist narratives would be particularly relevant.
Finally, engaging Algeria to help ease tensions between Tuaregs and the Malian government could be a relevant diplomatic option. Alongside revived efforts to implement the 2015 peace agreement, Algiers could be an ally in preserving the role of the UN Multidimensional Integrated Stabilization Mission in Mali (MINUSMA), which might be threatened by the junta and Wagner. The mission is officially in charge of monitoring implementation of the Algiers agreement; it has a human rights monitoring mandate as well, which may give it latitude to help monitor Wagner's activities. Preserving a functioning MINUSMA is also important to limit the negative consequences on Algeria and the wider Maghreb.
Louis Dugit-Gros is a visiting fellow with The Washington Institute and a diplomat with the French Ministry for Europe and Foreign Affairs. This PolicyWatch was produced under the auspices of the Institute's Diane and Guilford Glazer Foundation Program on Great Power Competition and the Middle East.