Will a Sense of Revenge Spur Iran to Attack Saudi Arabia?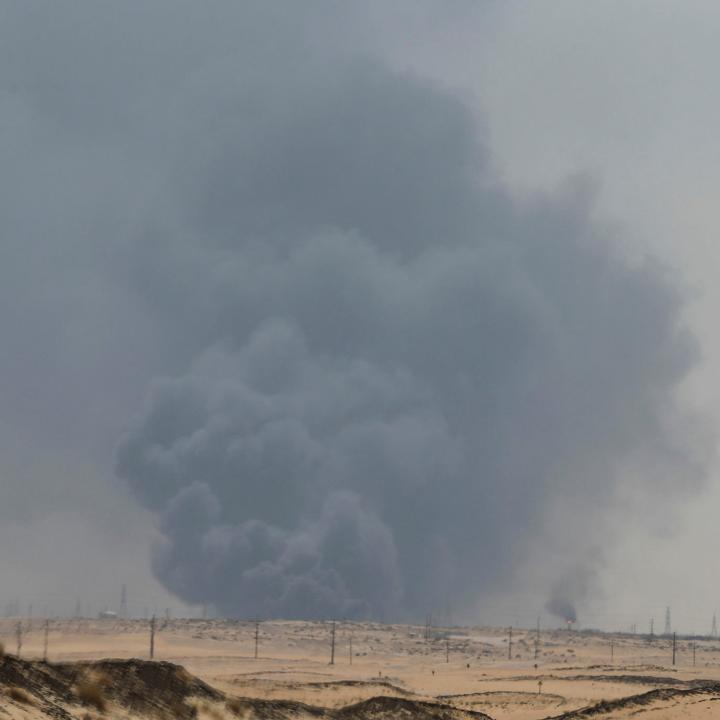 While the regime doubles down on its domestic crackdown, it has increased its threatening rhetoric abroad as well, potentially drawing U.S. assets into a new round of military escalation reminiscent of summer 2019.
As Iran enters its third week of mass protests, the regime has failed to quell the revolt quickly despite committing the full might of its Law Enforcement Command, local Basij militias, and Ministry of Intelligence. The remarkable level of public defiance shown by the protesters has shaken and angered the regime, as has the unified support they have received from the diaspora and international public opinion. Some foreign governments have responded with more tangible support—for example, the U.S. Treasury Department issued a new general license on September 23 to facilitate internet communications for the Iranian people via provision of related services and software. It is also reportedly readying new economic sanctions against the regime's oil exports.
Iran's domestic uproar is unique in both its depth and breadth: for the first time since 1979, a protest movement is transcending all major ethnic, social, and economic divides while focusing on the regime's ouster as its only demand. Moreover, women are playing a leading role and targeting a core, taboo issue: the compulsory hijab. There is room for further escalation among crucial segments of the population who have yet to join the protests en masse, from members of the national armed forces (Artesh) and other military branches to civil servants and public sector workers (especially in the oil and gas industries, whose general strikes had a crucial impact on the outcome of the 1979 revolution).
Initially, the movement's unique combination of factors led the regime to act cautiously and hold back on its previously seen "shock and awe" tactic of deploying core forces to crush protests early on—namely, plainclothes regulars from the Islamic Revolutionary Guard Corps (IRGC) and specially trained Basij cadres. The latter units are typically directed by the Sarallah Security Headquarters (SSH), an IRGC command center tasked with maintaining order in the capital if police fail to do so, mainly by spreading terror and reclaiming the streets with brute force. Although the SSH is located in north Tehran, its "eyes" can be found downtown on Iranshahr Street—that is, it uses the 1,500-plus cameras operated by the Tehran Smart Traffic Control Center to monitor all movements in the capital, a capability that was broadened in 2018 after the system merged with the new Traffic Control Command Center operated by the national police (NAJA).
During past uprisings, the SSH and similar elements were typically unleashed right after Supreme Leader Ali Khamenei delivered a public speech damning the protesters. In the current case, however, the more brutal phase of the crackdown apparently launched in Tehran and other cities on October 2, the night before his first comments on the unrest—though some key elements are still being held back. The question of whether and when any attempted rollback will succeed is uncertain, in part because the protest movement is self-organizing, decentralized, leaderless, and therefore more difficult to target.
The Foreign Blame Game
In addition to mobilizing its forces for internal suppression, the regime has resorted to its old tactic of blaming "foreign enemies" for "conspiring" to foment the protests. On October 2, IRGC commander Gen. Hossein Salami accused the United States, Britain, and Saudi Arabia of playing a leading role in the uprising via their "destructive" Persian media outlets (e.g., Voice of America, Radio Farda, the BBC, and especially Iran International, an outlet discussed in the next section). A day later, Khamenei hurled similar accusations at Washington, Riyadh, and Israel.
More ominously, the regime has already coupled such rhetoric with military action against foreign targets. On September 24, the Northwestern Command of the IRGC Ground Forces began striking camps belonging to Iranian Kurdish opposition parties in northern Iraq using artillery, rockets, missiles, and drones. Tehran has accused these groups of instigating violence across the border in Iranian Kurdish frontier towns, a charge they deny. The IRGC strikes have caused many casualties—mostly Kurdish guerrillas, but some civilians as well, including a U.S. citizen.
On September 28, a U.S. fighter jet shot down an Iranian Mohajer-6 drone that was reportedly approaching Erbil, Iraq; according to U.S. Central Command, the drone "appeared as a threat to CENTCOM forces in the area." The next day, the chairman of Iran's Armed Forces General Staff, Maj. Gen. Mohammad Bagheri, warned Washington that any further action against Iranian drones conducting military activities over Iraq would result in retaliation against U.S. facilities at the "Harir, Erbil, and Duhok military bases" at a time of Tehran's choosing.
Abqaiq-Style Attack Coming?
It is unclear whether Tehran sincerely believes that foreign governments are behind the protests or is just using such rhetoric as a diversion from the unrest. Either way, the result could be further attacks on foreign targets. And Kurdish groups might not be the only ones at the receiving end of Iran's diversionary wrath—Saudi Arabia may be at risk as well. While blaming global Farsi media outlets for their role in the protests, Tehran has singled out the London-based satellite television channel Iran International, accusing it of being financed by Riyadh and acting as the main driver behind the uprising. Arguing that the Saudis are therefore committed to overthrowing the Islamic Republic, IRGC-affiliated social media channels in Iraq have been posting threats of armed retaliation.
Perhaps not coincidentally, Iran's Houthi militia partners in Yemen announced on October 2 that they were ending their truce with the Saudi-led coalition. Warning foreign oil and shipping companies to leave the region, they threatened to resume attacks on airports, seaports, and energy facilities. As in the past, the prospect of such strikes gives Tehran ample opportunity to either launch strikes from inside Houthi-controlled territory or establish plausible deniability if it attacks from Iran or elsewhere.
In the event of such attacks, foreign officials should not be surprised if they are designed to be spectacular in nature, regardless of their point of origin. The uprising shows potential signs of posing an existential threat to the regime, and Tehran has already responded with strikes abroad and threats of more to come. Should this situation persist, the IRGC—as the constitutionally designated protector of the Islamic regime and revolution—can be expected to launch further strikes. And given the high stakes involved in ongoing unrest, an unattributable attack against its chief regional rival, Saudi Arabia, is a distinct possibility.
Such an operation would presumably be similar in purpose and scope to the September 2019 attacks on Saudi oil facilities at Abqaiq and Khurais, once again targeting the kingdom's critical infrastructure and originating from Yemen, Iraq, or Iran proper. It could also put local CENTCOM forces and assets at risk. Although Tehran may take precautionary measures to avoid the escalatory step of hitting Americans, the chances of mistaken targeting have increased in recent years. Washington and Riyadh beefed up the kingdom's critical infrastructure defenses after the 2019 attacks, in part via a more noticeable CENTCOM presence in the eastern areas that are home to major oil facilities. Moreover, Iranian forces could decide to attack an unmanned U.S. platform, as they did when they shot down a Global Hawk BAMS-D surveillance drone over the Strait of Hormuz in June 2019.
Drones would be a likely weapon of choice if Tehran decides to strike Saudi Arabia. One option is the IRGC's Shahed-131 and -136, the suicide drones that Iran delivered to Russia recently for use against Ukraine. Another possibility is the slightly larger Arash-2/Kian-2 suicide drone currently in service with the Artesh, since deploying it could also serve as a signal of that force's loyalty to the regime.
Given these threats and the attendant (if remote) risks of regional escalation, it is imperative that Washington increase its vigilance on this front, in part by deploying suitable surveillance, detection, and interception assets to the region. By doing so, the United States could not only improve its deterrence against Iran, but also provide further reassurance to its partners. At the same time, U.S. officials should send a strong message that goes beyond fully supporting the Iranian people—they should also warn that any regional strike, whether directly or indirectly attributable to Iran, may result in severe, specific repercussions, unlike how Washington responded after the 2019 attacks.
Farzin Nadimi is an associate fellow with The Washington Institute, specializing in security and defense in Iran and the Gulf region.