Iranian Drones to Russia: Capabilities and Limitations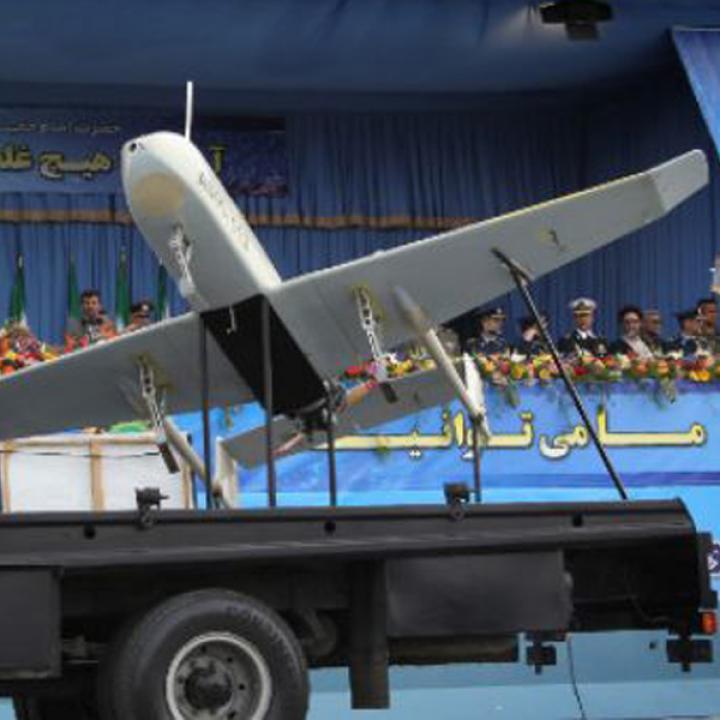 Besides signaling that Iran has shifted to active military support for Russia's war in Ukraine, the prospective transfer gives Moscow a stopgap option until its own advanced drones are ready for service.
Over the past month, White House National Security Advisor Jake Sullivan has revealed declassified intelligence on Iranian plans to transfer hundreds of combat drones and other unmanned aerial vehicles (UAVs) to Russia, and to train Russian operators inside the Islamic Republic. The Biden administration also published satellite imagery that reportedly showed a Kremlin military delegation visiting the Shahid Karimi UAV base in central Iran, run by the Islamic Revolutionary Guard Corps (IRGC) Aerospace Force. The facility, which shares its runway with the pseudo-civilian airport in Kashan, is known to have been heavily involved in Iranian and proxy drone operations in Syria and elsewhere.
The exact terms of the deal have not been made public, so it is unclear whether the drones will be sold directly to Russia, loaned, or permanently transferred as partial repayment for Tehran's substantial nuclear debt to Moscow. Whatever the case, the proposed transfer indicates that sanctions-induced supply chain problems and other issues are hindering Russia's domestic production of drones, which was already lagging for reasons discussed below. It also demonstrates Tehran's willingness to offer substantial military support despite the possibility of negative political ramifications—a risk that may be counterbalanced by the prospect of promoting and boosting Iranian military industries.  
Why Does Moscow Need Iranian Drones?
Both Russia and Iran had been expanding their drone capabilities over the past decade—the former as a result of combat experiences in Crimea and Donbas since 2014, the latter after watching U.S.-led coalition forces deploy UAVs effectively in Afghanistan and Iraq. Drones have also found an increasingly important place in Iran's asymmetric way of warfare.
As part of this development, Iran's drone industry has produced a wide range of reconnaissance, attack, and suicide models, some of which have been exported to other countries (e.g., Ethiopia, Tajikistan, Venezuela). In October 2013, the IRGC Aerospace Force gifted a Yasir—a small reconnaissance UAV copied from the American ScanEagle—to the visiting commander-in-chief of the Russian Air Force.
Russia likewise aims to become a major drone power, with the Kronstadt Group currently completing the country's first modern production line for large UAVs in Dubna. Yet because Moscow has been slower to prioritize drone development, it has now turned to Tehran to fulfill its immediate needs for UAVs in Ukraine, including armed reconnaissance models and possibly even suicide drones.
Indeed, drones are playing a key role in the current war, and deploying a large number of new ones over the battlefield could give Russia the same type of psychological and tactical boost that Ukrainian forces enjoyed when they first began using Bayraktar drones imported from Turkey. Moscow may even hope to alter the course of the entire conflict by using drones more widely. Yet truly modern Russian designs have yet to enter production, let alone active service—including combat models such as the Orion-E, Inokhodets-RU (Sirius), Helios-RLD, Grom, and Molniya, which boast significantly better performance, larger payloads, and satellite communication capability for longer range. The ZALA/Kalashnikov KUB loitering munition is being used in Ukraine, but its short range and very small warhead make it inferior to similar Iranian designs. In short, Tehran's drones can be an ideal stopgap until the Kremlin's "real" drones are available.
What Iran Can Offer
Iran could provide a variety of multipurpose UAVs to Russia:
the Shahed-129, a reconnaissance and attack drone with long endurance (reportedly up to 24 hours), a maximum payload of 400 kg, and effective range of about 2,000 km when used with ground or airborne relay stations (since its base version lacks a satellite communication capability)

the midrange Mohajer-6 (200-km range, 40-kg payload, 12-hour endurance)

the smaller Shahed-123 and the precision-guided Shahed-131/136 and Kian-2 (reported range of 1,500-2,000 km)

the Ababil-3 (see below)
The current Russian order apparently includes direct delivery of 50-100 midrange Ababil-3 drones built by Iran Aircraft Manufacturing Industries (HESA) and presently in service with the IRGC and Artesh national armed forces. This type has been in production at HESA's Shahin Shahr facility near Isfahan since at least 2010, but it is unknown what percentage of the Russian order will be new-built. The Iranian military has fielded many of these drones in the original Ababil-3 form, the slightly upgraded A3N variant, and the Ababil-4 model, using them for attack roles and surveillance/artillery spotting purposes. For attack runs, the Ababil-3 can carry two small-diameter Qaem guided bombs with a 1.7-kg warhead and range of 6 km, or Almas top-attack guided missiles with a range of 8 km. The drone has a maximum range of 250 km and can reportedly stay airborne for up to 8 hours at an altitude of 5 km.
Notably, the Ababil-3 is powered by a four-cylinder Mado MD550 engine, an inferior copy of the German Limbach L550e engine using Chinese parts and assemblies. The IRGC-affiliated Oje Parvaz Mado Nafar Co., based in Shokuhieh Industrial Town northwest of Qom, is currently the largest producer of drone piston engines in Iran. In October 2021, the U.S. Treasury Department sanctioned the company and its directors for procuring engines and parts for Iran's military and drone industry.
To be sure, Iranian factories probably cannot manufacture new drones fast enough to meet Russia's urgent demand. Even if they maximized output at their three active or partially active drone production lines near Tehran and Isfahan, they would still need to import or manufacture many electronics and engine parts. Hence, a significant part of Moscow's order will presumably need to be drawn from existing stocks. And given that the deal reportedly calls for "hundreds" of drones, Iran will be tapping heavily into its aerial forces and sending a mix of different types.  
Receiving a mix of drones will also lengthen the familiarization and training period for Russian personnel and complicate their operations. For every batch of 100 Ababil-3 drones, Iran must train 200 Russian pilots, communications specialists, technicians, and handlers—though each training session will likely take no longer than two weeks. In addition, Iran must produce sufficient numbers of associated mobile command-and-control and communications stations—otherwise Russia will not be able to use the drones efficiently in the vast spread of Ukrainian battlefields. Each Iranian station can control only one drone at a time.
As for Iranian personnel, a relatively large number of technicians and engineers will need to accompany the drones to Russia—and probably Ukraine—in order to handle equipment and software standardization issues. Although this could put Iranians in harm's way, their presence might offset Russia's challenges with integrating new weapon systems from new suppliers under combat conditions. And Tehran would no doubt try to minimize the domestic impact of any casualties by keeping them a secret.
Conclusion
If Iranian drone deliveries to Russia are carried out, they will likely sound the starting gun for further bilateral military cooperation in Ukraine. Whether such cooperation will eventually lead the IRGC Qods Force to deploy proxy forces to Ukrainian battlefronts is unclear, but in the meantime it could open the way for delivery of more controversial weapons such as short-range Iranian ballistic missiles. Given Russia's dwindling stocks of Iskander ballistic missiles and cruise missiles, an influx of Iranian munitions would enable it to attack more long-range high-value targets in Ukraine.
Such deliveries would also be in line with the Iranian leadership's strategic views on great power competition with the United States. On July 21, the chairman of Iran's Armed Forces General Staff, Maj. Gen. Mohammad Bagheri, noted Tehran's delight at the fact that Russia is emerging from "passivity" and actively confronting NATO's "expansionism to the east," referring to Ukraine. In his view, the current "transitional period" will coincide with the "decline of American power."
Similarly, a July 24 editorial in Kayhan, a newspaper considered close to Supreme Leader Ali Khamenei, praised Russia's invasion as a "preemptive" measure that closed NATO's path to aggressive actions in Crimea and even Iran. According to hardliners in Khamenei's circle, the Ukraine war is a continuation of the "resistance axis" struggles in Iraq and Syria, so Russia's efforts should be supported—for now with drones and drone technicians.
Farzin Nadimi is an associate fellow with The Washington Institute, specializing in security and defense in Iran and the Gulf region.