Israel Once Again Strikes Iran's UAV Base in Syria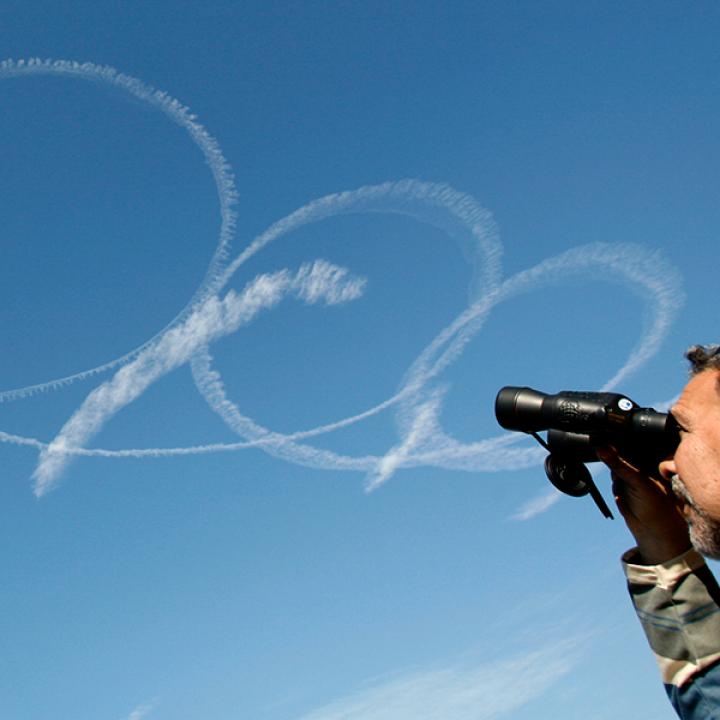 Tehran continues to maintain significant drone forces at a base in western Syria, giving them dangerously easy access to the Israeli border and raising the risk of escalation.
In the early hours of April 9, local news agencies reported a raid on the T-4 (Tiyas) air base in the western Syrian province of Homs. Initially, some believed that the airstrike may have been a U.S. response to the Assad regime's reported weekend use of chemical weapons in Douma, but Washington denied involvement, and the Russian Defense Ministry said the attack was conducted by two Israeli F-15s. According to Moscow, the jets fired eight standoff missiles from Lebanese airspace; five of them were intercepted by Syrian air defenses, while the other three hit targets within the base. Fourteen people were reportedly killed, at least seven of them Iranian.
Besides housing Syrian and Russian aircraft, the T-4 base also hosts an element from the Islamic Revolutionary Guard Corps unmanned aerial vehicle unit. In fact, one of the confirmed Iranian fatalities was Col. Mehdi Dehghan Yazdeli, a commander from the IRGC Aerospace Force's little-known but very active and heavily defended Shahid Karimi UAV base, which shares its 3,000-meter runway with Kashan Airport 190 kilometers south of Tehran. Iranian officials also identified the other fatalities: Akbar Zavar Jenatti (from Yazdeli's unit), Ammar Mousavi (from an unknown IRGC unit), Morteza Basiripour (a 1st lieutenant in a South Khorasan IRGC unit), Hamed Rezai (unknown IRGC unit), Hojatollah Nochamani (unknown IRGC unit), and Mehdi Lotfi Niasar (from the Qom Basij).
The original UAV unit that deployed a contingent to T-4 is used for operational purposes (surveillance and attacks) as well as research and development. Recent satellite images of the unit's home base in Iran show examples of several drones, including the Shahed-129 (which has a fifteen-meter wingspan), Mohajer (five meters), and Saegheh (around eight meters), which looks like a smaller copy of the American RQ-170 that the IRGC captured in 2011. All of these models may now be deployed at T-4.
The Saegheh has been shown on Iranian television carrying guided bombs. On February 6, the IRGC unveiled its latest small-diameter guided bomb, the Qaem, which can reportedly carry television guidance packages for daytime flights or infrared imaging for night missions. Although Iranian drone optics can fixate on targets as far away as ten kilometers, the maximum range of their bombs is believed to be about five kilometers. Iranian media have shown rocket-powered versions of drone munitions, but there is no indication they have seen operational use.
The IRGC has been flying a contingent of Shahed-129s, Mohajers, and other UAVs over Syria for some time. Iranian drones have a maximum range of 1,000 to 1,500 kilometers, so launching them out of T-4 offers obvious range advantages, especially for long-endurance missions aimed at Israel. On February 10, one of Iran's newest drones—either a Saegheh or a larger Simorgh—flew several kilometers into Israeli airspace before it was shot down by a pursuing helicopter. In response, Israeli jets immediately attacked T-4, targeting the UAV's control van.
Over the past few days, Iranian drones have been particularly active over Homs province, which may have prompted the April 9 strike. Israel is no doubt concerned that the T-4 base is only 220 kilometers from the Golan Heights, making it much easier for Iranian drones to maintain round-the-clock surveillance of that frontier and beyond.
As for Tehran's potential response, the Foreign Ministry quickly condemned the strike, but neither it nor the IRGC has issued any threats, unlike in previous cases. So far only two Iranian officials have made stark warnings that retaliation is definitely coming.
Even so, the IRGC can be expected to launch a face-saving attempt at penetrating Israeli airspace with a UAV in the coming days or weeks. Any such move would risk further escalation if Israel conducts follow-on strikes against more Iranian targets in Syria.
On April 10, Russia's special representative to the international talks on Syria, Aleksandr Lavrentyev, paid a surprise visit to Tehran and met with Ali Shamkhani, secretary of the Supreme National Security Council. According to Iran's Tasnim News Agency, they held urgent discussions on the T-4 strike and Iran's potential responses. Meanwhile, news reports out of Syria suggest that Russian and Assad regime forces have been put on high alert because of the Israeli operation and the anticipated U.S. military reaction to the Douma chemical attack.   
However Tehran decides to respond in the short term, it will likely maintain or even expand its UAV presence in western Syria going forward. To help these assets withstand damage from strikes, the IRGC might deploy some of its mobile air-defense assets to T-4 or other areas—which again risks further escalation if they too are targeted by Israel. 
Farzin Nadimi is an associate fellow with The Washington Institute, specializing in the security and defense affairs of Iran and the Persian Gulf region.