Murmurs of a Second Cultural Revolution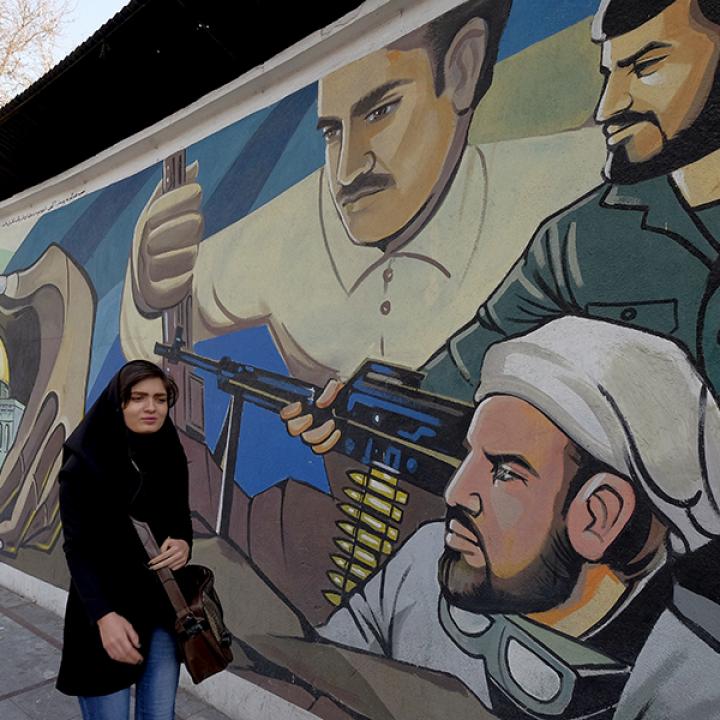 Gathering IRGC frustrations over liberal domestic trends could eventually prompt dramatic intervention, with troubling regional consequences for the United States and its allies.
On August 2, President Donald J. Trump signed a bill targeting the missile- and terrorist-related activities of Iran's Islamic Revolutionary Guard Corps (IRGC), as well as its domestic misdeeds, including torture, human rights violations, and restriction of free speech.
The IRGC, aside from being a military force that uses both conventional and unconventional tactics—as well as an economic conglomerate—holds the broader task of protecting the so-called Islamic Revolution and its achievements by all necessary means. This includes everything from backing up the police in countering domestic disturbances to enforcing cultural and educational conformance with Islamic law.
THE APPARATUS OF SUPPRESSION
During the popular uprisings of July 1999 and June 2009, the IRGC was actively involved in bolstering the efforts of Iranian police. The latter of those two instances, however, shook the Islamic Republic hard enough that it was compelled to restructure almost its entire domestic security system around the IRGC.
In and around Tehran, the national police force (NAJA)—with its four local special unit brigades—and the Ministry of Intelligence remain in charge of the security. Yet after 2009, the IRGC assumed an official supporting role, with two of its corps receiving specialized training and equipment for the job.
Bureaucratically, Tehran is divided into twenty-three municipal districts, each with a Basij Resistance District (BRD) structure. Within each district, one finds an average of eleven Basij Resistance Precincts (BRPs), each with twelve Basij Resistance Bases (BRBs) scattered around neighborhoods in mosques, ministries, schools, and other sites. And within each BRB, two all-male Ashura battalions and one all-female al-Zahra battalion are tasked with "cultural" and cyber operations, urban defense, and search-and-rescue/relief operations. In addition, at the precinct level, all-male Beit al-Muqaddas and all-female Kosar "quick response" battalions operate with a similar structure and mission, but they consist of younger members who are trained and deployed more effectively. When deployed, they answer directly to the provincial corps.
Download a PDF version of this map.
Most notable, though, are the Imam Ali Security Battalions, one of which is assigned to each BRD. These volunteer forces are specially trained and equipped with full riot-control gear, heavy motorcycles, and "mobile cage" Toyota pickups in order to quickly and ruthlessly quell street protests and make arrests. They operate under four citywide IRGC security units (Valiasr, Hazrat-e Mojtaba, Imam Hadi, and Imam Reza), which in turn report to Hazrat-e Zahra and All-e Muhammad quick-response security brigades attached to Tehran's Muhammad-Rasul-Allah Corps (MRAC), based in the heart of the capital. The MRAC and Tehran province's separate Sayyed al-Shohada Corps (SSC)—based in Rey, south of Tehran—are controlled by the Sarallah Security Headquarters.
In addition to the BRDs and units that focus on security and supposed cultural threats, MRAC performs more-traditional military missions through a downsized 27th Mechanized Infantry Combat Division, with only four battalions, while the SSC commands the 10th and 23rd divisions. For combat operations, these forces are augmented by twenty-four Basij Imam Hussein battalions and four Sabirin quick-reaction units. Members of these units are frequently sent to Syria and have suffered high numbers of casualties.
The Imam Hussein battalions, in particular, serve as the IRGC's vital reserve units. Overseen by a separate Imam Hussein central headquarters located within the IRGC, these units consist of the best Basij cadres to receive a salary. The fighters are thus well trained and equipped to operate alongside regular IRGC units, and to maintain their skills, they participate in weekly and monthly drills. Such unusual arrangements allow military and security units to switch roles and assist each other when necessary.
DECISIONMAKING LOOP
Although the primary organizations responsible for securing Tehran are NAJA and the Ministry of Intelligence, in especially dire cases the Supreme National Security Council immediately seeks Supreme Leader Ayatollah Ali Khamenei's permission to enlist the Sarallah Headquarters, which in turn activates the MRAC and, in the suburbs, Tehran province's SSC. The MRAC and SSC can then mobilize and send into the streets their highly mobile quick-response Imam Ali units.
Sarallah Headquarters, in such times of crisis, acts effectively as Tehran's military governor. Although nominally positioned under IRGC commander Gen. Mohammad Ali Jafari, Sarallah is, in fact, led by his acting deputy, Brig. Gen. Esmail "Mohammad" Kowsari, a former parliament member and a major player in crushing the 2009 protests. Together with the Ammar Cyber Headquarters, headed by a cleric named Mehdi Taeb, Sarallah is also responsible for monitoring and, if necessary, manipulating sociocultural and social-media activities in the capital, in what is characterized generally as "cultural engineering." Tehran's cultural terrain is further monitored by MRAC's "Cyberspace Cultural Operations Battalions," apparently comprising several thousand members.
CALLS FOR 'NEOFUNDAMENTALISM'
In September 2011, Supreme Leader Khamenei outlined the five objectives of the Islamic Revolution, two of which—the revolution itself and the creation of an Islamic establishment—had already been achieved. The remaining three consist of forging an Islamic government, an Islamic country, and an ultimately global Islamic civilization, or umma. Back in May 2015, General Jafari, the IRGC commander, expressed frustration over the nation's failure to make headway in these areas, a delay that threatened, in his view, the very roots of the Islamic Revolution and risked a reversal of existing revolutionary "achievements." Setting aside their own revolutionary ambitions, regional activities, and pursuit of ballistic missiles, the IRGC brass blame the "extremely worrying" cultural and moral state of Iranian society for such stagnation and thus have called for fundamental changes, starting with the universities.
These views often find a sympathetic ear in the Supreme Leader, who on June 8 explained as follows to visiting university students: "I have repeatedly told [ordered] the intellectual, scientific, and cultural jihadist minds (not only students) around the country...to do whatever you can at your discretion, as if you were ordered to "fire at will" in the battlefield. Obviously, we have a central command in the battlefield that issues orders, but if it is cut off [from the frontline] or when it does not function properly, the commander orders to fire at will. There, you will have to make your own decisions. Think. Find. Move. Act..."
While this statement can be viewed as a mere exhortation—as Khamenei himself appears to have later suggested—such remarks could also presage a more active IRGC role in Iranian culture and education. The Supreme Leader has already encouraged this type of shift, such as when he tasked the IRGC with repackaging his Great Jihad concept as a "soft jihad" against nonkinetic "cultural" threats. Other hardliners, such as Tehran's outgoing mayor and former IRGC and NAJA commander Muhammad Baqer Qalibaf, have echoed such views based on their perception of wide public divergence from Islamic principles. On July 12, Qalibaf called for a proactive Iranian neofundamentalism to tackle the problem.
Calls for a harder line extend to the foreign policy realm. On July 27, General Kowsari declared that compromise and negotiation with the inflexible enemy, the United States, would not allow Iran's leaders to follow in the footsteps of the martyrs. He elaborated, "We should instead be resolute and consistent in attacking the enemy, while not forgetting that the country owes its existence to the IRGC."
PROSPECTS FOR A CRACKDOWN
The recent IRGC targeting of universities, with their so-called Westernized humanities agenda, and a "liberalizing culture" instigated from abroad could stir movement toward a second cultural revolution in Iran. This possibility understandably troubles the country's intellectuals, along with many ordinary citizens.
The first cultural revolution, which was directed by a special council fully endorsed by Ayatollah Ruhollah Khomeini between April 1980 and December 1982, entailed the two-year closure of universities, dismissal of students, firing of professors, review and revision of all textbooks, replacement of all markers of "liberalism" in society with those of Islamism, and enforcement of wearing a strict Islamic hijab. But it also involved an extensive and ruthless security crackdown.
A second cultural revolution could further benefit the IRGC by serving as a creeping pseudocoup against President Hassan Rouhani and his new government if they continue the policies of the previous four years or act to mend ties with the West. The IRGC harbors a growing suspicion toward "diverging pragmatists" and "transformationists" who seek better relations with the West "at the expense of Iran's revolutionary and national interests," and the Guards have all the necessary instruments for monitoring, disrupting, and eventually stopping these trends. Such moves, if they happen, could have consequences for U.S. policies, undoubtedly adding uncertainty and instability to an already uncertain and unstable Middle East. 
Farzin Nadimi is a Washington-based analyst specializing in the security and defense affairs of Iran and the Persian Gulf region.