TWI Series on the JCPOA at One Year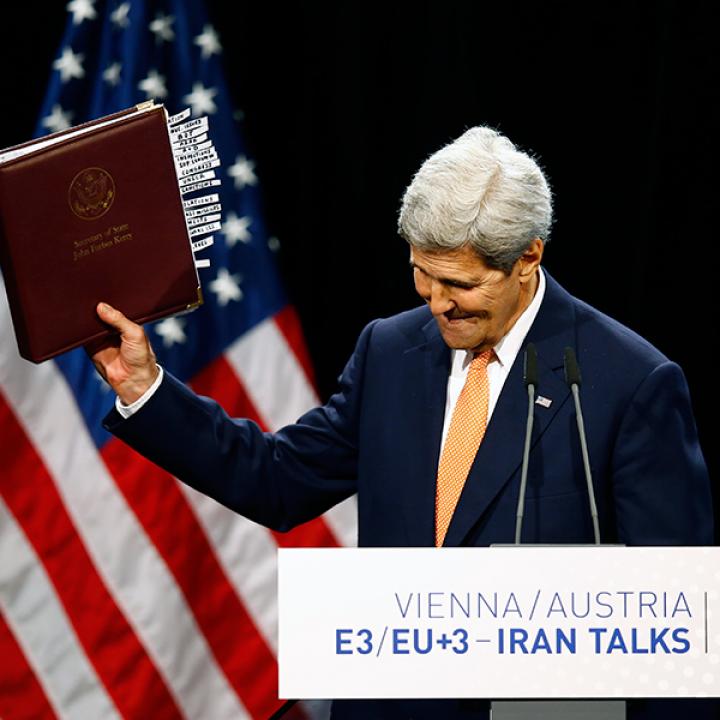 Assess how the Joint Comprehensive Plan of Action (JCPOA), the nuclear agreement with Iran, has affected various U.S. interests one year after its announcement on July 14, 2015.
Open image
James F. Jeffrey
Left to their own devices and faced with an Iran on the march in multiple theaters, regional states have responded to the deal in an incoherent and dangerous fashion.
Dennis Ross
Not enough is being done to convince Tehran that seeking nuclear weapons down the road will lead to forceful consequences, so the next administration will need to put forth a tougher declaratory policy on the issue while bolstering the deal's near-term benefits.
Patrick Clawson
Deeply entrenched interests are impeding reform in Iran, limiting the economy to only modest progress even with sanctions relief.
Anna Borshchevskaya
Moscow only agreed to the nuclear deal out of self-interest, and the JCPOA has allowed Russia to expand ties with Iran while positioning itself as a regional counterweight to the West.
Matthew Levitt
The Islamic Republic's terror sponsorship has hardly abated since the nuclear deal was reached, giving the Obama administration another opportunity to reassess these menacing behaviors and hold Tehran accountable.
Simon Henderson
Tehran's claims about its nuclear ambitions still lack credibility and could mean that the JCPOA does not survive beyond the Obama administration.
Mehdi Khalaji
The nuclear deal and the negotiations leading up to it have been a significant source of factional confrontation inside Iran over the past few years, and this trend will continue for the foreseeable future.
Olivier Decottignies
In keeping with their limited view of the agreement's scope, and in light of their other pressing policy concerns, European officials are focused on enforcing the JCPOA's nuclear restrictions and ensuring that the West holds up its end of the deal.
Katherine Bauer
The United States should not let Iran define effective sanctions relief at the expense of continued implementation of nonnuclear sanctions.
Simon Henderson
Disappointed with the nuclear deal and sensing that Iran is challenging its leadership role in Islam, Riyadh seems prepared to ramp up bilateral tensions via oil production increases, sectarian provocations, and other tactics.
Michael Herzog
Israel and Washington should jointly address the perceived lack of U.S. deterrence against persistent Iranian and proxy threats, conclude the ten-year military assistance package as soon as possible, and launch a strategic high-level dialogue under the next administration.