Saudi Arabia Signals It Will Accept Stricter Nuclear Inspections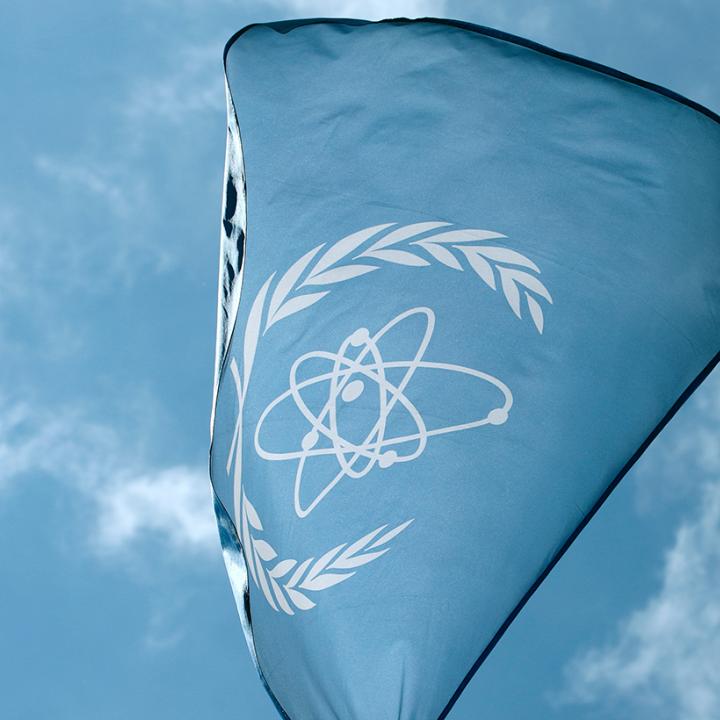 Official statements at the latest IAEA meeting are effectively a concession in the kingdom's negotiating stance on normalization with Israel.
In an official government statement submitted to the International Atomic Energy Agency (IAEA) General Conference on September 25, Saudi energy minister Prince Abdulaziz bin Salman wrote, "The Kingdom has decided recently to rescind the Small Quantities Protocol and implement the full Comprehensive Safeguards Agreement. The Kingdom is working, within the framework of its national ecosystem, to establish the necessary mechanisms for this full implementation, following best international practices and experiences." Behind the jargon is a significant diplomatic shift, voiced by a half-brother to the kingdom's de facto leader Crown Prince Muhammad bin Salman (MbS). Yet the statement still leaves crucial questions about when the decision was made and when it will come into effect.
Along with U.S. security guarantees and access to military technology, a key element in Saudi Arabia's demands for agreeing to normalize relations with Israel is access to U.S. civil nuclear technology. This demand is contentious, partly because of the crown prince's repeated statements (including just last week) that the kingdom will seek an atomic bomb if Iran acquires one, but also because Riyadh has previously been reluctant to accept IAEA safeguards compatible with its stated desire for nuclear power plants and uranium enrichment capabilities. Low-level enrichment produces fuel suitable for civil power plants, but higher levels can be used in a nuclear bomb.
On September 23, soon after MbS told Fox News that the kingdom "will have to get" a nuclear weapon if Iran obtains one, Israeli prime minister Binyamin Netanyahu expressed "major issues" with the prospect of Saudi enrichment. The kingdom's stance at the IAEA this week suggests that a workaround can be—or is already being—devised.
Riyadh's current Small Quantities Protocol greatly limits the IAEA's access to its nuclear program, and the appropriateness of this arrangement has long passed given the kingdom's present activities and stated intentions. The IAEA defines a comprehensive safeguards agreement (aka a "full-scope safeguards agreement") as giving the agency "the right and obligation to apply safeguards on all source material or special fissionable material in all peaceful nuclear activities within the State's territory, under its jurisdiction or carried out under its control anywhere, for the exclusive purpose of verifying that such material is not diverted to nuclear weapons or other nuclear explosive devices."
Furthermore, as seen in ongoing disputes about Iran's nuclear obligations, the IAEA's interpretation of Code 3.1 is that once Saudi Arabia adopts a comprehensive safeguards agreement, it will have to provide the agency with a wide variety of information and inspection rights (e.g., access to all buildings at any site where nuclear materials will be present, regardless of each building's specific use). In contrast, Iran has claimed that such information need only be provided by states who agree to the IAEA's Additional Protocol, which creates additional obligations about reporting and inspections. Saudi Arabia could easily clarify this issue and avoid such disputes by doing what most other IAEA member states have done: accept both a safeguards agreement and the Additional Protocol.
The practical implications of these issues are illustrated by the research reactor expected to commence operations in Saudi Arabia soon. Under the IAEA's interpretation, the kingdom is required to file its plans for all facilities at this nuclear site near the capital and permit them to be inspected even if it does not sign the Additional Protocol, as described in an August 2020 New York Times story.
Similarly, the IAEA does not need an Additional Protocol signature to press Saudi Arabia on explaining its past nuclear activities or permitting inspectors to verify these explanations. Troubling reports suggest that the kingdom was the "fourth customer" (after Libya, Iran, and North Korea) of the late Pakistani proliferator A. Q. Khan. Although Khan lost influence over his country's nuclear activities as far back as 2003, MbS met with army commanders and other top officials during his landmark 2019 visit to Islamabad, while Pakistani military strongman and de facto nuclear chief Gen. Asim Munir traveled to the kingdom for several days of secretive talks this January.
Given this backdrop and the lack of details and concrete timelines in Prince Abdulaziz's statement to the IAEA, Washington and its partners should keep asking tough questions about the kingdom's nuclear intentions. Yet the statement is still welcome for suggesting a way around a potential roadblock on the Israeli-Saudi normalization track.
Simon Henderson is the Baker Fellow and director of the Bernstein Program on Gulf and Energy Policy at The Washington Institute.