Iran's Nuclear Diplomacy: Feint and Advance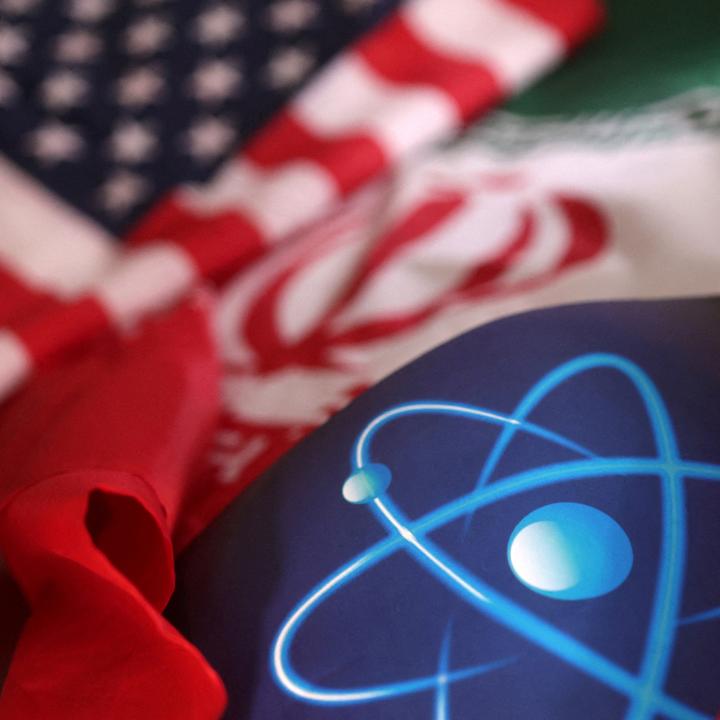 What Washington considers de-escalation, Tehran sees as an opportunity to consolidate its nuclear gains, avoid accountability, and position itself to cross the nuclear weapons threshold at a time of its choosing.
Since December 2020, Iran has significantly expanded its nuclear activities and decreased its cooperation with the International Atomic Energy Agency (IAEA), bringing it closer than ever to a nuclear weapons capability even as the United States and its partners have decreasing visibility into the program. Since the Biden administration's efforts to revive the Joint Comprehensive Plan of Action (JCPOA) broke down in fall 2022, Washington and the IAEA have pursued diplomatic initiatives to stave off an international crisis and halt further advances in Iran's program.
Unfortunately, these efforts have accomplished little and arguably detracted from one another, cementing both Iran's nuclear achievements and the linkage between its commitments under the JCPOA and the Nuclear Nonproliferation Treaty (NPT)—an outcome long sought by Tehran and long resisted by Washington and its partners. In turn, the Iranian regime has received another boost to its confidence, which was already high due to perceived diplomatic and military successes in the region as well as surging oil exports. Reversing these trends will require a strenuous U.S. and European effort to deter Iran amid narrowing and unpalatable policy options. 
Decreasing Breakout Time and Transparency
Over the past two years, Iran's nuclear advances have become more substantial and worrisome—indeed, all of the states that made similar strides in the past went on to develop nuclear weapons. The regime's advances include:
Enriching uranium to 60 percent, and briefly as high as 84 percent, a hair's breadth from what is generally considered weapons-grade (

for more on these terms, see 

this Washington Institute infographic

 or the associated 

Iran Nuclear Glossary

).

Stockpiling several weapons' worth of high-enriched uranium (HEU)

Expanding the number, sophistication, and locations of its installed centrifuges.

Decreasing its "breakout time"—the period required to produce a single bomb's worth of weapons-grade uranium—to just twelve days.
Although converting HEU into an actual weapon would take additional time, this fact should not be particularly reassuring to Western officials. For one thing, Iran is already known to possess sufficient knowledge to weaponize. Revelations from the archive of nuclear documents that Israel has spirited from Iran suggest that its weaponization efforts advanced further and were more organized than described in the IAEA's 2015 report on the program's "possible military dimensions" (PMD). Moreover, many of the current restrictions on Iran's missile program are set to sunset next month.
Second, the time required for weaponization may be shorter than expected—some analysts suggest Iran may need two years, but Joint Chiefs chairman Gen. Mark Milley recently pegged the estimate at just a few months. Whatever the actual time required, U.S. and Israeli leaders would have to rely on potentially low-confidence intelligence assessments regarding Iran's progress, greatly complicating their decisions about if, when, and how to act.
Third, preventing a weaponization effort would depend on keeping track of Iran's HEU, which would be difficult given the numerous steps the regime has taken to decrease the transparency of its nuclear activities. For example, the IAEA has had little insight into Iran's centrifuge manufacturing and assembly for years now, with perhaps thousands of centrifuges unaccounted for. In addition, Iran's production of 84 percent uranium may not have been detected quickly enough for the United States or others to take action if they had wished to, and it is unclear if future incidents would be detected more quickly. Tehran also continues to stonewall the IAEA's efforts to investigate three undeclared nuclear sites named in Israel's documents archive: Turquzabad, Varamin, and Marivan.
Taken together, these developments underscore the fear that Iran could conduct a breakout at an undeclared site using centrifuges diverted from existing facilities. International observers are already worried about a new facility being constructed outside Natanz, since it is buried more deeply than other facilities and will therefore be better protected from attack. So far, Iran has not notified the IAEA of the facility's purpose. If pressed, the regime would likely claim it is not required to give such notice after suspending (illegitimately, in the IAEA's view) its implementation of "Modified Code 3.1"—a provision that requires Iran to notify the agency about the construction of any new nuclear facility as soon as it is planned or authorized rather than waiting for the introduction of nuclear materials. Tehran also refuses to implement the Additional Protocol, under which IAEA inspectors could request access to undeclared or suspect nuclear facilities.
U.S.-IAEA Crisis Management: Unintended Effects?
This March, IAEA director-general Rafael Grossi traveled to Iran in an effort to stave off crisis and improve the agency's monitoring efforts. Yet Tehran no doubt saw the trip as an opportunity to delay or deter formal condemnation of its activities by the IAEA Board of Governors.
During the visit, Grossi and the Atomic Energy Organization of Iran (AEOI) issued a joint statement in which Tehran agreed to help resolve the IAEA's investigation into the Turquzabad, Varamin, and Marivan sites, along with other steps aimed at enhancing the agency's monitoring and verification activities (with the latter to be specified in subsequent technical discussions). In May, the IAEA reported modest progress in implementing the joint statement: Iran had permitted the installation of "enrichment monitoring devices" at Fordow and Natanz and the reinstallation of cameras at the Isfahan centrifuge workshops. Yet the Fordow and Natanz devices were not yet operational, and Iran had not agreed to give the IAEA access to the Isfahan camera footage. No further progress has been made on these issues since May.
Meanwhile, the Biden administration has reportedly engaged in discussions with Iran, both directly with Iran's ambassador to the UN and indirectly through partners such as Qatar and Oman. These talks have apparently focused on reaching limited deals after the broader 2021-22 effort to revive the JCPOA collapsed. In the months following that failure, Iran warned that placing its related diplomatic demands on the back burner would be met with further escalation.
Reports indicate that the new talks produced two understandings. First, Iran agreed to release five illegally detained American citizens in exchange for several concessions: the release of five Iranian nationals facing or convicted of various federal charges in the United States, the unfreezing of $6 billion in Iranian assets held in South Korea, and the release of $11 billion in assets frozen in Iraq (though it is unclear if the Iraqi funds were explicitly part of the deal).
Second, the two sides reportedly reached an unwritten agreement to trade de-escalatory steps. The details have not been confirmed, but these steps apparently included the following: Iran would down-blend some of its 60 percent uranium, slow its accumulation of HEU, and refrain from installing new advanced centrifuges at Fordow; in return, the United States would refrain from enforcing sanctions on Iran's oil sales. Last month, these sales matched their pre-sanctions high of approximately 2.2 million barrels per day, thanks in large part to a surge in Chinese purchases through third countries.
If these reports are correct, the de-escalatory steps do little to reduce the Iranian nuclear threat. The regime's breakout time is already dangerously narrow and will not be substantially widened by slowing Iran's accumulation of 60 percent uranium or modestly reducing its existing stockpile. Moreover, if Tehran chooses to break out and produce nuclear weapons, it would likely do so at an undeclared site (e.g., the new underground facility being constructed at Natanz), not a declared site. In that case, its reported pledge not to install more centrifuges at declared facilities would be worse than meaningless, since the additional machines may be diverted to the undeclared facility.
The impression that Washington is conducting secret diplomacy could also undermine other potential efforts to hold Iran accountable for its noncompliance with the JCPOA and NPT. For example, if the EU-3 (Britain, France, and Germany) wished to rally other IAEA member states to press for greater Iranian cooperation, the lack of clarity on Washington's parallel efforts would likely make them reluctant to do so (or, at least, give them an excuse to avoid taking action).
Indeed, the U.S. and IAEA crisis-management efforts may inadvertently feed Tehran's well-established "feint and advance" strategy, by which it agrees to limited deals timed to stave off pressure from the IAEA Board of Governors or other bodies. These deals have the added effect of shifting the diplomatic goalposts and cementing the advances Iran has made in contravention of its previous commitments. Tehran then proceeds to ignore even those diluted commitments and move the goalposts even further.
This strategy reflects an Iranian regime that is not only deeply experienced at manipulating Western nuclear diplomacy, but also riding atop a wave of confidence at home and abroad. Iran's economy grew by 3.8 percent in 2022, and this rate is not projected to shrink much in 2023 given the aforementioned surge in Chinese oil purchases and other factors. In the Gulf, Tehran recently concluded normalization deals with the United Arab Emirates and Saudi Arabia (the latter with Chinese facilitation) and sent President Ebrahim Raisi on a successful tour of the neighborhood. In Syria, Iranian ally Bashar al-Assad is being welcomed back to the Arab fold, while Iranian and Russian forces are reportedly conspiring to increase pressure on U.S. troops deployed there. Tehran has also become a key military supplier to Moscow amid the Ukraine war, shifting the power dynamic in their relationship for the first time in modern history. In Lebanon, Iranian proxy Hezbollah has ramped up its anti-Israel activities to the brink of another potential war. And on the nuclear front, the United States and EU-3 were visibly deterred from exercising the JCPOA's "snapback" provision after Tehran threatened to enrich uranium to 90 percent, a level commonly considered weapons-grade.
Next Steps
The Biden administration has suggested that Iran's de-escalatory steps could pave the way for broader nuclear talks. Yet Tehran has already demonstrated its lack of interest in renewing the JCPOA and would likely insist that any new talks take its nuclear advances as the baseline, jettisoning the JCPOA's limits. This conclusion is based in part on Tehran's perception that the administration has essentially accepted these advances, however reluctantly. In that case, Iranian negotiators would focus on trading transparency measures and safeguards compliance for sanctions relief and other concessions—an approach that the United States and EU-3 have long resisted.
If the administration hopes to change this trajectory, it must reverse the current deterrence equation. Washington and its partners are worried that any bold moves could push Iran to further escalate its nuclear activities, but there are two major problems with this reasoning. First, the current situation is already dangerously unstable—given Iran's short breakout time, something as simple as a faulty intelligence report or diplomatic dispute (e.g. over next month's sunset dates for various JCPOA restrictions) could spark the exact sort of crisis they are trying to avoid. Second, emphasizing de-escalation may embolden Tehran to believe it can move toward producing nuclear weapons without consequence, forgetting that there is a potentially fatal difference between being on that threshold and actually crossing it—namely, the risk of a devastating conflict with far more powerful adversaries. Both the United States and Iran may worry about escalation, but Iran should worry far more. 
Washington's recent efforts to bolster its military posture in the Gulf and send Marines for potential deployment aboard commercial vessels constitute a good first step toward increasing military pressure on Iran. Similarly forceful measures should be taken in the economic and diplomatic realms.
The most useful economic step would be to crack down on Iranian oil sales and the banking networks that facilitate them. This would cast doubt on Tehran's prospects of maintaining its current growth rate.
On the diplomatic front, the United States should ask the EU-3 to use upcoming JCPOA sunset deadlines as leverage. For example, they could delay the lifting of certain sanctions in October as stipulated in the JCPOA, then warn Tehran that this is a prelude to further measures (e.g., requesting a comprehensive IAEA assessment of Iranian weaponization activities; updating the agency's 2015 PMD report based on evidence from Israel's nuclear archive). They might even threaten to exercise snapback—an option they have long resisted but will likely consider more seriously as the snapback provision's 2025 expiration grows closer.
It is important to recognize that U.S. and Iranian objectives for the current round of diplomacy are not the same: Washington genuinely seeks de-escalation, but Iran is mainly interested in staving off a crisis while it simultaneously moves the goalposts, cements its nuclear gains, hardens its nuclear infrastructure against attack, and creates the conditions necessary to produce nuclear weapons at a time of its choosing. There are currently few obstacles to Tehran continuing down its path of nuclear advancement and obfuscation; if this does not change, Washington should not expect Iran's course to change either.
Michael Singh is the managing director and Lane-Swig Senior Fellow at The Washington Institute.