The Uncertain State of Deterrence in the Persian Gulf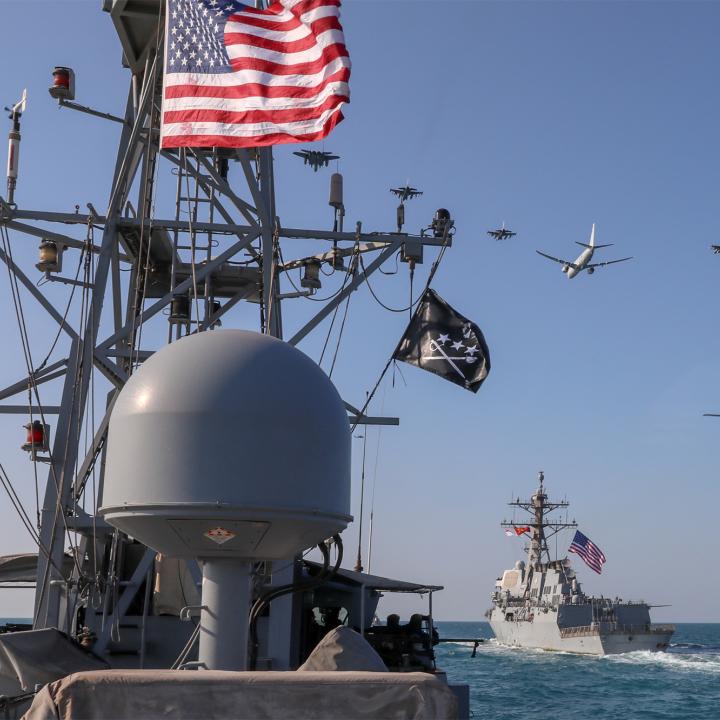 Despite conducting military drills and maintaining a defiant tone, Iran has avoided further ship seizures, but its demonstrated willingness to take assertive action in this zone of "contested deterrence" remains intact.
On August 21, reports revealed that the Suez Rajan, a U.S.-detained tanker carrying Iranian crude oil, had transferred its cargo to the smaller U.S.-owned, Greek-operated ship MR Euphrates; later, the cargo was offloaded at a U.S. terminal. The Suez Rajan had been held off the Texas coast for weeks, unable to transfer the oil because shippers feared the threat issued by Iran's Islamic Revolutionary Guard Corps (IRGC) on July 20—namely, that any company tampering with the cargo would be met with retaliation in the Gulf.
Perhaps not coincidentally, the U.S. Navy's Bataan Amphibious Ready Group (ARG)—including the USS Bataan, USS Carter Hall, and USS Hudner—transited the Strait of Hormuz into the Persian Gulf on August 17. The group was very visibly protected by low-flying F-35 fighter jets on its approach to the strait and probably after it entered the Gulf. The deployment also included embarked Harrier jets and a Marine rapid reaction task force ready to be placed on commercial ships if necessary. Days before this transit, the Hudner had delivered another emphatic message to Iran on August 6 by giving U.S. Central Command chief Gen. Michael Kurilla and Fifth Fleet commander Vice Adm. Brad Cooper a high-profile ride through the strait.
These naval operations followed a range of symbolically and tactically meaningful U.S. military deployments to the region, including a ballistic missile defense destroyer and additional F-16s and F-35s. Taken together, the moves highlight the spike in concerns about Iranian actions against Gulf shipping in 2023. They also show how firm American military signaling and deployments can help deter further Iranian maritime attacks.
Recent Iranian Threats and Actions
On April 22 and July 11, two tankers carrying Iranian oil for China were seized by U.S. and Indonesian authorities, respectively. The first (Suez Rajan) was intercepted pursuant to a court order regarding payments owed to victims of Iranian-sponsored terrorism; the second (Arman 114) was seized for violating environmental regulations and rules regarding ship-to-ship transfers, reportedly in an effort to conceal that the oil came from Iran.
In the weeks after the first seizure, Iranian naval forces retaliated by making two successful and two unsuccessful attempts to seize commercial ships in international waters under false pretenses. In one of these incidents, they fired their guns directly at the ship. In the two failed seizures, timely U.S. and allied military intervention warded the Iranian naval units off.          
As in past times of high tension, Iran has also issued implicit and explicit threats about severely regulating passage through the Strait of Hormuz under the pretense of "smart control." Regime officials and hardliner media may offer more such rhetoric in the coming weeks, mainly for domestic consumption. After the U.S. Navy group transited the strait last month, the IRGC released a heavily edited video claiming that the American vessels had "capitulated to Iranian threats of opening fire" when U.S. helicopters in the air at the time landed back on deck. Yet a closer look at the video's mix of drone and surface footage does not support these claims; rather, it shows the U.S. ships clearly and calmly exercising their right of transit through the strait, with accompanying aircraft in their normal mode of operation (in this case, armed surveillance during the transit).
Even so, Iran likely still believes that it can carry out gray zone activities in the Gulf with relative impunity, and that it has arrayed all the antiaccess/area-denial (A2AD) tools needed to close the strait if it decides to take that course, including long-range antiship missiles, one-way explosive drones, and small submarines. In the future, these capabilities will likely be joined by loitering munitions equipped with cameras to find and follow moving targets, as well as supersonic cruise missiles that can shorten reaction times significantly and perhaps reach further into the Arabian Sea.
Iran can also assume a threatening posture in the air, whether by targeting U.S. reconnaissance drones over the Strait of Hormuz (similar to an infamous June 2019 incident), coordinating naval movements with onshore and maritime integrated air defense networks (as in its recent Eghtedar exercise, see below), or even theoretically using long-range air defense systems to impose de facto control over the strait. In recent months, the IRGC Navy unveiled several types of ships and speedboats capable of firing medium-to-long-range (20-150 kilometers) radar-guided antiaircraft missiles designed to provide an air defense umbrella for other speedboats.
On August 2, the IRGCN launched its second set of Eghtedar "island defense" drills in its 5th Naval District near the Strait of Hormuz, during which it unveiled new shore-based mobile antiship cruise missile batteries with claimed ranges of 300 and 600 kilometers. Notably, the exercise was held about four months ahead of schedule. The stated objective of the drills was to practice "rapid deployment" of troops to defend Abu Musa and three other islands in the so-called Naziat chain just west of the strait, but the long reach of the weapons involved could of course be put to other purposes.
Maritime Legal Issues
Iran often projects power across the entire Strait of Hormuz corridor—not just its own territorial waters, but also the most frequently used shipping corridors established by the International Maritime Organization, which lie entirely within Oman's territorial waters. Tehran's lack of sovereignty in the latter areas (including a small strip of international waters just west of the strait) has not deterred it from seizing ships there (e.g. the Stena Impero in 2019).
Because Iran does not recognize Hormuz as an international strait, it objects to any traffic in the waterway that does not qualify as "innocent passage," which can entail significant restrictions. For example, Iran's 1993 maritime law reserves the right to deny passage to any foreign ship that "threatens, or uses force against, the Islamic Republic of Iran's sovereignty, territorial integrity, and independence...or engages in any propaganda that undermines Iran's national security or economic interests" (Article 6). It also reserves the right to suspend innocent passage through Iranian waters entirely (Article 8). Tehran could invoke either of these articles if it decides to take the drastic step of interfering with ships known to have U.S. military guards aboard. Most of the major Persian Gulf shipping corridors frequented by supertankers fall near or partly within Iranian territorial waters, giving Tehran more legal leverage in these zones (though the IRGC has not hesitated to seek similar advantage in areas further from Iranian waters in the past).
Moreover, the 1993 law's "hot pursuit" clause (Article 21) entitles Iran to pursue vessels beyond its territorial sea and continental shelf into international waters if it believes its right to protect any of its zones has been "violated"; indeed, the IRGC has made this a regular practice in the Strait of Hormuz. Yet while parts of this article are in accordance with international maritime law, the relevant portion of the UN Convention on the Law of the Sea (Article 111) does not mention international waters and specifically prohibits hot pursuit in other states' territorial waters. The 1993 law also envisioned the passage of future restrictive legislation and regulations "in accordance with Iran's interests and innocent passage of shipping."
Will Iran Respond?
Besides limited military drills and heavily edited propaganda videos, Iran's reaction to the offloading of the Suez Rajan has remained largely passive and diplomatic so far. In Tehran, the Foreign Ministry summoned the Swiss embassy's charge d'affaires on August 28 to express "strong objection" over the oil seizure, describing it as "a completely unproductive action." (The Swiss embassy has long served as an intermediary for indirect U.S.-Iran communications.)
Yet Iran might still cook up a belated gray zone response designed to target the credibility of Washington's latest military deployments (perhaps near the mid-September anniversary of the Mahsa Amini protest movement, so as to steer international attention away from renewed domestic crackdowns). In the past, the IRGC captured small boats carrying U.S. and British service personnel at two key moments: in March 2007, when the UN Security Council was voting on a new resolution against Iran's nuclear program, and in January 2016, just as the Joint Comprehensive Plan of Action was about to be implemented (both boats had reportedly strayed into Iranian waters). Tehran's forces have also seized commercial ships during such times.
Whatever happens, Iran and the United States will indefinitely remain in a state of "contested deterrence," which IRGC commander Hossein Salami characterized in July 2022 as a "constant ebb and flood that is controlled by Iran." By launching all-domain military deployments and initiatives, the United States is moving in the right direction by trying to stay ahead of the tide. The situation is reminiscent of recent developments in Syria, where Russia's aggressive behavior against U.S. drones suddenly dropped after the U.S. Air Force reportedly began flying aggressive F-35 patrols over the country.
As for the potential deployment of U.S. Marine guards aboard civilian ships in the Gulf, assuming all legal hurdles are overcome, a decision to randomly and quietly place such personnel on transiting vessels could have a general deterrent effect by forcing Iranian units to guess which ships do and do not have armed protection. Based on past experience with similar situations, any Marine teams used in this manner should avoid media exposure and enforce full operational security. They should also be empowered to use necessary force to protect themselves and their ships.
It is too early to tell if the current situation represents a lasting change in Iran's behavior or just an aberration. The latter is more likely. History shows that Tehran will back off whenever it is faced with united, credible, and capable opponents—but Washington and its partners should expect this deterrence to be contested at all levels.
Farzin Nadimi is a senior fellow with The Washington Institute.