The Battle for UNIFIL's Independence (Part 2): Facts on the Ground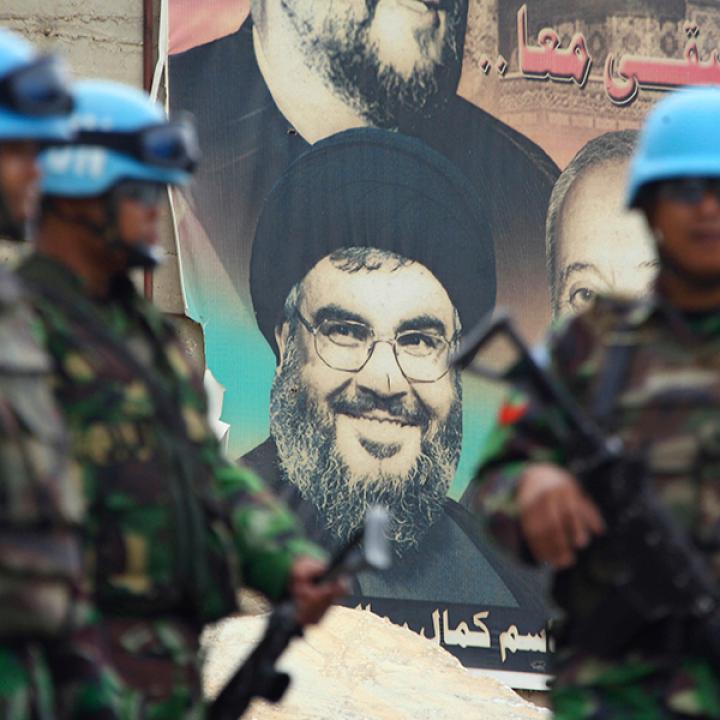 The secretary-general's latest report documents Hezbollah's expanding violations—and the growing role that Lebanese government officials and military commanders play in abetting this activity.
When Security Council Resolution 2695 was adopted last month, it represented the end of the latest diplomatic battle over the mandate of the UN Interim Force in Lebanon (UNIFIL), with the United States, Britain, and the United Arab Emirates prevailing over Lebanon and France while China and Russia abstained (see Part 1 of this PolicyWatch). Despite this welcome political victory, however, the new resolution does little to explain or remedy the worsening reality on the ground.
Emirati ambassador Lana Nusseibeh minced no words in laying out this reality shortly after the vote: "The fact is, tensions on the Blue Line are at a level unseen since the 2006 war. Over the past year…[Hezbollah] has erected concrete military outposts and observation towers; conducted military drills with live fire; and prevented UNIFIL's freedom of movement while brazenly attacking peacekeeping forces...It has also actively perpetuated Lebanon's myriad crises, obstructed the investigation into the devastating Beirut Port explosion, and paralyzed key institutions of the State. These extremely inflammatory actions threaten a dangerous escalation in our region." The data points supporting her description are sobering, yet UN reports tend to treat them episodically rather than as dangerous trends that need urgent attention.
Border Provocations and Illicit Activities in the South
The UN secretary-general's latest report on UNIFIL—published July 13 and covering the period February 21 to June 20—documented many of the Hezbollah violations that are responsible for raising tensions on the border with Israel this year. In April, a large rocket salvo was launched into Israel, reportedly by Palestinian Hamas operatives in Hezbollah-controlled areas of south Lebanon. Notably, additional unlaunched rockets were found in these areas. Other Blue Line provocations have included:
widening the illicit presence of armed Hezbollah personnel in the south

setting up

tents on the Israeli side

of the Blue Line in the Mount Dov/Shebaa Farms area

conducting more than 600 intentional crossings into Israel in violation of the Blue Line

damaging the border security barrier
Other incidents are not mentioned in the report. For instance, armed members of Hezbollah's Radwan special forces have been observed near the Blue Line. And on July 6, two antitank missiles were launched toward Israel, possibly by Palestinian operatives in south Lebanon.
Harassing and Attacking UNIFIL
Although rarely referred to as such in UN reports, the militants in civilian clothing who regularly confront UNIFIL patrols are widely known to be Hezbollah members. This year, they have become even more aggressive against peacekeepers.
Annex I of the July report details eighteen cases of attacks, harassment, impeded movement, and prohibited access, an average of 4.2 incidents per month between January and May. The historical average since 2007 is 2.37 incidents per month, but that figure jumped to an all-time peak of 5.2 in 2022 and has remained high this year. In other words, Hezbollah has doubled its pressure on UNIFIL in the past two years.
After Pvt. Sean Rooney, a UNIFIL peacekeeper from Ireland, was killed in December, surveillance camera footage reportedly showed armed men surrounding his patrol and declaring "We are Hezbollah." A Lebanese military tribunal formally accused several Hezbollah members of the murder, and the group reportedly handed the primary suspect over to Lebanese authorities. Yet the subsequent legal proceedings have been sluggish as usual.
In April, seventeen masked militants—two with pistols—stopped a UNIFIL patrol near the border village of Meis al-Jabal. According to the secretary-general's report, the patrol leader "was hit on the head," and when the unit tried to leave, "individuals damaged the patrol vehicle's windows and tires with an axe." Three peacekeepers were injured in the incident.
Such attacks are just one part of Hezbollah's broader effort to prevent UN monitoring near areas the group deems sensitive. The many "locations of interest" where UNIFIL has repeatedly failed to gain full access include unauthorized firing ranges, border outposts manned by Hezbollah's Green Without Borders (GWB) front organization, and sites where the militia is suspected of digging cross-border tunnels (including locations where Israel previously identified tunnels in 2018). In February, March, and May, for example, UNIFIL found new "ground openings" of various sizes at sites near the Blue Line as well as drilling equipment.
LAF Collusion
According to the July report, "The Lebanese Armed Forces continued to object to some patrol routes, proposed by UNIFIL to expand its presence outside main routes and municipal centres, on the grounds that they were either private roads or areas of strategic importance to the [LAF]." In response, UNIFIL has indeed limited its activity to main roads and municipal centers, leaving most other locations unmonitored.
This passage also exposes two of the LAF's common pretexts for hindering UNIFIL. Since 2012—and particularly since 2018—Lebanese authorities have used phrases like "private roads" and "private property" to bar peacekeeping units from many parts of the south. Similarly, the phrase "areas of strategic importance to the LAF" is a thin veil for Hezbollah sites that enjoy Lebanese military cover.
The UN report also noted Lebanese friction with Israeli forces. For example, personnel from the LAF and the Israel Defense Forces have pointed weapons at each other across the Blue Line on multiple tense occasions.
Green Without Borders on the Border
During the current reporting period, UNIFIL noted the presence of eighteen shipping containers and six watchtowers at nineteen vantage points along the Blue Line, twelve of them bearing GWB signage. UNIFIL has also reported the presence of surveillance equipment at such posts, including closed-circuit television cameras.
According to the U.S. Treasury Department's August 16 designation of GWB, the organization "has served as a cover for Hezbollah's activities in southern Lebanon along the Blue Line, where GWB has outposts manned by Hezbollah operatives in more than a dozen locations." For example, some of these sites have been used for Hezbollah weapons training at illegal firing ranges. In another case, Hezbollah placed a container near the front gate of a UNIFIL position to prevent peacekeepers from accessing a GWB location in the area. UNIFIL asked the LAF to remove the obstacle but received no response.
Armed in Broad Daylight
Hezbollah operatives flagrantly display weapons as they move throughout south Lebanon, another violation of Security Council Resolution 1701. The secretary-general's July report noted serious concerns "about the presence of unauthorized weapons in the area between the Litani River and Blue Line," including the aforementioned illegal firing ranges.
In May, Hezbollah went a step further when it held what UNIFIL called a "military drill" near the southern village of Aaramta. Described by media as "a massive show of force," the event simulated breach-and-assault operations across Israeli border obstacles using heavy weaponry. The secretary-general's report noted this incident "with grave concern," describing it as a violation of Resolution 1701.
Air Defense Issues
According to Article 12 of the July report, "The Israel Defense Forces continued to enter Lebanese airspace in violation of [Resolution 1701] and of Lebanese sovereignty...UNIFIL recorded 131 airspace violations [this spring], totaling 187 hours." This figure reflects a nadir in Israeli overflights since the UN began reporting these numbers, down from 390 hours in spring 2022 and 1,298 in spring 2020—a trend that stems from both Hezbollah's expanding air defense footprint and the Israeli Air Force's adaptation to that threat.
Conclusion
If diplomacy at UN headquarters and between foreign capitals is to make any progress on easing the current tensions, it must reflect the realities on the ground, where political platitudes cannot hide what has become a grim situation. The U.S. decision to designate Green Without Borders was an important step, but more pressure is needed on Hezbollah's economic, financial, and criminal tentacles. Lebanon's severe domestic crises should not be used as an excuse to ignore the gathering storm of war.
Regardless of the language adopted in Security Council resolutions, UNIFIL's independence and freedom of movement are ultimately decided on the ground by UNIFIL commanders, who have thus far capitulated to Hezbollah coercion and Lebanon's collusion. Given the explosive situation along the Blue Line, UNIFIL must now use its renewed authorities to push back against Hezbollah provocations in the south. And its first line of defense in this battle is honest and detailed reporting.
Matthew Levitt is The Washington Institute's Fromer-Wexler Fellow, director of its Reinhard Program on Counterterrorism and Intelligence, and creator of its interactive map on Hezbollah's worldwide activities. Brig. Gen. Assaf Orion (Res.) is the Institute's Rueven International Fellow and former head of the IDF Strategic Planning Division.