Lebanon's Port Risks: The Need for Action Against Substandard Ships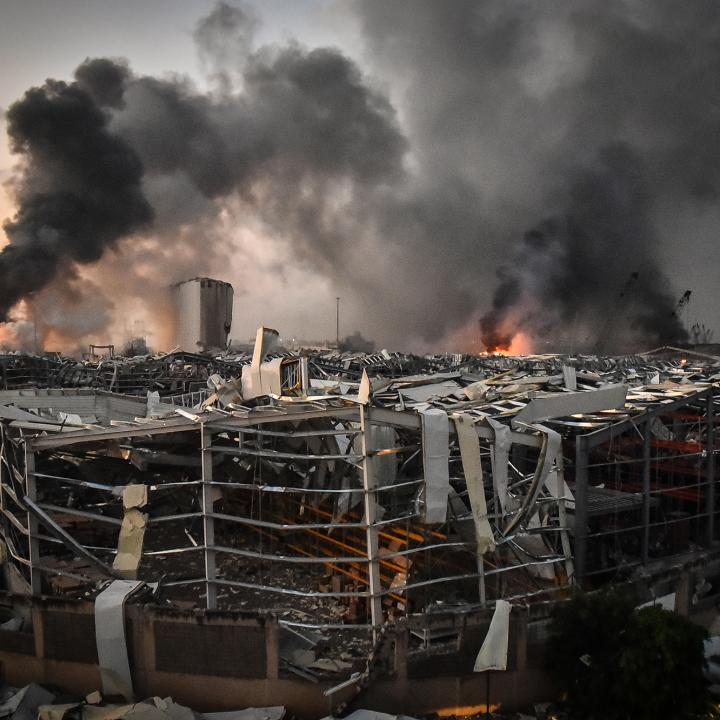 On the anniversary of the 2020 Beirut explosion, Lebanese authorities have done nothing to decrease the risks posed by deficient vessels like the one implicated in the port disaster.
Three years ago this month, Lebanon's devastating port explosion highlighted the many risks posed by substandard shipping in the Mediterranean and abroad. When the Moldova-flagged cargo ship Rhosus docked in Beirut in November 2013 laden with 2,750 tons of ammonium nitrate, its machinery and hull bore severe deficiencies. If Lebanon had strong maritime regulations and the capacity to detain substandard ships, it would have dealt with Rhosus months before the vessel sailed to the capital with its highly explosive cargo.
One opportunity to do so came in June 2013, when the vessel called at the port of Saida and was found with seventeen deficiencies, including detainable defects related to its engines. Yet no action was taken, and Rhosus later stopped in Beirut on its way to Mozambique, reportedly to pick up extra cargo. There, it was impounded due to a combination of deficiencies and unpaid debts, and its owner abandoned the vessel. The ammonium nitrate then sat at the harbor improperly stored for seven years until it detonated, killing over 200 people, injuring thousands, and leaving large parts of the city in ruins.
The blast should have forced the state to introduce radical measures against substandard ships, reform its maritime sector, and ensure that those responsible for port mismanagement and corruption were held accountable. Three years since the tragedy, however, sources indicate that vessels with major deficiencies continue to enter and leave Lebanese ports unhindered amid ongoing political interference in the blast investigation.
Lebanon's Regulatory Limits
In shipping terms, "deficiency" implies a condition that is not in compliance with relevant international conventions, including the most important treaty on the safety of merchant vessels: the International Convention for the Safety of Life at Sea (SOLAS). Deficiencies can be related to structural conditions, navigational safety, pollution prevention, and numerous other factors.
Since the Beirut explosion, Lebanese ports have continued to host ships that have major deficiencies. Similar to the Rhosus, many of these vessels were also registered by countries whose flags have been blacklisted due to poor performance on maritime safety issues (see below). These findings are based on inspections carried out by port state control regimes in Lebanon and other countries. As defined by the International Maritime Organization (IMO), port state control, or PSC, "is the inspection of foreign ships in national ports to verify that the condition of the ship and its equipment comply with the requirements of international regulations," thereby providing a "safety net to catch substandard ships." But a state's ability to detain a ship for major deficiencies depends on its willingness and capacity to arrest the vessel and bear any possible lawsuits. And in the case of a politically polarized and corrupt country like Lebanon, this ability can be affected by political connections as well.
What follows is an analysis of five general cargo ships whose cases were chosen from a larger pool of substandard vessels based on the severity of their deficiencies, their record of detentions, and their involvement in illicit activities. The information was compiled from the shipping database Equasis, local sources, vessel data from MarineTraffic, and information from the Paris Memorandum of Understanding on Port State Control (Paris MoU), a multinational PSC regime established by European countries in 1982. The Paris MoU has since expanded to twenty-seven participating maritime authorities and inspired the creation of similar regimes in other regions—including the Mediterranean MoU, of which Lebanon is a member.
Risky Vessels in Lebanese Waters
A few days after the Beirut port explosion, the Togo-flagged vessel Safi (IMO ship identification number 7108899) was inspected at Lebanon's northern port of Tripoli. There, a PSC inspection report dated August 11, 2020, showed that the vessel had sixteen deficiencies, including ones that would have warranted detention at other ports. For instance, its hatchways and other covers were not properly maintained, which can cause flooding and sinking; its deck and hull suffered corrosion; and it exhibited various problems related to the mandatory International Safety Management (ISM) code. The purpose of the ISM code, which is part of SOLAS, is to offer "an international standard for the safe management and operation of ships and for pollution prevention." 
The Safi had a significant history of such problems well before 2020. In February 2013, it was arrested for seventeen days at Italy's Catania port, where a PSC inspection report showed that it had sixty-seven deficiencies, including structural issues. Soon thereafter, it was banned from European ports after failing to call at a repair yard. By 2021, the substandard vessel had been scrapped.
Managed by the Lebanon-based firm Global Management and Trading, the Safi flew under the flag of Togo, one of several flag administrations blacklisted by the Paris MoU for poor performance. Likewise, the U.S. Coast Guard considers the Togo flag "high risk" due to its detention ratio score. Since 2017, the International Registration Bureau (based in Greece) has been authorizing vessels to fly the Togo flag under a contract with the Togolese government. Yet some poorly maintained vessels bearing that flag have reportedly been involved in smuggling drugs and transporting U.S.-sanctioned Venezuelan and Iranian oil. Amid such concerns, the U.S. State Department "has repeatedly tried to help the Togolese government to clean up its act."
Another deficient Togo-flagged vessel that has been calling at Lebanese ports since 2020 is Nuray (IMO 7520712). Managed by a company based in Lebanon, the ship switched to the Togolese flag earlier this year after sailing under another blacklisted flag, Cameroon.
A PSC inspection report shows that in February 2022, eleven deficiencies were found on Nuray while it was docked at Saida, but no action was taken. When the ship was inspected just four months later at Turkey's Botas port, fifty deficiencies were recorded, and the vessel was detained for nine days. A similar disparity surfaced in 2023. When Nuray was inspected at Tripoli port this February, it was found with nine deficiencies, but no action was taken; when it called at Greece's Kalymnos port in May, twenty-two deficiencies were documented, and the ship was arrested for eleven days to address them before proceeding to sea.
Another high-risk cargo ship that frequented Lebanese ports without being detained was the Natalia (IMO 8113592), which was involved in drug smuggling before it was scrapped in November 2021. That August, the vessel had been arrested by Spanish police for carrying around $470 million worth of hashish destined for Europe. After switching its flag from Togo to Palau earlier that year, the ship was reportedly sailing from Lebanon through Turkey's Iskenderun to Lagos, Nigeria, when it was intercepted. In addition to transporting illegal drugs, the ship was found to be suffering from "water ingress and engine breakdowns." The commercial manager of Natalia was reportedly linked to a Lebanon-based company known as GMZ, which operates numerous high-risk ships.
A fourth substandard ship, the Guinea-Bissau-flagged Joe 2 (IMO 9070515), sank off Turkey's coast during an April 5 storm for reasons that remain unclear. In March, the vessel had been inspected in Tripoli and found with five deficiencies, including a lack of emergency towing arrangements. No action was taken. In previous years, the ship's owner had been accused of abusing the crew and not paying wages.
Fifth is the Gambia-flagged NS Union (IMO 8502133), which was permitted to freely visit and depart Beirut port this January—only to be arrested in April at Greece's Heraklion port and held for forty-eight days due to the discovery of thirty-eight deficiencies. Last year, several other ships sailing under Gambia's flag were detained or banned at European and Mediterranean ports because of multiple deficiencies.
Taking Action Against Substandard Ships
To help ensure maritime safety and combat criminal activity in the Mediterranean, the United States and other Western countries should help Lebanon devise and implement tools and regulations for dealing with substandard ships at its ports. This means overhauling its maritime sector and introducing legislation related to key international conventions, including the ISM code. The government badly needs to update its laws and regulations on shipping activities, including the Lebanese Ports and Harbors Regulation of 1966.
Following the Beirut explosion, the Vienna-based International Centre for Migration Policy Development inked a partnership agreement with the World Maritime University to help Lebanon develop an integrated maritime strategy. Going forward, Beirut needs to prioritize the problem of substandard shipping in this strategy—though authorities abroad should acknowledge that this issue remains a significant challenge in the broader global maritime industry.
Yet none of these efforts will be possible without a political consensus to end Lebanon's nine-month presidential vacuum and form a new cabinet that can seriously address urgent reforms in various sectors. The country's rival political parties have long required foreign mediation to end their bickering, so Washington and its European and Arab partners should be more active in persuading them to end the impasse and enact sound legislation that expedites emergency reforms.
Noam Raydan is a senior fellow at The Washington Institute.