Interviews & Presentations
Economic and Security Conditions in Lebanon
Also published in
Middle East Policy Council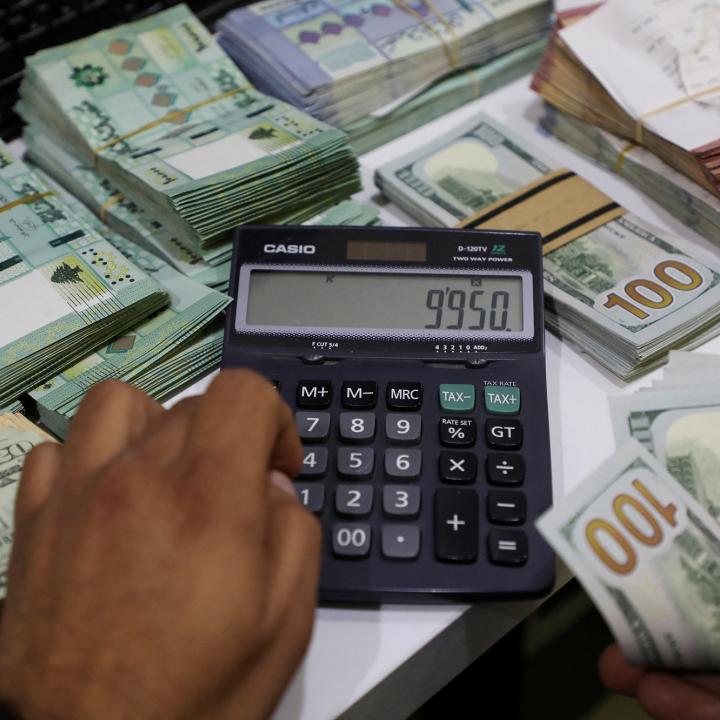 Lebanon's current problems stem from persistent economic and political corruption, and Hezbollah remains the de facto enforcer of this mafia-like status quo.
On July 20, the Middle East Policy Council convened its 113th Capitol Hill conference with a panel that included Matthew Levitt, The Washington Institute's Fromer-Wexler Fellow and director of its Reinhard Program on Counterterrorism and Intelligence. The following is an edited transcript of his remarks; to read other panelists' remarks or the subsequent Q&A session, visit the MEPC website.
Let's be very clear: Lebanon's economic and security crises are intimately intertwined. Just consider, for example, the Lebanese government's default on its sovereign debt in March 2020, and then just a little while later the tragedy of the Beirut explosion that August. Both of those events resulted from one key, corrosive, corrupt phenomenon: Political mafia bosses across the Lebanese political and sectarian spectrum continue to prioritize their own power and patronage systems over the needs of the Lebanese people.
Today, despite all that's transpired, these same political bosses continue to prevent even the most basic political reforms necessary to break the country's political stalemate and facilitate international financial support. Noting this sad state of affairs, the World Bank described the Lebanese financial crisis as a "deliberate depression orchestrated by the country's elites at the expense of the country's long-term stability and social peace."
It should not surprise you that when polled, an overwhelming percentage of Lebanese express dismay at their own government's disregard of the needs of ordinary citizens. Note these findings, for example, from a November 2022 poll commissioned by The Washington Institute. Ninety-one percent of respondents said the government was doing too little to pay attention to the opinions of ordinary citizens. Overall, the gloomy outlook was universal, expressed by Sunnis, Shia, Christians, Druze, young and old. Ninety-seven percent of respondents said the Lebanese government was doing too little in response to three key economic concerns. First, reduce the level of corruption in economic and public life. Second, meet people's needs for an acceptable standard of living. And three, address the burden of taxes and other obligations in a fair way.
Unfortunately, Lebanese political bosses' prescription for addressing such concerns is not political or economic reform, but doubling down on their respective power and patronage systems. Let's be clear, corruption is at the heart of Lebanon's economic and political crises. This economic and political rot is deeply entrenched and is protected by powerful political bosses across the spectrum, and across Lebanon's political and sectarian divide. All this threatens Lebanon's near-, medium-, and long-term security and stability, and corruption is by no means limited to any one party in Lebanon. Yet, no Lebanese party presents a greater security threat to Lebanon domestically, and to its neighbors in the region, than Hezbollah—in part because Hezbollah is the de facto militant enforcer of the corrupt political system from which it and other sectarian political parties benefit.
Consider a few examples of the unique ways in which Hezbollah undermines Lebanese security and stability, and risks regional war. Hezbollah has a dedicated element—Unit 121—whose sole purpose is to carry out assassinations in Lebanon of people that it doesn't like. Think [former Prime Minister] Rafiq Hariri. Think [intelligence official] Wissam Eid. Think [activist] Lokman Slim, and a whole lot of other names that we don't have time to go through.
With help from Iran's Islamic Revolutionary Guard Corps, Hezbollah maintains a robust program to retrofit old missiles with guidance systems and build new precision-guided missiles. [Secretary-General] Hassan Nasrallah himself has appeared on television, displaying a map of Israel and warning that Hezbollah missiles can hit any part of Israel. These facilities in Lebanon where they're retrofitting these missiles are located in residential neighborhoods, near schools and hospitals and mosques, effectively using Lebanese civilians as human shields.
Over the past few years, Hezbollah has unilaterally declared parts of Lebanon to be its own independent military zones and denied UNIFIL [United Nations Interim Force in Lebanon] forces access to these areas, including areas near and along the Blue Line, the de facto border. Hezbollah regularly harasses UNIFIL forces, and in December, a Hezbollah operative killed Private Sean Rooney, an Irish UNIFIL soldier.
Hezbollah's illicit financial activities in Lebanon severely undermine the country's financial system, which has always been a key backbone of the economy. Take a close look, for example, at the U.S. Treasury Department's actions against entities like the Jammal Trust Bank. When it took that action in 2019, the Treasury noted that Hezbollah operatives were going around threatening the families of Lebanese bankers—not just the bankers themselves, but their families—if they froze the accounts of Hezbollah operatives.
Hezbollah has dug attack tunnels from Lebanon under the Blue Line into Israel for the express purpose of carrying out attacks. These were discovered and sealed in 2018, but neither the Lebanese government nor the Lebanese people got any say in this decision, though they would bear the costs of any ensuing conflict with Israel. Hezbollah has used its environmental NGO—they call it Green Without Borders—as a platform not only to collect intelligence on Israeli activities across the border but literally to fire antitank missiles at an Israeli military ambulance across the border within Israel proper in 2019.
More recently, Hezbollah launched a drone at an Israeli offshore gas platform. It infiltrated and sent an operative into Israeli territory to carry out a terrorist attack. It gave Hamas tacit approval to fire rockets at Israel from Hezbollah-controlled areas in Lebanon. It's harassed Israelis living just across the border in northern Israel by aiming lasers at drivers as they drive the roads and at private homes. It's damaged the security fence along the Blue Line. And, most recently, it's set up tents in Israeli-controlled parts of the Shebaa Farms, right along the Blue Line, in an effort to increase border tensions.
Hezbollah's efforts to obstruct any investigation into the August 2020 Beirut explosion speaks volumes about the organization's concerns about where they fear an unimpeded investigation may lead. This is to say nothing about Hezbollah's complete disregard for the Lebanese policy of disassociation from fighting in Syria, which caused the Syrian Civil War to bleed into Lebanon on multiple occasions. But aside from the security threats to Lebanon created by the group's activities, Hezbollah presents a domestic threat to effective governance in Lebanon as well, by virtue of creating a shadow economy benefiting its own shadow citizenry, the success of which comes at the expense of the formal economy and of the Lebanese government.
Nasrallah has highlighted the group's successful model of social welfare governance in Lebanon and touted its success at building and maintaining its own base of support in the face of significant challenges. By providing these services parallel to and, in many cases, in place of those provided, or not provided, by the government of Lebanon, Hezbollah has created a shadow economy—a gray economy that benefits its supporters, builds grassroots support, and enables Hezbollah to derive a significant measure of authority from its base of support.
Though not the official government, Hezbollah has built politically and economically powerful relationships with those who benefit from its largesse, a kind of parallel governance structure. This not only bolsters Hezbollah's position in Lebanon, it undermines the standing and legitimacy of the government of Lebanon and undermines the efforts of the United States and others to help that government. Hezbollah has thus effectively made itself part of the governance system in areas it controls, even as it remained apart from the government itself. Later, when Hezbollah decided to enter politics and have some of its members assume positions in national government, it continued to function as an independent organization, running parallel to the government of which it was also a part, but without the accountability of being a government institution.
So today, Hezbollah benefits from being both a part of and apart from the political system. Unlike many violent nonstate actors, which have only limited access to the formal economy and are heavily reliant on shadow economies, Hezbollah is able to benefit from the formal, regulated economy and simultaneously run its own parallel, shadow economy, which sucks from and undermines the formal economy. Taken together, Hezbollah's shadow economy and parallel government structure undermine both political and economic stability in Lebanon and regional security across the Eastern Mediterranean.
So allow me to end where I started. The crux of the problem in Lebanon is corruption, both economic and political. This prevents both the economic and political reforms necessary to save the country from becoming—and I don't use these words lightly—a failed state. Hezbollah is by no means the only problematic political party in this regard, but by virtue of being the one faction that has held onto its weapons after the Taif Accords [of 1989, to end the Lebanese Civil War], it is the de facto enforcer of the rule of the corrupt mafia dons.