New Lebanon Opinion Poll Shows Continued Internal Dissatisfaction and Desire for International Partners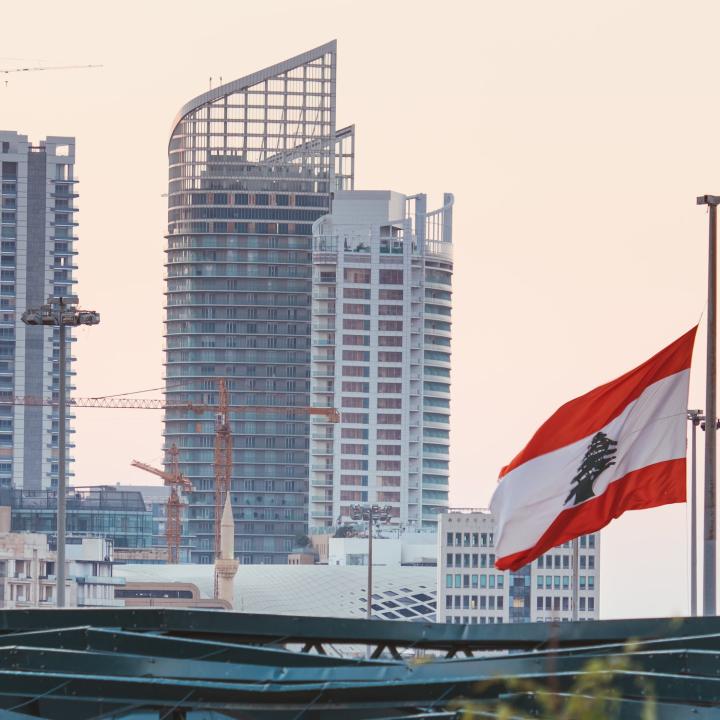 Lebanese respondents expressed positive views of the maritime deal and World Cup in Qatar, but seemed disappointed by almost everything else.
A new public opinion poll of Lebanese citizens, commissioned by the Washington Institute and conducted by a regional commercial firm in November 2022, reaffirms ongoing frustrations amidst the country's political and economic crises. Responses reveal an increased interest in international connections as pessimism on regional issues grows.
Maritime Deal Garners Some Approval, Despite Opinions on Other Israeli Ties 
While Lebanese are overwhelmingly negative when it comes to questions of domestic governance, respondents expressed relatively optimistic views regarding one recent Lebanese foreign policy decision: the maritime deal signed between Lebanon and Israel. Sixty-one percent of respondents stated that the agreement on the maritime boundary would have at least a "somewhat positive" effect on the region, a much higher percentage than respondents in Saudi Arabia, the UAE, or Egypt.
Still, opinions did not change much on other Israel-related questions. Ninety-one percent of Lebanese respondents "somewhat" or "strongly" disagreed with the following statement: "People who want to have business or sports contacts with Israelis should be allowed to do so." This uniform rejection is consistent with past polling in Lebanon and similar results in Egypt, but differs starkly from the just less than half of Saudi or Emirati respondents who agreed that such informal contacts should be allowed. Likewise, 85% of respondents in Lebanon expressed that the Abraham Accords are having a "somewhat" or "very" negative effect on the region.
The respondents in all four countries, however, agreed in their assessment of the outcomes of Israel's latest national election, in which Benjamin Netanyahu returned to power with a heavily conservative coalition. In Lebanon, an overwhelming 92% of respondents said this outcome would have a "somewhat" or "very" negative impact on the region.
Lebanese Citizens Universally Displeased with Conditions at Home
When asked to assess how their country was dealing with a variety of political and economic issues, an overwhelming majority of Lebanese respondents (97%) said that their government was "doing too little" in response to three key economic concerns. Namely, Lebanese are in agreement that not enough is being done to reduce the level of corruption in economic and public life, meet people's needs for an acceptable standard of living, or address the burden of taxes and other obligations in a fair way.
A similarly high majority (91%) also said the government was doing too little to pay attention to the opinions of ordinary citizens. Overall, the gloomy outlook was universal—expressed by Sunnis, Shia, Christians, and Druze both young and old—and was noticeably less differentiated than the outlooks conveyed by respondents elsewhere. Of the four countries polled in November 2022, only Egypt had a similarly high majority of respondents (76%) saying their government was doing too little.
Although nations across the Middle East have all suffered varying degrees of complicated economic downturns, these polling results underline the particular urgency of the situation in Lebanon. Lebanon's poverty and unemployment rates have skyrocketed to alarming levels in recent months, leaving a large chunk of the population unable to pay for essentials like heating or healthcare. This reality is made worse by a lack of government response, as deepening political divisions in parliament have left Lebanon without a president for over a month. Indeed, 91% of respondents disagree at least "somewhat" with the following statement: "It's a good thing we are not having mass street protests against the government, as in some other countries lately"—with two thirds of respondents stating they strongly rejected such a view.
United States Behind China and Russia in Perceived Importance, but Up from Previous Polls
Consistent with past polling, more respondents tended to rate the importance of good relations with both Russia and China as at least "somewhat important" in comparison to the percentage of respondents who said the same for relations with the United States. 
China took the lead with 72% of the Lebanese polled saying good relations are at least "somewhat important," up from 68% in March. Since signing a Memorandum of Understanding in 2017 to join China's Belt and Road Initiative, Lebanon has heavily relied on China for economic support.
In second place came Russia (58%), increasing by four points from when last polled in March 2022. Importantly, Lebanese Shia respondents rated Russian relations much higher than their fellow citizens—83% said these ties were at least "somewhat important" in comparison to 46% of Sunnis and 49% of Christians and Druze who said the same. This figure stands at odds with the majority of total respondents (77%) who suggested that Russian military actions in Ukraine had a "somewhat" or "very" negative impact on the region.
And although the perceived importance of relations with the United States doesn't reach the levels of China or Russia, the number of respondents who rated these relations as at least "somewhat important" demonstrates a gradual shift over the past two years. When first polled in 2017 and until November 2020, only around 31% of total respondents viewed these relations as even somewhat important. In contrast, 41% now state the same, including a notable shift in attitudes from some Lebanese Shia—responses that this relationship is important have jumped from 7% to 23% among Shia respondents over the past two years. This trend suggests that the economic collapse is gradually changing the minds of some Lebanese on the question of relations with the United States.
Iran Opinions Skewed Along Demographic Lines
The perceived importance of relations with Iran remains in the low forties (44%), with responses to this question differing greatly depending on religious identity. Similar to past years, 83% of Shia respondents rated Iranian relations as at least "somewhat important." In contrast, the percentage of Lebanese Sunnis, Christians, and Druze who said the same ranged between 20- 39%, in each case representing a lower percentage than those who valued relations with the United States.
Perceptions of the anti-government protests in Iran also unsurprisingly differed based on religious background. Although 54% of total respondents viewed the protests as at least "somewhat positive"—a higher percentage overall than in Egypt, Saudi Arabia, or the UAE—only 17% of the Lebanese Shia polled had the same positive assessment.
Likewise, 46% of respondents agreed with this purposefully blunt statement, asked for the first time: "Since Iran is now getting so close to having a nuclear bomb, it's time for an Arab country to get one too." At almost half, this percentage was the highest among all four countries polled in November 2022.
Lebanese Agree with Region on World Cup, COP 27, OPEC
On other regional events, Lebanese opinions largely mirrored those of Saudis, Emiratis, and Egyptians. For example, 95% of Lebanese assess the recent World Cup in Qatar as having a "somewhat" or "very" positive effect on the region. These and similar responses from Saudis, Emiratis, and Egyptians highlight the widespread popularity and support for the global event.
In contrast, Lebanese and other respondents appeared split on the impact of the UN's COP 27 Climate Conference in Cairo. In Lebanon, 45% said the conference was positive, 43% said negative, and 11% said they "hadn't heard enough to decide"—a mix of views echoed elsewhere in the region. 
On the recent decision from OPEC+ to cut oil production, more Lebanese respondents voiced negative opinions than any other of the four countries polled, though in some cases only by a few points. For 82% of Lebanese, the decision is having a "somewhat" or "very" negative impact on the region, presumably because this move will raise costs for Lebanon's essential oil imports at a time when the country is already undergoing a severe energy crisis.
Methodological Note
This analysis is based on findings from a personal interview-survey of a nationally representative sample of 1,000 Lebanese citizens, conducted in November 2022 by a highly experienced, independent regional commercial company. The sampling was done according to standard geographical probability procedures, yielding a statistical margin of error of 3%. Strict quality controls and assurances of confidentiality were provided throughout. Full results can be viewed on The Washington Institute's interactive polling data platform. Additional methodological details, including demographic breaks and other relevant information, are readily available on request.