What the Russia-Iran Arms Deals Mean for the Middle East
Also published in
Foreign Policy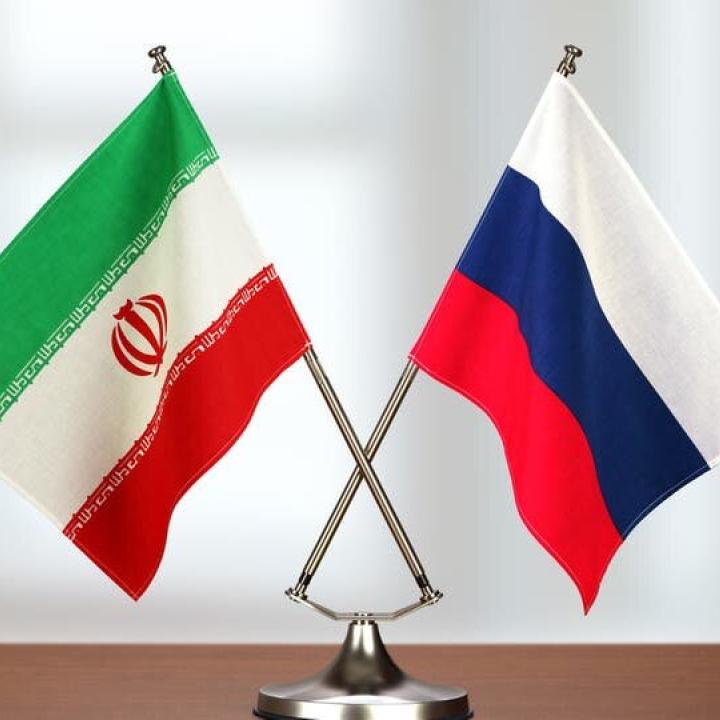 In the longer term, the increased flow of weapons will likely exacerbate tensions in the region, spur Arab states to enhance their own arsenals, and endanger any U.S. and partner forces that confront Tehran's proxies.
In the emerging arrangement between Russia and Iran to supply each other with weapons, the former has received hundreds of Iranian drones to rain on Ukrainian cities and civilian infrastructure, while the latter looks set to get Russia's advanced Su-35 fighter jet. On top of that, Moscow has reportedly funneled captured U.S. and other Western weaponry to Tehran. The White House has noted that Iran could also receive access to "advanced military components" and further weapons, such as helicopters and air defense systems. Indeed, one Iranian parliamentarian claimed in January that Iran had already ordered these systems and was just waiting on delivery.
The addition of one of Russia's premier multirole fighter jets, as well as collaboration on military training and weapons development, is a significant step in the deepening of the Moscow-Tehran security relationship. It also marks a change from the past: In recent years, Moscow has carefully calibrated its arms sales to Iran with its other military and diplomatic relations in the region. The most notable transaction in the past decade was Iran's acquisition of the Russian S-300 air defense system in 2016. The last time Russia supplied Iran with combat aircraft was in the early 2000s, when it delivered just six of its Su-25 ground attack aircraft. These transfers were a far cry from the final years of the Cold War, when the Soviet Union sold Iran substantial numbers of fighter jets, bombers, tanks, submarines, and air defense systems.
In the near term, the new arms pipeline from Russia to Iran may not dramatically alter the overall balance of power in the Middle East. For one, Russia's immense equipment losses in the ongoing war in Ukraine make it likely that Moscow will have to curtail its weapons exports. More importantly, Iran's primary military strength lies in its asymmetric capabilities: its use of unmanned platforms, cruise missiles, ballistic missiles, and an intricate network of regional proxies. To even field the Su-35s, Iran will have to develop and train a pilot corps to operate them, as well as set up a maintenance pipeline to keep them operational. The sanctions on Russia's defense industry and Moscow's own battlefield attrition in Ukraine will make the latter especially difficult, as sourcing spare parts for Russian platforms will prove challenging. It's therefore likely to take a considerable amount of time before Iran can incorporate these Su-35s into its broader power projection capabilities.
The larger and more important implication of these shipments is in the long term: Iran's ability to reverse-engineer, replicate, and mass-produce components of these platforms, which will add more conventional military capabilities to the arsenals of Iran and its proxies. Iran has a well-developed arms industry and has historically had success in reverse-engineering numerous platforms, including fighter jets, missiles, and aircraft parts. After capturing a U.S. RQ-170 Sentinel reconnaissance drone in 2011, Iran revealed armed and unarmed reverse-engineered variants in 2014. In 2018, it flew one of those copies from Syria into Israeli airspace, where it was downed. Iran has also created several domestic versions of the U.S. BGM-71 TOW anti-tank missile, including the Toophan and its variants, which it has since transferred to its proxies in Syria and Yemen. Iran's main adversaries—the United States and Israel—will have to plan around not only an Iranian military with more advanced capabilities but also a regional network of proxies equipped with more advanced weaponry by Iran.
Moscow's shipments also portend a potentially troubling shift in its arms exports in the region. Historically, Russia has balanced arms transfers to the Middle East and nearby regions. Indeed, Russian arms exports to Iran have paled in comparison to those to Egypt, Algeria, and India. Now, the Su-35s heading to Iran are reportedly the jets Egypt had previously purchased but cancelled, in part due to the prospect of U.S. sanctions. The impact of the Ukraine war and subsequent sanctions on the Russian defense industry has complicated Russian arms exports elsewhere; in March 2022, one Russian defense manufacturer claimed that it was unable to process nearly $1 billion in payments for arms from countries such as India and Egypt. Given the importance of defense exports to the Russian economy, Russia may direct more of its sales to Iran as its transactions with traditional customers come into jeopardy.
Long term, these shipments will likely drive Middle East defense spending up in response. Already, the Middle East is one of the world's top arms-importing regions. It is home to five of the world's top 15 arms importers (Saudi Arabia, Qatar, Egypt, the United Arab Emirates, and Kuwait) and includes nine of the top 15 countries in terms of defense spending relative to GDP (Oman, Kuwait, Algeria, Jordan, Saudi Arabia, Morocco, Israel, the UAE, and Qatar, according to 2022 data). Regional countries hardly needed a reason to spend more on arms, but the addition of advanced Russian fighter jets—and potentially other sophisticated Russian platforms down the road—will unnerve regional governments and likely spur purchases of similar platforms. The UAE may seek to resuscitate negotiations over its potential acquisition of the F-35, for instance, if Iran adds the Su-35s to its arsenal.
The Russian arms pipeline to Iran could also interrupt the spirit of reconciliation currently rippling through the region. The sudden Iranian-Saudi diplomatic rapprochement brokered by China may signal a decreased risk of escalation, but so far it fails to address the long-term destabilizing factors: Iran's potential pursuit of a nuclear weapon and continued utilization of proxies throughout the region. An influx of advanced Russian weaponry will further strain the dynamic not only between Iran and its Arab neighbors but also between Iran and Israel. The latter, in any potential future action against Iran, will have to factor in additional Iranian military capabilities.
To be sure, the arms pipeline going in the other direction—from Iran to Russia's war in Ukraine—is the graver near-term concern. Iranian drones are filling a critical gap in Russia's military capabilities, and potential additional deliveries—including Iranian ballistic missiles—threaten to wreak even more havoc on Ukraine and its forces. Beyond that immediate threat, the arms flowing to Iran are liable to only exacerbate tensions in the Middle East and raise the potential for future conflict in the region. The reverberations of the emerging Russia-Iran military pipeline are bound to stretch far beyond the battlefield.
Grant Rumley is the Goldberger Fellow with The Washington Institute's Diane and Guilford Glazer Foundation Program on Great Power Competition and the Middle East. This article was originally published on the Foreign Policy website.