Profile: Harakat Hezbollah al-Nujaba
Updated October 21, 2023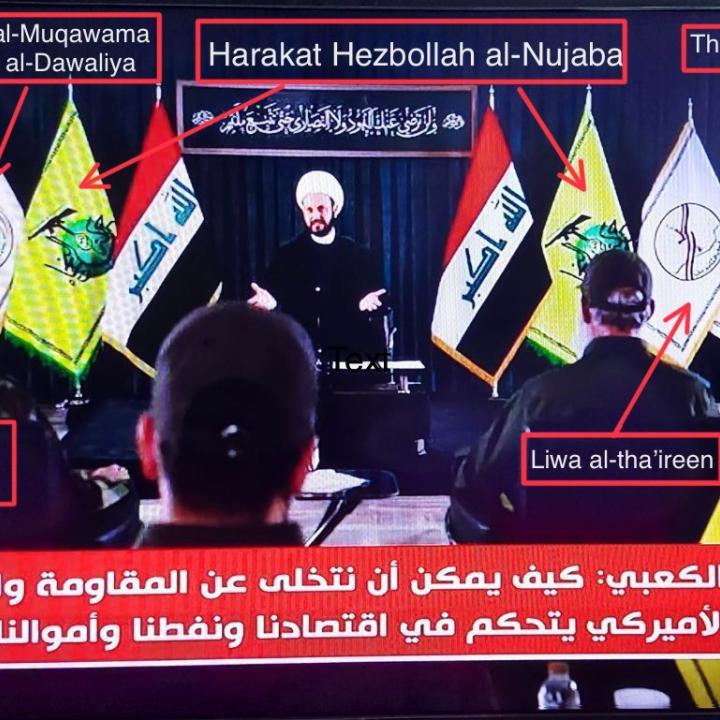 Harakat Hezbollah al-Nujaba proved its axis of resistance credentials in Syria, but its role in terrorism and repression within Iraq is more enigmatic.
Name: Harakat Hezbollah al-Nujaba (HaN) (Movement of the Party of God's Noble Ones).
Type of movement: Tier 2 fasail (armed group). Kinetic military operations (largely transnational in focus).
History and objectives:
Built around the personality and powerbase of Akram Kaabi, the senior military commander in Muqtada al-Sadr's Jaish al-Mahdi militia. Kaabi left Sadr's movement to continue militant operations against U.S. forces in 2005.

Kaabi joined the embryonic Asaib Ahl al-Haq (AAH), which was formed by Iran's Islamic Revolutionary Guard Corps-Qods Force (IRGC-QF) and Lebanese Hezbollah. Kaabi was listed by the U.S. Treasury Department as a Specially Designated Global Terrorist (SDGT) on September 16, 2008.

In 2011-2013, Kaabi led a contingent of AAH fighters to participate in the Syrian civil war under the administrative and operational control of the IRGC-QF. He formed Harakat Hezbollah al-Nujaba in 2013, citing differences of approach with AAH. Nujaba Television was formed at the same time.

HaN subsequently became the most significant and successful Iraqi volunteer contingent (alongside Kataib Hezbollah) in the Syrian war during the major battles in Aleppo in 2015. Inside Iraq, HaN folded many of its fighters inside the 12th Brigade of the Popular Mobilization Forces (PMF).

On November 4, 2015, Kaabi told al-Sumaria Television that he would answer any order from Iran's Supreme Leader Ali Khamenei, including overthrowing the Iraqi government or fighting in any foreign war.

In early March 2017, HaN announced on Iran's Tasnim News Agency that it was forming a Golan Liberation Brigade.

On March 5, 2019, HaN was listed by the U.S. State Department as a Specially Designated Global Terrorist (SDGT) under Executive Order 13224.
Chain of command:
Iran. There is clear and convincing evidence that HaN is subordinate to and partly financed by the IRGC-QF. The preponderance of the evidence shows that Iran provides the group with financial assistance, military assistance, and intelligence sharing, as well as help in selecting, supporting, and supervising its leadership

. HaN units in Syria are under the direct operational and administrative control of the IRGC-QF. 

Partly financed by the Iraqi state. HaN operates the state-funded 12th Brigade of the PMF. Chain of command nominally runs through the Popular Mobilization Commission of the Prime Minister's Office and up to the prime minister. In practice, HaN PMF units frequently disobey the Iraqi government chain of command while legally remaining organs of the Iraqi state.
Affiliate relationships:
Strong and supportive relations with Kataib Hezbollah, Lebanese Hezbollah, and other axis of resistance transnational fighters. Akram Kaabi has a well-publicized personal friendship with Hezbollah leader Hassan Nasrallah. Following the January 2020 killing of IRGC-QF commander Qasem Soleimani, HaN visitors were given high-profile treatment in Tehran, suggesting they had attained a higher status than all other groups except Kataib Hezbollah. 

Loose support to Badr and other resistance factions, especially concerning profile and recruitment, giving way to coordination when such factions are all threatened.

Sibling rivalry with AAH, from which Kaabi defected to form HaN. AAH leader Qais al-Khazali is jealous and resentful of Akram Kaabi's superior status with Iran.

Member of the Iraqi Resistance Coordination Committee (al-Haya al-Tansiqiya lil-Muqawama al-Iraqiya, or Tansiqiya for short), as explicitly stated by HaN spokesman Nasr al-Shammari on Dijlah TV on February 28, 2021.
Member of the Islamic Resistance of Iraq.
Subordinate elements:
Syrian-based forces, including the Golan Liberation Brigade, Ammar ibn Yasir Brigade, Imam al-Hassan al-Mujtaba Brigade, and al-Hamad Brigade.

The 12th Brigade of the PMF, an Iraqi state organ. This formation is under the administrative and operational control of HaN leaders.

Covert action cells inside Iraq that may have overlapping membership with HaN's PMF brigade and/or the Golan Liberation Brigade.

The preponderance of the evidence indicates that HaN controls Farqi Ekhwat Jihad al-Electroni (Brothers of Electronic Jihad) and NJ Telegram channel.

Al-Nujaba TV, which was listed alongside HaN by the U.S. State Department as a Specially Designated Global Terrorist (SDGT) under Executive Order 13224.

Jamiyat Fetyat al-Nujaba al-Kashfiya (al-Nujaba Boy Scouts) is an official branch of HaN.