Militias Show Message Discipline During Sadrist Clashes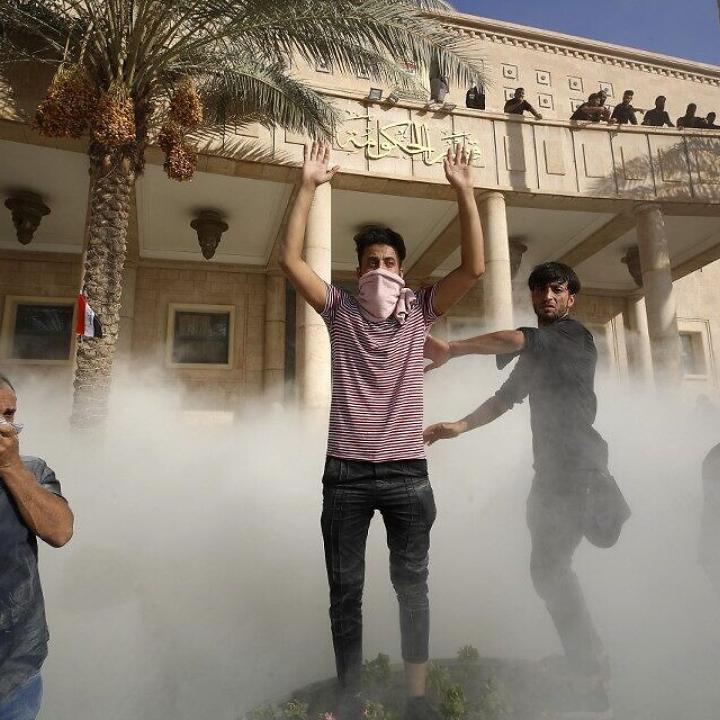 Centralized direction was evident as "resistance" outlets carried out their (apparently successful) public relations campaign to claim the moral high ground.
Given the intensity of the intra-Shia fighting that rocked Baghdad's International Zone (IZ) and southern Iraq on August 29-30, one might have expected a parallel war of words to break out between Shia factions online. In fact, the opposite unfolded. Analysis of social media accounts belonging to the Shia Coordination Framework and muqawama (resistance) militias who are not members of the SCF shows that these Iran-backed groups acted quite coolly and cohesively in the face of escalation by forces aligned with Muqtada al-Sadr.
For example, while some marginal muqawama social media accounts described the Sadrist militia Saraya al-Salam as "terrorist" (Figure 1), the main channel Sabereen News refrained from such provocation and used the term tandhim (faction) instead (Figure 2). This is despite Sabereen's willingness to be very provocative when discussing other Iraqi factions such as the Tishrin protest movement. Most important, neither Sabereen nor other muqawama channels called for their supporters to take up arms or even take to the streets.
Social media accounts belonging to Kataib Hezbollah (KH) were particularly careful not to provoke. The day before the IZ clashes, Abu Ali al-Askari, KH's purported head of security, called for "avoiding escalation out of respect for Arbain," referring to the upcoming major Shia religious observance. Even KH's Unit 10,000, which has threatened Iraqi security officers in the past, remained calm in its reporting of the events.
Social media accounts run by the State of Law Alliance and associated with the muqawama political consigliere Nouri al-Maliki followed the same formula. The channel Noidoha Dola (We will remake it a strong state) had been very provocative in recent weeks but chose to stop posting altogether during the IZ clashes. Other State of Law-affiliated accounts used derogatory terms to describe the Sadrists but stopped short of telling followers to take to the streets.
This largely disciplined online behavior suggests that a centralized decision was made in order to contain the crisis and seize the moral high ground. Interestingly, Iranian social media accounts affiliated with the Islamic Revolutionary Guard Corps (IRGC) behaved in a similarly disciplined manner. At the beginning of the clashes, one Telegram channel described the Sadrists as eghteshashgar (agitators) (Figure 3), a term frequently used to describe anti-regime protesters in Iran. Later, however, this IRGC surrogate abandoned the term and began using "supporter of the Sadrist movement" instead (Figure 4).
This is just the latest evidence that today's muqawama display a defter touch in Iraqi politics than their heavy-handed incarnation in 2019-2020. Some might tie this shift to the change in external guidance that occurred after IRGC general Qasem Soleimani was killed and Esmail Qaani replaced him; others would say it shows a more hands-off attitude by Iran. Potential domestic drivers may include a rise in Hadi al-Ameri's profile at the expense of more aggressive leaders from Asaib Ahl al-Haq and KH. The broader centralization of muqawama media operations may have played a role as well.