Militia Lionization of Esmail Qaani: Consolidation or Covering Embarrassment?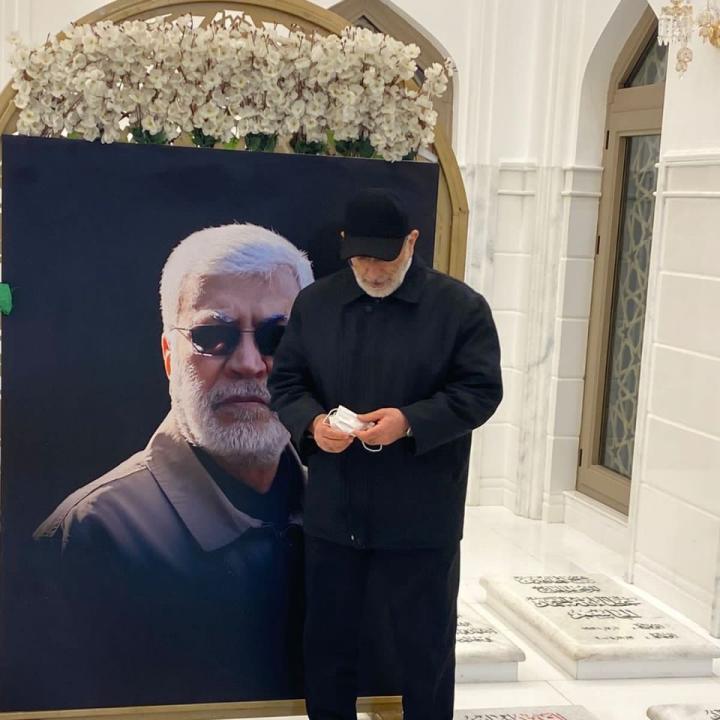 The Iranian general has never received such intense praise from the Iraqi "resistance," but it may just be his attempt to spin his recent disappointing visit.
When Esmail Qaani, the head of Iran 's Islamic Revolutionary Guard Corps-Qods Force, visited Iraq on January 15-17, coverage by local muqawama (resistance) media outlets was more extensive than during his previous visits. Militia Spotlight assesses that this effort was likely part of an IRGC-QF campaign to consolidate Qaani's influence as the heir to the late commander Qasem Soleimani, complementing a similar consolidation of militia figures Abu Fadak and Akram Kaabi as the successors to the late Abu Mahdi al-Muhandis.
Sabereen News was the first muqawama outlet to report on the visit, perhaps underlining a growing centralization of premium content on this channel. It published seven posts that included fifteen images and one short video clip, all showing Qaani visiting shrines to Shia imams in Najaf and Karbala, as well as the graves of Muhammad Sadiq al-Sadr (Muqtada al-Sadr's father) and Muhandis, both located in Najaf (Figure 1).
Qaani's New Iconic Image
It is clear that Qaani's office supplied these images to promote his visit, and that his spin machine tasked Sabereen and other muqawama media with amplifying them. Piety is an important trait for any IRGC commander, and Middle Eastern media outlets are full of stories about Soleimani's piety and devotion. Qaani is likewise trying to paint a picture of himself as a true believer in Shia Islam. This is why, for example, Kataib Hezbollah's Unit 10,000 posted one of his pictures from inside Imam Ali's shrine in Najaf and captioned it using the term "ithar" (altruism or sacrifice) (Figure 2).
The same image was posted by Fariq al-Wilayah al-Ilami (The Wilayah Media Team) with another caption glorifying Qaani: "Hajj Esmail Qaani standing in Imam Ali's shrine like a roaring lion in the war" (Figure 3). This glorifying sentence has significant religious connotations. The post uses the term haidarah for lion rather than the more common term asad. Haidarah is a nickname for Imam Ali, who was famous for being a brave and mighty warrior. Some Islamic texts say that in one battle, he stood in front of the enemy and shouted: "I am who my mother named haidarah...I cut the necks of the infidels with [my] sword."
Qaani as Khamenei's Messenger
The fact that Qaani was almost certainly carrying messages from Supreme Leader Ali Khamenei was also used to raise his status among muqawama circles, reminding Iraqis that his prestige is linked to Khamenei's. Another muqawama Telegram account with the handle "Abo Mzeal" used a photo caption with a Quranic verse to describe how Qaani was carrying a message from Khamenei: "Behold, it is from Solomon, and it says, 'In the name of God, the Most Gracious, the Dispenser of Grace" (Figure 4).
This is a verse in the Quranic chapter al-Naml (the Ant) based on an account of the prophet Solomon sending a message to the Queen of Sheba via his trusted messenger. In the Abo Mzeal post, Qaani is portrayed as Khamenei's messenger, a highly respected status among the muqawama because it indicates Khamenei's faith in him.
A major Telegram channel close to Kataib Hezbollah likewise implied that Qaani is the carrier of Khamenei's message: "Peace be upon him who carries the message for the wali [a common epithet for Khamenei]" (Figure 5).
Another Kataib Hezbollah post called Qaani "Qasem Soleimani's confidant" (Figure 6). This was an effort to consolidate his position as the rightful successor to Soleimani.
Qaani's visits to Iraq have historically been gaffe-prone and underwhelming. In late 2020, for example, the militia Asaib Ahl al-Haq (AAH) greeted his arrival with truce-breaking rocket attacks. The recent effort to lionize him and encourage respect for his guidance seems to be part of a broader IRGC-QF effort to recentralize command and control of the Iraqi muqawama after a period of fragmentation. It might also be motivated by the need to offset the damaging impression that Qaani is not respected by Iraqi leaders. Apparently, the general tried but failed to secure audiences with Grand Ayatollah Ali al-Sistani and Muqtada al-Sadr. And after Qaani left the country, BBC Persian aired a scathing interview on January 18 in which AAH leader Qais al-Khazali criticized Iran's willingness to support anti-U.S. militancy in Iraq under the general's tenure.