Last Call for UNIFIL? Israel and Hezbollah in a 2006 Deja Vu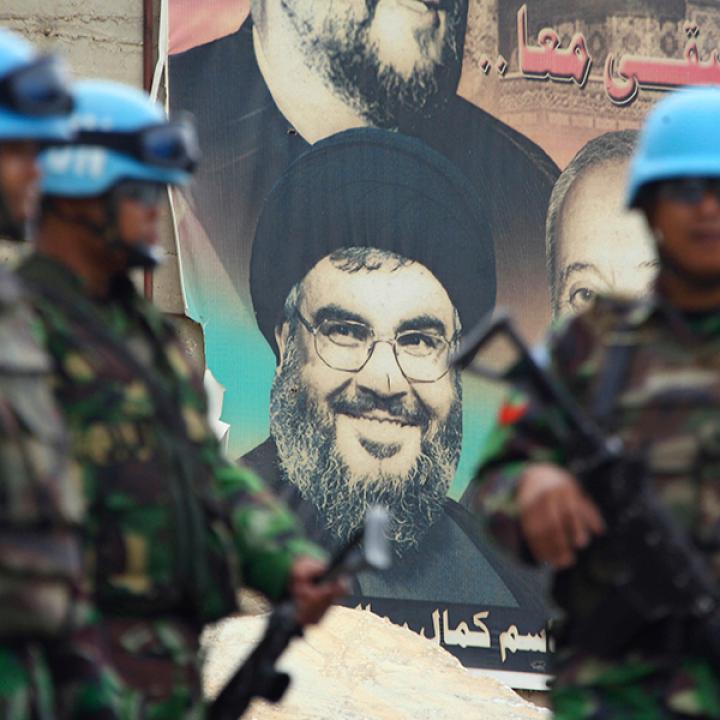 The exchange of threats between Israeli and Hezbollah officials is just one in a series of developments indicating higher risk of miscalculation and large-scale regional conflict.
Late May saw a high-profile exchange of threats between top Israeli and Hezbollah officials, including mutual warnings of war. Is escalation imminent, and, if so, how likely is the prospect of a regional war?
What Did They Say?
On May 22, Israel's chief of defense intelligence, Maj. Gen. Aharon Haliva, told attendees at the annual Herzliya Conference that Hezbollah leader Hassan Nasrallah is once again seeking to "stretch the equations" with Israel. He explained: "Nasrallah is close to making a mistake that might deteriorate the region toward a big war...in addition to [Syrian leader] Bashar al-Assad's increasing confidence in allowing an Iranian drone to be launched at Israel. This creates high potential for escalation in the region, and we must be prepared...Make no mistake, we're ready to employ force, and using force against us from Syria and Lebanon might escalate to a collision of a very wide scale between Israel, Hezbollah, and Lebanon."
The next day, Israel Defense Forces chief of staff Lt. Gen. Herzi Halevy told the conference that Hezbollah's military buildup is a major challenge, noting that Israel must "consider the right timing for an advantageous initiative." He continued: "While Hezbollah is very much deterred from a comprehensive war against Israel, it thinks it understands how we think, and this brings it to dare and challenge us where it is confident this won't lead to war. I see this as a good path for generating surprises when needed...The IDF's readiness for fighting in the north is good and improving, but such a campaign will be tough for the Israeli home front, sevenfold tougher for Lebanon, and tougher still for Hezbollah." Halevy also noted, "On the horizon are potential negative developments in Iran's nuclear program, which might bring about action."
The same evening, an IDF spokesperson told reporters that Halevy's remarks do not indicate an imminent war in Lebanon or strike on Iran. Yet Israel's security cabinet has reportedly been briefed about both the situation with Hezbollah and the May 29-June 8 General Staff exercise simulating a war with Iran and in the north
Meanwhile, Nasrallah gave a speech on May 25 for "Resistance and Liberation Day," which commemorates the IDF withdrawal from Lebanon in 2000. Responding to "the enemies' threats," he warned Israel to beware of miscalculation that could lead to a major war. He also pointed to Israel's domestic divisions and its failure to deter opponents during its recent operation against Palestinian Islamic Jihad in Gaza (see below).
What Spurred the Warnings?
Apparently, the IDF generals' warnings were not based on any specific alerts about an imminent attack, but rather on Hezbollah's increasingly evident appetite for risk. The group is seeking to challenge Israel right up to—but without crossing—the threshold of war, and this trend did not begin last week. Four recent incidents highlight the escalatory dynamic:
What Hezbollah might have inferred from these exchanges is that Israel generally prefers to target enemies in less volatile theaters and with less potential for blowback when responding to attacks. Nasrallah could therefore conclude that the IDF is so deterred from striking Lebanese territory and Hezbollah targets that the group can attack Israel without risking too forceful a retribution.
Signs of this apparent overconfidence were evident on May 21, when Hezbollah regaled a large crowd of observers and reporters with a military display at its training site in Aaramta, just nineteen kilometers from the border. The event showcased rockets, artillery pieces, drones, all-terrain vehicles, and motorcycles. Two hundred troops were present, including members of the elite Radwan unit. More troubling, the participants simulated a breach of Israel's border, an attack on IDF positions inside Israel, and the abduction of an IDF soldier—the exact type of operation that unintentionally sparked the 2006 Lebanon war at a time when neither side was actively seeking such a large-scale conflict. Also present at the event was senior Hezbollah official Hashem Safieddine, who threatened Israel with a "rain of precision missiles."
In response to this display, Lebanese prime minister Najib Mikati and thirty-one members of parliament condemned the infringement on Beirut's sovereignty. Yet Nasrallah's May 25 speech celebrated the event, claiming that it had contributed to panic inside Israel.
UN reports have likewise documented various indicators of Hezbollah escalation and overconfidence over the past year, from drone threats against Israel's offshore gas platform to the placement of military observation towers along the border (disguised as environmental outposts used by the "Green Without Borders" facade group). Among the most worrisome trends are:
Shooting ranges and tactical training. According to UN reports from July and November 2022 and March 2023, UNIFIL helicopter patrols have repeatedly observed active shooting ranges in at least five locations across south Lebanon, some of them upgraded with permanent structures. Holding tactical training and live-fire shooting at fixed ranges in broad daylight is a clear expression of the group's growing brazenness. In addition, Hezbollah members shot fireworks toward a UNIFIL helicopter near the Deir Aames firing range in October; two months later, armed members aimed their weapons at another helicopter near the Zibqin range. The Lebanese Armed Forces (LAF) agreed to facilitate joint visits with UNIFIL to such ranges as far back as March 2022, but this has not taken place.
Attacks against UNIFIL. In 2022, the average number of UN-reported assaults, harassment, and restrictions of movement against UNIFIL personnel reached an all-time peak of about five incidents per month, well above previous years. The murder of Irish UNIFIL soldier Sean Rooney on December 14 was just the high-water mark of this trend. Whether senior Hezbollah officials ordered his killing directly or not, the operatives on the ground surely acted in line with the intent and spirit of their leaders. A military judge reportedly accused five Hezbollah members of the murder, but only one is in custody.
Israeli overflights. In 2019, Nasrallah vowed to curb Israeli military flights over Lebanon; since then, Hezbollah has apparently managed to make progress toward this goal by improving its air defenses. After the UN reported a 95 percent decline in Israeli overflight hours between summer 2020 and summer 2021, the following year saw a further drop of 35 percent (for graphics illustrating these declines, see PolicyWatch 3626). Although this may indicate Israel's success in developing alternative reconnaissance capabilities, at least part of the decline is presumably due to the growing threat of Hezbollah surface-to-air missiles and, concurrently, its increasing confidence and appetite for risk.
Recommendations
At the end of the 2006 war, UN Security Council Resolution 1701 correctly identified two of the main escalatory conditions that led to the conflict: Hezbollah's arms remained out of the Lebanese government's control, and Hezbollah maintained a military presence in south Lebanon and along the border with Israel. The resolution called on the Lebanese government, with UNIFIL's assistance, to establish an area "between the Blue Line and the Litani River...free of any armed personnel, assets and weapons other than those of the Government of Lebanon and of UNIFIL." They have failed in this critical mission—similar conditions prevail today and have in fact worsened. The proximity of Hezbollah's elite Radwan troops to the Blue Line is an immediate threat to Israel's northern communities, and the resultant potential for attack on short notice has shrunk the margin for de-escalation. As mentioned previously, the group is also conducting cross-border abduction drills of the type that triggered the 2006 war.
This volatility is exacerbated by Hezbollah's activities in Syria, Hamas attacks from Lebanese territory, and rocket fire from the Palestinian theater, all encouraged by their Iranian patron's growing sense of power. To be sure, the pervasive talk about "unity of theaters" against Israel remains more of a propaganda and logistics effort for members of Iran's "axis of resistance"—they have yet to conduct simultaneous operations from multiple fronts, let alone form a unified command. Yet escalation in Lebanon is more likely this year due to the combination of factors described above. Nasrallah's overconfidence in his ability to predict Israel's responses fed his adventurism in 2006, and he admitted his miscalculation after the war, expressing regret. Yet his rhetoric is similarly hubristic today, and IDF generals are warning that such a mindset may lead to another cycle of miscalculation and escalation even more destructive than 2006.
Moreover, a June 1 Lebanese news story reported that tensions were rising due to a tent erected in the Shebaa Farms area along the Israel-Syria frontier, possibly on Israel's side of the Blue Line. Hezbollah's al-Manar television network also reported that leaflets had been spread there warning Israeli forces that this area belongs to Lebanon. Hezbollah has historically used the same area to launch attacks on Israel in the name of Lebanese sovereignty, so these developments may presage a new opening move by the group.
This summer, the international community will have another opportunity—perhaps its last—to reduce the risk of war during the next annual vote to renew UNIFIL's mandate. Doing so will require breaking a pernicious "copy-paste" cycle in which UNIFIL's mission and composition undergo minimal changes, peacekeeping troops face increased attacks by Hezbollah, and UNIFIL cedes more ground to the group's military presence in the south, further heightening tensions along the frontier with Israel.
First and foremost, summoning the political will needed to break this cycle requires that officials recognize the rising probability of war. Instead of focusing entirely on Lebanon's economic crisis, UN Security Council members need to strategize stronger efforts to prevent a major conflict with Hezbollah—a disastrous humanitarian scenario that would make the current economic crisis pale in comparison. They can begin by highlighting Hezbollah's violations of Resolution 1701 and its warmongering rhetoric. Proposals for improving UNIFIL's reporting, force structure, and mandate (e.g., changing the renewal period to six months instead of twelve) should be seriously considered after being dismissed in past years. Countries that contribute troops to UNIFIL would also do well to reassess the risk to their personnel in case of escalation, since peacekeepers are located in the heart of a potential blazing battle zone. The chances of war are perhaps the highest since 2006, so now is not the time for UN business as usual.
Brig. Gen. Assaf Orion (Res.) is the Rueven International Fellow at The Washington Institute and former head of the IDF Strategic Planning Division.