Expect More Violence If Hezbollah Isn't Held Accountable for Murdering an Irish Soldier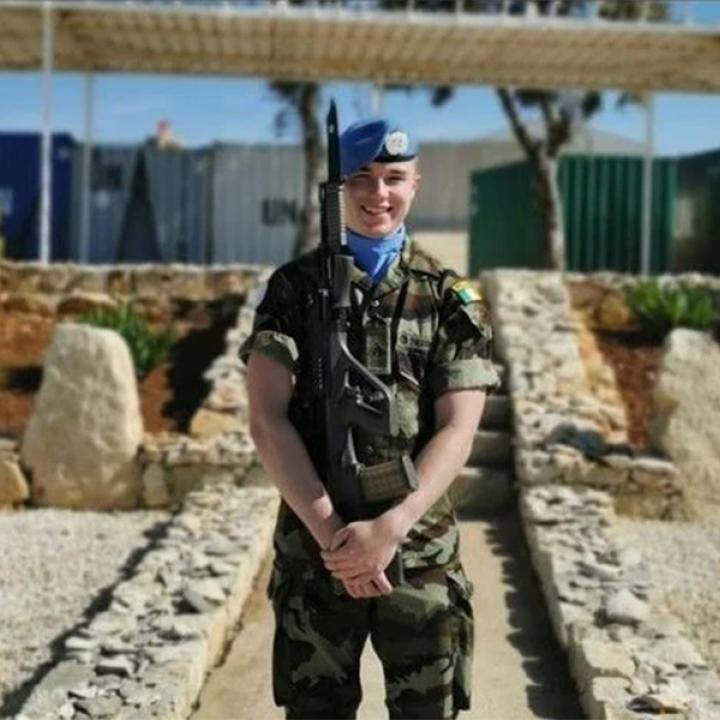 Whether the group is pulling the trigger itself or inciting others to do so, its brazen disregard for Lebanese civil authority, international law, and Israeli redlines has reached a new low.
When Pvt. Sean Rooney, 23, was shot dead while his UN vehicle was being attacked in al-Aqbiyah, Lebanon, last week, the expected response quickly unfolded: Hezbollah denied involvement; the militia's leaders declared that "the people" were upset with the increased UN presence in the south, including the area where Rooney was killed; and the Lebanese government scrambled to sweep the incident under the rug as quickly and tidily as possible while avoiding an international crisis. The real story behind what happened can only be uncovered via an international investigation—one that covers not only the December 14 attack, but Hezbollah's escalating pattern of violence in the south and its complete lack of accountability for such actions.
Since its creation in 1982, Hezbollah has avoided investigation or prosecution for almost all of its many crimes inside Lebanon. Perhaps the only time an investigation pinpointed the militia as the perpetrator of a major incident was the tribunal established after the 2005 assassination of former prime minister Rafiq Hariri—and even then, the resultant trials took more than a decade to conclude and failed to implicate Hezbollah's leaders. Every other crime has gone unpunished—including the 2020 Beirut port explosion, a catastrophe in which Hezbollah's potential involvement is still largely opaque due to the glacial pace of the government investigation it has repeatedly obstructed. The group has also managed to evade responsibility when its supporters take matters into their own hands and strike out at the UN Interim Force in Lebanon (UNIFIL) or other targets, even though their actions are clearly instigated by Hezbollah propaganda and shielded from prosecution.
The timing of the December 14 incident also coincides with other aggressive Hezbollah operations in the south, including provocations against Israel. Taken together, they indicate that the group is determined to remove any obstacle—local or international—to its expanded military entrenchment.
Face-Off Intensifying Since August
Hezbollah escalation against UN peacekeepers is not new, but the group has been sending more aggressive messages since the Security Council extended UNIFIL's mandate for another year via Resolution 2650. Hezbollah's main issue with this decision can be found in a passage from the August 31 UN press statement announcing the resolution: "The Council reiterates that UNIFIL does not require prior authorization or permission from anyone to undertake its mandated tasks, and that it is allowed to conduct its operations independently. It calls on the parties to guarantee UNIFIL's freedom of movement, including by allowing announced and unannounced patrols." On September 10, Hezbollah official Muhammad Yazbeck responded to this statement by declaring that UNIFIL personnel would henceforth be considered occupying forces. One can safely conclude that Tehran feels the same way given that Yazbeck also serves as Iranian Supreme Leader Ali Khamenei's main representative in Lebanon.
Since then, threats, hate speech, and intimidation against UNIFIL personnel have escalated, especially after Lebanon and Israel reached a maritime border agreement in October. In Hezbollah's view, this deal meant that war with Israel had been averted for the time being. Whether that assessment is accurate or not, it served as an internal green light for Hezbollah cadres to accelerate their military preparedness efforts and tighten their grip on the south—goals that necessitate containing UNIFIL even more forcefully than in previous years.
Troubling

Details from the Latest Attack
UNIFIL quickly accused Hezbollah of launching the attack that killed Rooney. Amid the resultant foreign pressure, the Lebanese government issued a security report documenting that his vehicle had been hit by twenty-seven gunshots from several angles. Meanwhile, according to local television outlet LBCI, "The bullet that killed the Irish soldier appears to have entered from the car's back door, which had been opened during the shooting." This indicates that the assailants went through some effort to open the crashed vehicle and fire into it at point-blank range—in other words, that they killed Rooney deliberately.
According to Nida al-Watan newspaper, such evidence spurred Lebanese officials to reach out to Hezbollah. They told the group's leaders that "the issue has become embarrassing" for Beirut diplomatically, and that a "suitable way out" must be found urgently before the planned arrival of an Irish government commission in Lebanon on December 19. Afterward, a senior Hezbollah security official reportedly held a Zoom meeting with an unnamed UNIFIL commander to find the most appropriate formula for closing the case. According to Nida al-Watan, "The Hezbollah security official reiterated that the party is keen on maintaining good relations with UNIFIL, and that it had nothing to do with what happened in the town of al-Aqbiyah." The UNIFIL commander then retorted, "If you are not directly responsible for the incident, you are responsible for inciting the popular environment in the south against us." Indeed, this hostile climate is growing among a substantial segment of the southern population. Many locals have accused UNIFIL peacekeepers of being Israeli; some have threatened them with violence as well.
Even more troubling, however, is the fact that Lebanese military intelligence has reportedly identified two suspects in the shooting, but no one has been arrested or handed over to the authorities. This type of disconnect is typically seen when Hezbollah is trying to protect a criminal.
As mentioned previously, Hezbollah has been involved in many attacks against UNIFIL over the years, with each incident usually attributed to "the people" and carrying a pointed message to the international community. The most violent attack was a June 2007 convoy bombing in which six Spanish soldiers were killed. Other high-profile attacks included a 2008 bombing against an Irish convoy and two bombings in 2011: against an Italian unit and a French unit. Hezbollah has also blamed "the people" for the ceaseless lower-scale violence and harassment against UNIFIL convoys over the years, which often includes damaging or confiscating the force's equipment. But the group seemed to purposefully avoid further fatalities after 2007—until now.
Local Redlines and the Iranian Context
In addition to sending a strong message to UNIFIL and the international community, Hezbollah has been busy along the border with Israel, particularly in the Christian village of Rmeich. There, tensions burst between local residents and Hezbollah's supposed environmental group "Green Without Borders" after the militia decided to confiscate some of their land for road construction. Community members tried to convince the group to halt the project until a solution could be reached, but Hezbollah authorities ignored their pleas and informed the owners that their lands were located in a strategic border area and must therefore be confiscated for military purposes—even though nothing has formally changed on that frontier since the 2006 war with Israel.
Rmeich's citizens then turned to the government and the Lebanese Armed Forces (LAF), asking the state to preserve their rights, order those who took their property to evacuate it, and deter any actors who try to prevent them from working on their land. Yet no one moved.
Until recently, Hezbollah and its Iranian sponsor were generally more cautious with UNIFIL (mainly its European units), keeping their harassment of the force within careful constraints. The presumed purpose of this calculated approach was to avoid a serious crisis with the international community, which could trigger major restraints or sanctions from Europe. So why have Hezbollah and Tehran seemingly shifted away from this policy of late?
One potential explanation could be the recent mass protests in Iran, which have shifted international public opinion more sharply against the Islamic Republic. Escalation in Lebanon may be Tehran and Hezbollah's way of warning Europe to ease off such pressure. Notably, local media reports indicate that French president Emmanuel Macron has canceled a planned trip to spend the Christmas holiday with his country's UNIFIL contingent in south Lebanon.
Conclusion
The current escalation against UNIFIL is in keeping with Hezbollah's tactics since the 1980s—namely, its tendency to negotiate through violence, whether in the form of kidnappings, assassinations, or even wars. Today, more than 10,000 soldiers from forty-eight countries have essentially become hostages to Hezbollah and Iran, and they will remain so unless a serious and transparent investigation takes place to uncover and prosecute the perpetrators of the December 14 attack. Given the fact that Lebanon's judiciary is wholly compromised at the moment—due either to corruption or institutional weakness—only an international investigation will do, backed up by serious diplomatic pressure to compel cooperation from local authorities.
The Rooney tragedy is also a good opportunity to assess how Lebanon's current presidential frontrunner—LAF commander Joseph Aoun—would deal with the issue if he is elected by parliament. That is, if he allows Hezbollah to hide behind the same narrative of impunity in his current capacity as army chief, then the international community will know all they need to know about what his presidency will look like. A leader who does not value accountability and sovereignty will never guide Lebanon out of its ongoing collapse.
Hanin Ghaddar is the Friedmann Fellow at The Washington Institute and author of Hezbollahland: Mapping Dahiya and Lebanon's Shia Community.