Iran-Israel Clashes in Syria Could Spill Into the Gulf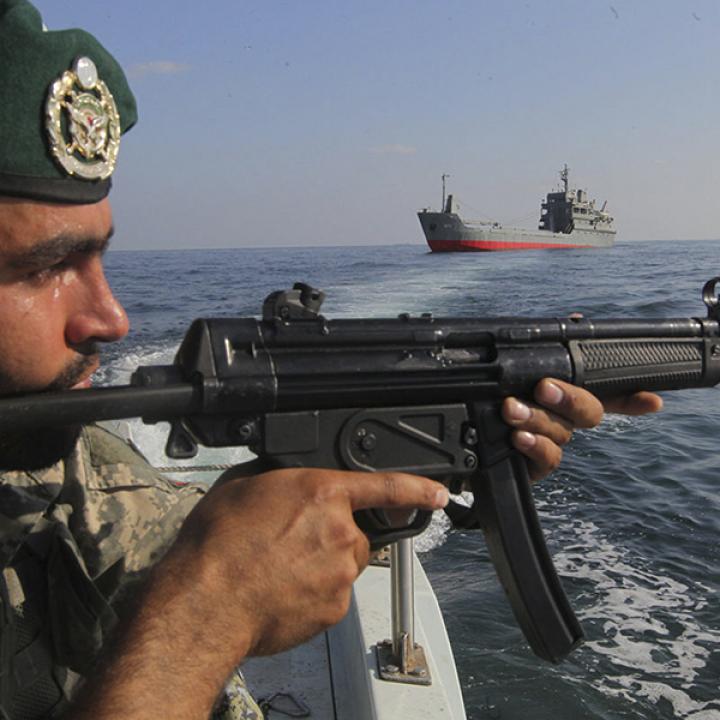 As in past incidents where IRGC officers were killed, U.S. naval forces should watch closely for any Iranian attempt to retaliate against Israel by attacking one of its commercial vessels in nearby waters.
Israeli strikes against Iranian military and proxy targets in Syria increased markedly in March, with particular intensification occurring in the past week. On March 31, an alleged Israeli airstrike near Damascus killed Capt. Milad Heydari and Lt. Meghdad Mahghani, two officers from the Cyber and Electronic Warfare Command of Iran's Islamic Revolutionary Guard Corps, which has been operating in Syria under the umbrella of the IRGC Qods Force. The IRGC and Iran's Foreign Ministry condemned the attack and promised retaliation at a time and place of their choosing.
On April 1, Israel reportedly attacked several air bases in western Syria, including al-Dabaa (near Homs), al-Shayrat, and Tiyas (aka T-4), all believed to house IRGC and Hezbollah drones, electronic jamming systems, and arms depots. For example, post-strike satellite imagery from al-Dabaa showed successful precision hits against a long-range drone control van and support hanger, plus a nearby Iranian-supplied (and most likely Iranian-operated) Matla-ul-Fajr mobile medium-range surveillance radar. The latter is a VHF early warning system developed by Shiraz Electronics Industries in central Iran and operated by the IRGC Air Defense Command and Artesh Air Defense Force. It has a claimed detection range of 500 kilometers and can track up to 200 aerial targets at the same time in its most advanced version. The radar is typically mounted on a heavy truck chassis that can be transported by Ilyushin Il-76 cargo planes operated by the IRGC Aerospace Force.
Although Matla-ul-Fajr systems had been stationed at al-Dabaa since at least 2016, none were targeted until last week, pointing to the increase in Iranian-Israeli tensions and the IRGC's more aggressive electronic warfare activities in Syria. Iran has also stepped up its efforts to boost Syria's air defenses amid ongoing Israeli strikes aimed at preventing the delivery, movement, and storage of advanced weapons and surveillance equipment for forces in Syria and Lebanon. Hundreds of air and missile strikes have been launched for this purpose, often via the East Mediterranean, Lebanese airspace, or the Golan Heights.
The April 1 strikes may also have been intended to thwart a major coordinated Iranian/Hezbollah/Hamas drone attack in retaliation for the two IRGC officers killed the previous day. If so, the Israeli raid seems to have disrupted such plans, since only one drone of unknown type was reportedly launched into Israel from Syria on April 2; a day later, Israel stated that it shot down a Hamas Shahab suicide drone over the Gaza Strip. Based on propaganda videos previously released by Hamas, the Shahab is a scaled-down version of the Qasef suicide drone used by the Houthis in Yemen and by Iraqi Shia militias in Syria.   
These attempts, like similar operations in February 2018 and May 2021, were quickly detected by the Israel Defense Forces, which scrambled fighter jets and Apache helicopters to intercept (in this case, the drones were brought down by electronic rather than kinetic means). On April 3, Israel publicly blamed Iran for the April 2 incident.
The Risks Ahead
Notwithstanding the apparently unsuccessful April 2 drone incursion, Iran has other options for avenging the deaths of its officers in Syria, any of which it could exercise in the next few days or weeks. Previously, for example, it launched a deadly Shahed-136 drone attack against the Israeli-linked tanker Mercer Street in the Gulf of Oman on July 31, 2021—nine days after an Israeli airstrike on al-Dabaa reportedly killed two IRGC officers. A pair of the tanker's crew were killed, including the captain, in a seemingly deliberate targeting of the captain's room.
Another option is simply trying to salvage a propaganda victory from the failed April 2 incursion; in fact, an IRGC spokesman claimed earlier today that Iran had already taken revenge against Israel in the previous hours, without offering any details. Other potential options include launching more drones into Israel and/or attempting a terrorist attack against Israeli citizens abroad. More likely, however, Iran will try to attack another Israeli-linked ship in the Gulf of Oman using suicide drones or other means, once again with the intent to cause casualties. Any such operation would likely be conducted somewhere at a safe distance from Saudi Arabia, since Tehran is trying hard to mend relations with Riyadh. The United States runs substantial maritime security operations in the area, so its naval forces should maintain a high state of vigilance for any Iranian attempt to threaten international shipping in these waterways.
Farzin Nadimi is an associate fellow with The Washington Institute, specializing in security and defense in Iran and the Gulf region.