Hezbollah Infiltrates Israel (Part 1): Another Step Toward Changing the Rules of the Game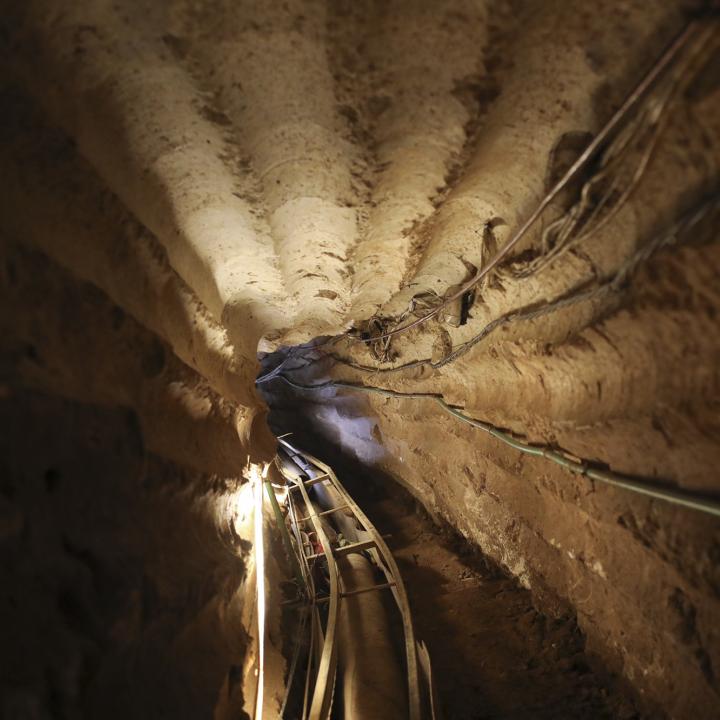 Despite representing a significant escalation, the incident also continues a longstanding pattern of behavior aimed at rewriting the informal understandings established since the 2006 war.
Earlier this month, a terrorist operative infiltrated Israel from Lebanon, crossing the UN-demarcated Blue Line and evading border patrols and remote detection systems. After traveling sixty kilometers south to the Megiddo junction, he planted a sophisticated improvised explosive device of a type typically used by Hezbollah, which seriously wounded an Arab Israeli citizen upon detonating. He then hitched a ride from a passing car while security forces led a manhunt. When authorities stopped the car near the border town of Yaara, the driver exited the vehicle but the terrorist refused. Armed with an explosive belt and other weapons, he was soon shot dead.
Authorities have yet to release their findings on the suspect's identity, but the military and the Israel Security Agency believe he was operating on Hezbollah's behalf. The attack was claimed on Telegram by a previously unknown group calling itself "The Galilee Forces—the Lone Wolves," which also posted pictures of various Israeli locations and officials with the caption "the next targets." Yet authorities appear to view this claim as propaganda intended to distract from Hezbollah's role—after all, little transpires across the border without the group's consent, and the device used in the attack is a type associated with Hezbollah, not Palestinian groups.
Perhaps more important, the incident is just the latest in a long series of escalating Hezbollah efforts to change the understandings and red lines that govern its conflict with Israel. Part 1 of this PolicyWatch focuses on these efforts to rewrite the rules of the game; Part 2 assesses Israel's calculus and response options.
Moving the Goalposts
When Hezbollah deployed the bulk of its forces to defend the Assad regime during Syria's civil war, it sought to buy time regarding its fight with Israel. This meant focusing on long-term projects that would improve its ability to attack Israel at a later date, such as investing in cross-border attack tunnels and importing and developing precision-guided missiles. Hezbollah spent years and significant funds on the first project, building tunnels that Israel exposed in December 2018 and destroyed over the next few months. The second project continues to pose a threat today, despite Israel's efforts to interdict missile-related transfers via Syria and publicly reveal missile facilities operating in densely populated urban areas of Lebanon.
More recently, with the vast majority of its forces back in Lebanon, Hezbollah has been eager to reestablish its "resistance" credentials—albeit in a way that minimizes the likelihood of a full-scale Israeli military retaliation. In the lead-up to the 2006 war, Secretary-General Hassan Nasrallah famously miscalculated how Israel would respond to the cross-border abduction of its soldiers. According to Israeli analysts, however, he now believes he can predict the enemy's behavior more accurately, leading him to sharpen his rhetoric and approve a series of increasingly aggressive actions over the past three years.
Previously, the unwritten understanding was that Hezbollah would not attack Israel so long as Israeli forces limited themselves to targeting its weapons shipments in Syria—the group's red lines would only be crossed if Israel struck targets on Lebanese soil or killed the group's personnel in any country. For example, on September 1, 2019, Hezbollah fired antitank missiles at an Israeli military ambulance driving between the border communities of Avivim and Yiron, an apparent response to a pair of Israeli attacks: an airstrike that killed two Hezbollah operatives in Syria, and a drone strike in Beirut that targeted a propellant mixer used in the manufacture of precision-guided missiles.
At the same time, however, Hezbollah began taking steps to change the rules of the game. After the 2019 Beirut drone strike, Nasrallah vowed to shoot Israeli surveillance drones out of Lebanon's skies—whether or not they were involved in attacks. By February 2022, he was boasting that Hezbollah's antiaircraft capabilities had forced Israel to drastically reduce its drone flights over south Lebanon and refrain from any such flights over the Beqa Valley for months. Israeli Air Force chief Amikam Norkin seemed to confirm some of these claims that April—he acknowledged Hezbollah's aggressive air defenses, noted that the group had nearly shot down an Israeli drone in 2021, and described the resultant dampening of intelligence collection overflights, concluding that "Israel no longer has full freedom of action over Lebanon."
Similarly, during the same August 2019 speech in which he threatened to down Israeli drones, Nasrallah warned Israeli soldiers stationed along the border to be on guard: "Starting today, you should stand on a leg and a half and wait for us." In July 2020, the military reportedly thwarted an attack by armed Hezbollah operatives who had crossed into Israeli territory.
The August 2020 Beirut port explosion soon distracted Hezbollah from escalating tensions (at least beyond increasing its observation posts along the Blue Line), but the threatening rhetoric picked up again in 2021. When Iran sent a shipment of oil to Lebanon that August, Nasrallah publicly warned that any attack on the vessel would be considered an attack on Lebanese territory and therefore trigger a Hezbollah response—a risky statement in the midst of Israel and Iran's tit-for-tat escalation against each other's shipping interests.
In July 2022, Nasrallah further upped the stakes by threatening to target Israel's offshore natural gas platforms if it began extracting from the Karish field before reaching a maritime border deal with Lebanon. Soon thereafter, three Hezbollah drones were shot down en route to the Karish platform. Although subsequent investigation indicated they were not armed, the message was clear—Nasrallah warned that these drones were "only the beginning" and pledged to go to war over the gas issue if necessary. Hezbollah followed up with a propaganda video featuring drone footage of the Karish field apparently being targeted with a weapon.
Nasrallah's willingness to risk conflict with Israel was partly driven by domestic economic and political pressures—he no doubt relished the opportunity to tell the Lebanese people that Hezbollah's weapons had protected the oil delivery from Iran and secured a better deal on the maritime border and gas field. Yet he also seemed to believe that Israel was unlikely to respond in a serious way to his threats given Hezbollah's enlarged precision missile arsenal and air defense systems. Instead, he assessed that Israel would scale down its drone flights, refrain from attacking Iran's oil shipment, and delay gas extraction until the maritime agreement was concluded—and in each case his assessment was correct. The question that Israeli intelligence analysts are now debating is whether this string of accurate assessments has emboldened Nasrallah to take even greater risks.
Current Risk of Miscalculation, Escalation
On March 6, a week before the Megiddo bombing, Nasrallah claimed that Hezbollah had restrained Israel's freedom of action to attack the group by reestablishing a "balance of deterrence." Referring to the country's ongoing political turmoil, he declared that Israel is on the verge of civil war and concluded that "all indications point to the end" of the Jewish state.
In addition to the bombing, this month has seen increased reports of cross-border harassment against Israelis, such as aiming laser beams at drivers and homes, setting off loud explosions on the Lebanese frontier, and pouring sewage toward Israeli towns. Hezbollah has also disrupted Israeli efforts to reinforce the security barrier in several spots along the Blue Line.
This creeping aggressiveness—coupled with Nasrallah's sense of having deterred Israel and weakened its military posture—indicate that Hezbollah will continue trying to move the goalposts. For Israel's part, Defense Minister Yoav Gallant has pledged, "Whoever is responsible for the attack will regret it. We'll find the right place and time and we'll hit them." The decisionmaking on this response could be affected not only by security considerations, but also by the government's hardline composition and its desire to tamp down Israel's domestic crisis. In other words, multiple factors on both sides provide ample opportunities for miscalculation and unintended escalation.
Matthew Levitt is the Fromer-Wexler Fellow at The Washington Institute, director of its Reinhard Program on Counterterrorism and Intelligence, and creator of its interactive map tool covering Hezbollah's worldwide activity.