The National Security Implications of Israel's Judicial Debate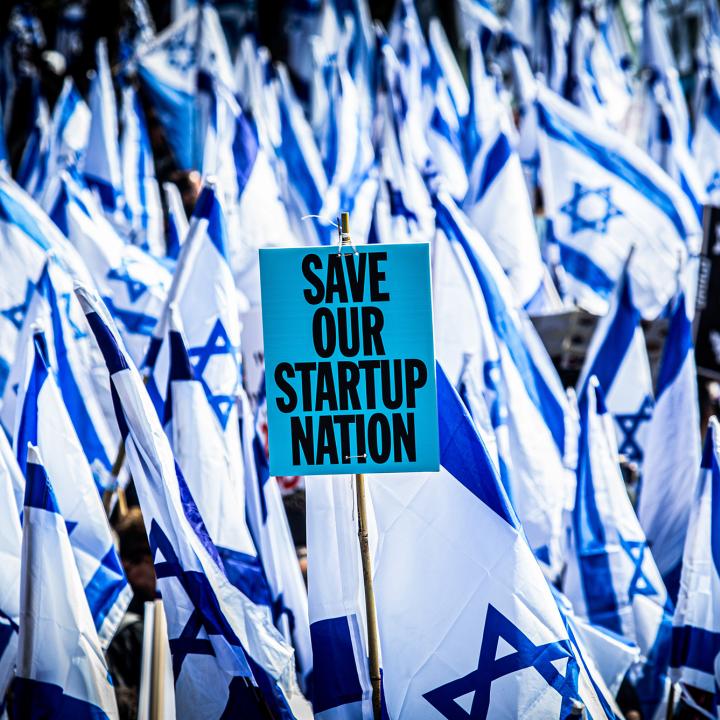 A panel of former senior Israeli officials discusses how the convulsive domestic debate may affect vital issues related to military preparedness, Iranian nuclear advancement, Palestinian terrorism, and more.
On March 6, The Washington Institute held a virtual Policy Forum with David Makovsky, Shimrit Meir, Yaakov Amidror, Uzi Dayan, and Zohar Palti. Makovsky is the Institute's Ziegler Distinguished Fellow and director of its Koret Project on Arab-Israel Relations. Meir served as senior foreign affairs advisor to former Israeli prime minister Naftali Bennett. Amidror is the Anne and Greg Rosshandler Senior Fellow at the Jerusalem Institute for Strategy and Security and former Israeli national security advisor. Dayan's posts have included service as head of the Israel Defense Forces Planning Branch and national security advisor. Palti is an International Fellow with the Institute and former head of the Mossad's Intelligence Directorate. The following is a rapporteur's summary of their remarks.
David Makovsky
When Israel's new government took office, it quickly pushed legislation that altered the balance of power with the judiciary branch, spurring sharp protests from diverse elements throughout the population. In response, President Isaac Herzog has called for dialogue and recently suggested that the government is close to compromise with opponents of the judicial reform package.
The weakening of judiciary independence raises national security concerns as well. Many observers have drawn direct connections between this issue and Israel's international standing. Moreover, the past several weeks have seen thousands of IDF reservists declare that they will not fulfill their service to varying degrees.
Shimrit Meir
This is a critical and unfortunate point in Israel's history, especially since it represents a self-inflicted predicament at a time when the country's resources need to be focused on external security challenges. Three national security implications stand out: Palestinian violence, Iran's nuclear advancement, and the risk of miscalculation.
First, the Palestinians have demonstrated how ongoing conflict and divided government can affect a national movement. For the third Ramadan in a row, Israel will feel the impact of a decaying Palestinian Authority. The resultant spike in unorganized and unaffiliated terrorism requires a coherent and coordinated response, which Israel appears unprepared for at the moment. The 2021 and 2022 Ramadan violence had a noticeable effect on the Israeli government's stability, and this year's imminent Ramadan season appears quite worrisome as well.
Second, the U.S. decision not to return to the Iran nuclear deal was a success of the Bennett-Lapid government, but the aftermath requires close coordination with the White House. Israel must also unify as it prepares to face the immediate challenge of Iran enriching uranium to 90 percent. Disunity in the government harms all Israelis.
Third, enemies are increasingly running the risk of miscalculation, with Hezbollah showing a greater willingness to challenge Israel of late. If the domestic debate continues for too long, the security situation will eventually reach a breaking point. Despite these dangers, however, the Knesset is still in session, and President Herzog's efforts may still succeed.
More broadly, Israel is home to a wide spectrum of social, religious, and political groups, and policymaking cannot serve one group alone to the detriment of others. A positive note in the current debate is that anti-reform protesters continue to embrace their Israeli nationality. Going forward, both sides of the debate must refrain from revolutionary language and embrace their shared identity as Israelis.
For its part, the Biden administration is in a difficult position where it must avoid intervening in Israeli politics but may be less willing or able to protect its ally in international courts. Israel would therefore be better positioned with a unity government than with a one-sided ideological government. The Bennett-Lapid government was committed to conducting affairs in a different manner—it did not seek to change core policies from previous governments. Israel must once again find common ground.
Yaakov Amidror
If the judiciary debate continues without resolution, some of Israel's military capabilities will inevitably be weakened, primarily in the Air Force. Other branches are less likely to face major problems, but the Air Force is deeply integrated into all Israeli warfighting, so any internal challenges it faces could have severe consequences. This is why the prospect of Air Force reservists engaging in acts of protest is putting so much pressure on the system. If the government compromises with them, it will signal to other domestic groups that they can force concessions. The situation is very problematic for both sides, and each has important reasons to reject compromise.
At the moment, the Israeli president is the only one who can broker such compromise, but no serious negotiations have emerged yet. Elements within the anti-reform camp are split internally because they are part of a grassroots movement that is not led by politicians. But they are not bluffing—they will go further in their protests if necessary.
Accordingly, the government and the protesters will have to find a solution together, and Israeli society needs to unify. The fact that government ministers have not served in the military is not the issue—the core problem is the gaping divide between the liberal and conservative camps. Both the government's unwillingness to take the opposition's opinion into account and the opposition's unwillingness to engage in dialogue are detrimental to the resilience of Israeli society. The manner in which the debate ends will hold significant national security implications.
Regarding the debate's potential impact on high-tech research and development in Israel, the judiciary reform package in itself will not be directly responsible for any negative effects. The decisionmaking of individual tech industry leaders will have much more of an impact.
Uzi Dayan
The judicial debate's biggest consequences are internal: namely, the damage it is doing to societal cohesion. This is something Israelis must solve themselves. The main threat is not here yet: that Iran will finish developing its nuclear capabilities, a goal that Tehran is currently pushing toward. The IDF is the only Israeli institution built on reservists, so any refusal to serve will have a real impact. If Iran is nuclearized, all the problems in the Middle East will remain the same, but everyone will face an additional threat.
Aside from Iran, Israel's most important task is dealing with terrorism. The Palestinian Authority could be a key player on this issue but is not currently taking that role. Ineffective counterterrorism efforts will allow terrorist groups to operate while derailing Israeli policy and strategy. Israel fights terrorism not only for itself, but also for its allies. The United States should recognize this and refrain from trying to dictate policy to Jerusalem, instead offering continued support in countering terrorism and Iran.
To resolve the judicial debate, dialogue is necessary without preconditions. Despite the current turbulence, Israel has successfully addressed the three main security challenges at home: water, energy, and demography. If it fails to reach a compromise on judicial issues, its only remaining solutions will lie in holding yet another round of elections or even a referendum. Much like other democracies, however, Israel's democracy will persevere through this tumultuous period. As currently formulated, the reforms may harm individual rights—indeed, this is why we need the Supreme Court and related institutions, to protect individual rights. Yet Israeli democracy is not under threat.
Zohar Palti
This is the most profound internal crisis Israel has experienced in the past forty years, and it will influence decisionmaking on some security issues. The Supreme Court has been a shield for the Israeli security services as they operate in the West Bank, Lebanon, and elsewhere. In the current debate, some government officials do not understand the military and the impact their decisions have on military issues, which are not about politics. One result has been severe strife in Israeli society, even within families. And for the first time ever, many citizens are raising deep questions about military service.
If Israel were to be attacked now, it could certainly defend itself. Yet responding to an existential threat requires societal unity, both during and after the response. Iranian nuclear enrichment is at its worst all-time, yet Israel is consumed by its bad internal situation. As for Hezbollah, the group is unlikely to make a strategic miscalculation at present; this risk is far higher with a group like Palestinian Islamic Jihad.
In short, Israel's security is no weaker than before the judicial debate, but a prolonged debate without compromise would pose a serious security risk. With proper dialogue, the debate might strengthen Israeli democracy, but the current reforms are instead revolutionary.
Finally, the high-tech sector stands in opposition to the proposed judicial reform package. It will therefore be difficult for Israel to maintain its current level of R&D and its image as an advanced "start-up nation."
This summary was prepared by David Patkin. The Policy Forum series is made possible through the generosity of the Florence and Robert Kaufman Family.