Kadhimi Visits Washington: Broadening the U.S.-Iraq Relationship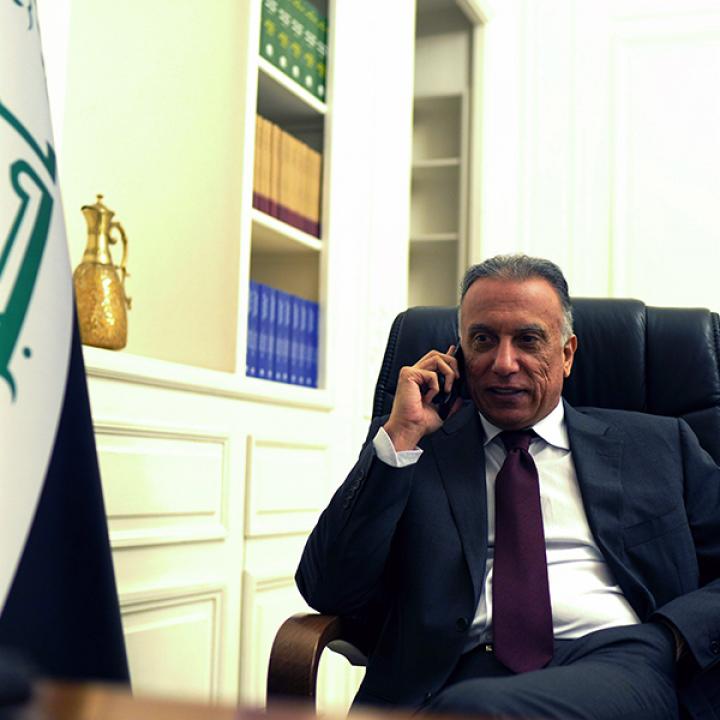 The visit and follow-on meetings present an opportunity to not only reaffirm the strategic partnership, but also move beyond outdated paradigms that view Iraq solely as an arena for countering terrorism and pushing back against Iran.
When Prime Minister Mustafa al-Kadhimi arrives in Washington on August 19, it will be his second foreign trip since taking office and the first White House meeting for an Iraqi premier since 2017. The visit comes during a time of concurrent crises for Iraq—COVID-19 cases continue to rise, the economy is weak due to years of mismanagement and the recent oil price collapse, and the Islamic State retains the ability to launch lethal attacks. These and other factors increase the urgency of broadening the U.S.-Iraqi agenda during his conversations with President Trump, the subsequent Strategic Dialogue meetings, and other discussions.
TIME IS RIPE FOR A POLICY SHIFT
For too long, U.S. policy toward Iraq has either been viewed narrowly through the lens of Iran policy and the Trump administration's "maximum pressure" campaign, or been confined to the counterterrorism bin as the U.S. military trained the country's security forces to fight al-Qaeda in Iraq and the Islamic State. Yet Washington would do well to remember that Kadhimi's rise to power took place after the Iraqi people held widespread, sustained protests against the previous government due to its rampant corruption, incompetence, and deference to Iran. In doing so, these largely young and defiantly nationalist demonstrators made clear that they want a government with backbone, and one willing to work for Iraq's economic and political benefit.
The United States now has the opportunity to align itself with this promising vision by reinforcing Kadhimi's leadership and expressing support for the political, economic, and social priorities that are most important to the bulk of the Iraqi populace. Doing so would signal that Washington no longer views the country as a sub-priority of the Iran problem; it would also strengthen Iraqi efforts to push back against Iran's negative influence. Both governments can accomplish these objectives by keeping expectations modest and focusing on non-security deliverables.
Kadhimi's visit will be followed by a second U.S.-Iraq Strategic Dialogue session, building on the virtual meeting held in June. The Strategic Dialogue process aims to institutionalize the vision set out in the 2008 U.S.-Iraq Strategic Framework Agreement—the agreed roadmap for maturing the bilateral relationship across multiple domains, including cultural, educational, and scientific cooperation. By articulating the pillars for broad partnership between the two governments and peoples beyond the military dimension, this process can provide continuity over the years as administrations change in Baghdad and Washington.
FIRST STEPS IN MOVING U.S. POLICY FORWARD
Although American public attention is currently focused on the November election, COVID-19, and the economy, the Iraqi people will likely follow the optics and outcomes of Kadhimi's visit quite closely. Many of them no doubt recognized the disrespectful treatment afforded their prime minister in Tehran. When he arrived there and met with Supreme Leader Ali Khamenei on July 21, the Iranian government did not even bother to display the Iraqi flag. Afterward, Khamenei issued a series of threatening tweets about the U.S. presence in Iraq, making abundantly clear that he views the country as merely an arena for competition, not an independent, sovereign nation. Moreover, no significant or new economic deals were announced during the trip—a standard deliverable for head-of-state visits. In short, Iran made Kadhimi's trip all about the United States, forcing him into a defensive position that played horribly in the Iraqi press.
U.S. officials should paint a stark contrast to that treatment by affording Kadhimi the honors of a visiting head of state and avoiding actions that make the visit seem all about Iran. The message conveyed by a respectful, no-drama visit would be clear to the Iraqi people—that the United States does not seek a weak Iraq beholden to Tehran or Washington, but a diplomatically appropriate relationship in which the two governments cooperate in pursuit of mutually acceptable outcomes.
The visit should also be used to announce additional U.S. assistance on COVID-19 and to clarify economic positions on both sides—on the one hand, that the United States supports Iraq's economic recovery, and on the other hand, that Iraq is open for business. The Trump administration can and should help connect U.S. companies to opportunities in Iraq, provided that Baghdad takes the necessary steps to create an attractive business climate. It should also continue the longstanding U.S. policy of expanding energy deals, commercial ties, and investments in Iraq, particularly by Arab governments. For example, the State Department has been urging progress in efforts to link Iraq's electricity grid with those in the Gulf states via the Gulf Cooperation Council Interconnection Authority. Announcing a partnership with a U.S. or Western company to improve Iraq's gas and domestic electricity production would be a net positive for U.S. business, while also sending a positive signal to the millions of Iraqis who suffer from annual electricity shortages during summer heat waves, which are breaking records this year.
Subsequently, the second convening of the Strategic Dialogue will provide opportunities to signal forward momentum and show that Washington follows through on its commitments. U.S. officials should be prepared to announce progress since the June meeting via two key steps: presenting the plan for dispatching economic advisors to Baghdad, and offering an assistance package to support Iraq's preparations for national elections next year. Economic advisors can help Iraqi ministries implement the reforms necessary to unlock loans from international financial institutions, while U.S. (and UN) electoral support would give the people more confidence that their votes matter. Also overdue is a closer look at Baghdad's volatile disputes with the Kurdistan Region of Iraq, which add to the country's overall climate of political uncertainty and economic risk. In addition, Washington should reaffirm and move forward with its commitments to enhance Iraqi university capabilities and return the country's political archives. Deliverables in all of these categories would firmly align the United States with the demands that protestors issued last year for structural reform.
BUILDING TOWARD CREDIBLE ELECTIONS
Early elections expected next summer or fall will be the next milestone for Iraq and its foreign relations. Militia-run parties emerged victorious in the low-turnout, heavily compromised 2018 election, further isolating the country regionally and exacerbating its governmental dysfunction. A repeat scenario would harden the view held by many abroad that Iraq is perpetually corrupt and unstable, undermining prospects for expanding the bilateral partnership beyond security. In contrast, a credible election endorsed by the international community would swing the door wide open for a new phase in relations.
In this sense, the onus is on Iraq—its leaders need to reform the election law, the election commission, and political party regulations, while its citizens need to continue demanding accountability and transparency. The United States and the international community should offer technical assistance and consistent public pressure to encourage a positive electoral process, and also stand ready to reject the election if it is marred by violence or widespread vote rigging.
In the meantime, Kadhimi's caretaker government could encourage fuller U.S. cooperation by taking several steps on its own. These include being more assertive in rebalancing its foreign relations, premised on serving the people's interests rather than just political elites; halting predatory Iranian economic practices in favor of mutually beneficial trade, mainly by shifting relations from the current blend of militia-mafia networks to the normal government channels used for regulating transactions with all other foreign countries; and recognizing the international imprimatur that comes with welcoming U.S. businesses. These measures, combined with positive acknowledgement of U.S. assistance, would be warmly received on both sides of the American political aisle.
INCREMENTAL PROGRESS IS STILL PROGRESS
Washington should not expect Kadhimi to deliver transformational change of systemic weaknesses that were decades in the making. But policymakers should still assess his political will to chart a new path for the country, offering him the requisite support while tempering expectations. His government is already taking important steps that should be welcomed in Washington, such as detaining Iran-backed militia members who were planning a rocket attack on the Baghdad compound that houses the U.S. embassy, working to hold Iraqi security personnel accountable for their involvement in killing protestors, pressing parliament for support on rolling back the bloated public sector, dispatching senior officials to improve economic ties with Gulf countries, and setting a target date for early elections.
Kadhimi's efforts to don the mantle of reform and wrest sovereignty back from nonstate actors is a tall order given the continued pervasiveness of corrupt money in politics, stout resistance from militias who act with impunity thanks in part to their Iranian backers, and the structural weaknesses inherent to post-conflict governance and economics. Yet despite these challenges, and for the first time in many years, the U.S. vision for Iraq aligns with that of the Iraqi people and their new leadership—for a new political direction that puts a premium on respect for the state as an umbrella for ethnic and sectarian identities. By fostering internal stability, political inclusiveness, and economic resiliency, this shared vision could help make Iraq an even more valuable strategic partner of the United States.
Dana Stroul is the Kassen Fellow at The Washington Institute and a former senior professional staff member on the Senate Foreign Relations Committee. Bilal Wahab is the Institute's Wagner Fellow.