The Israel-Hamas War and U.S. Policy: An Update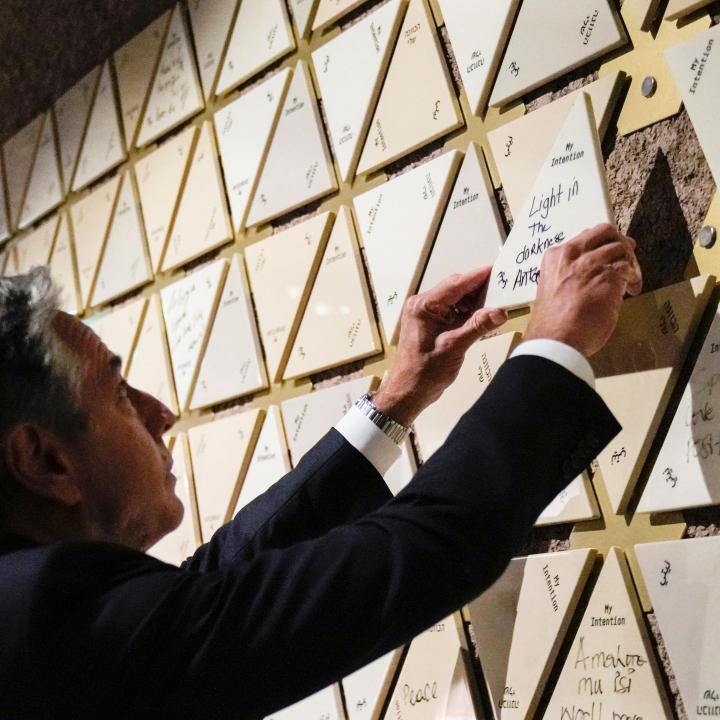 A panel of experts discuss the status of the crisis after nearly two weeks of fighting, focusing on President Biden's visit, the contours of humanitarian assistance, ongoing de-escalation efforts, and more.
On October 18, The Washington Institute held a virtual Policy Forum with Zohar Palti, David Makovsky, Grant Rumley, Ghaith al-Omari, and Neomi Neumann. Palti is the Institute's Viterbi International Fellow and former head of the Israeli Defense Ministry's Policy and Political-Military Bureau. Makovsky is the Institute's Ziegler Distinguished Fellow and director of its Koret Project on Arab-Israel Relations. Rumley, a former Pentagon official, is the Goldberger Fellow in the Institute's Diane and Guilford Glazer Foundation Program on Great Power Competition and the Middle East. Omari is the Institute's Rosalinde and Arthur Gilbert Foundation Senior Fellow and a former advisor to the Palestinian Authority. Neumann is a visiting fellow at the Institute and the former head of the research unit at the Israeli Security Agency. The following is a rapporteur's summary of their remarks.
Zohar Palti
President Biden's visit to Israel was touch and go, but he left an indelible mark on the Israeli people. Biden is a compassionate, sympathetic Zionist who is a perfect match for this moment. He understands the public's state of shock and sees that the nation is united in grief and ready to eliminate Hamas. He also requested that Israel not interfere with Egypt's provision of humanitarian aid into Gaza, and the cabinet has announced that it will comply with this wish.
At this consequential moment, U.S. support extends beyond the president's desk. The horrific October 7 attack also galvanized bipartisan congressional backing for military aid, and the Defense Ministry is in close contact with the Pentagon on resupplying the Israel Defense Forces.
The battle will be long and painful, but Israel is prepared to do what it takes to end Hamas's control of Gaza. The attack shattered Israel, and this new reality requires a complete reshaping of policy toward the Strip. Israel is prepared to topple the group's leadership, infrastructure, and military capabilities while decisively eliminating its presence in Gaza.
While this operation will remain the primary focus, Israel cannot lose sight of creeping developments in the West Bank and the north, as these are potentially volatile areas for escalation. Deterring Hezbollah involvement in particular is a must.
David Makovsky
Biden's visit presented two clear messages: solidarity with Israel and deterrence of its adversaries. Biden's empathy, moral clarity, identification with Zionism, and willingness to incur political risk underscore his dedication to Israel and his intimate connection with its people. The presence of a U.S. aircraft carrier near Israeli waters sends a strong message to adversaries but also demonstrates Biden's efforts to avoid escalation. A second front, especially on the Lebanon border, could ensnare U.S. forces and would be costly for all involved.
During this conflict, intimacy with the United States is both a blessing and a challenge for Israel. U.S. involvement raises the stakes of Israel's wartime decisions and implicates Washington in their consequences, while Biden's efforts to open a humanitarian corridor reveal the pressures Jerusalem may face from its ally as the war goes on.
On the domestic front, Israeli politics are still dynamic, but support for Prime Minister Binyamin Netanyahu has markedly waned since the Hamas attack. Key leaders in the political and military echelons have taken responsibility for the surprise attack, but Netanyahu has yet to do so. Even so, the new unity government has given many Israelis a renewed sense of confidence in their political leadership, with polls showing 80 percent of them in favor of this coalition. Although some have called on Netanyahu to resign, Israel remains focused on the war for now; the political repercussions will follow in due time.
Grant Rumley
U.S. support to Israel is focused on three lines of effort: military posture, messaging, and security assistance. Following the Hamas attack, the United States moved quickly to reposition its largest and most advanced aircraft carrier, the USS Gerald R. Ford, from the western Mediterranean closer to Israel's shores. Another carrier strike group, led by the USS Dwight E. Eisenhower, is on its way, and the USS Bataan Amphibious Ready Group also received orders to move from the Persian Gulf closer to Israel. These groups offer a host of crucial capabilities, from air defense to long-range precision strikes and maritime interdictions. Taken together, the moves send a clear message to adversaries.
In terms of security assistance, Israel is seeking replenishment of its Iron Dome interceptors, precision-guided munitions, artillery and ammunition rounds, and intelligence sharing on regional threats. U.S. officials have repeatedly expressed confidence that they have the necessary authorities and supplies to fulfill these requests in the short term, but the administration will need to get more funding from Congress for long-term support. Currently, military aid to Israel has broad support, but the war's duration and potential expansion—coupled with continuing resupply needs in Ukraine—could affect this stance down the road. The Biden administration believes that its current level of defense support matches the current level of hostilities, but a second front in Lebanon or elsewhere would stretch Israel's defenses, strain U.S. supplies, and potentially draw America into direct military involvement.
Ghaith al-Omari
The horrific attack on Israel exposed sharp divisions in the Arab world's orientation toward Israel. While peace partners such as the United Arab Emirates, Morocco, and Bahrain condemned Hamas, other regional players (e.g., Qatar, Syria, Iraq) blamed Israel for the attack. The situation for neighboring Egypt and Jordan is particularly delicate, and its leaders must tread carefully to avoid triggering domestic backlash amid evolving security threats.
During this period, U.S. diplomacy must be agile and adaptable to ensure that the war does not escalate or create further regional instability. This includes asking Israel to minimize civilian casualties and ensure respect for the laws of war, while also allowing regional allies to take credit for any wins on the humanitarian assistance front.
For their part, regional leaders will have to balance conflicting domestic and diplomatic pressures to appease their populaces. Indeed, domestic interests are increasingly becoming the bottom line. Many Arab leaders keep a close watch on public opinion, and when they believe they are unable to change it, they generally try to get ahead of it—as seen most recently in the region's rapid condemnation of Israel following erroneous reports about the al-Ahli Hospital tragedy in Gaza.
Meanwhile, the situation in the West Bank remains volatile. The territory's gradual security breakdown, coupled with the Palestinian Authority's legitimacy deficit, has created the perfect conditions for it to be swept into the war. Israeli and U.S. officials will need to monitor the worsening tensions closely, since further escalation in the West Bank could have serious spillover effects into Jordan and elsewhere, perhaps regionalizing the conflict.
Neomi Neumann
Even in the midst of this traumatic period, Israel and its partners must think about "the day after," both to help define the current state of play and to reduce uncertainty about the war's outcome. Israel's objective is clear: eliminate Hamas's leadership and military capabilities and remove any remaining threats or power vacuums in Gaza. Although achieving this objective will be costly, time-consuming, and painful, Israel should still aim to leave Gaza as quickly as possible while ensuring that a viable civilian address remains to rebuild the Strip.
Fortunately, most Gazan civilians do not support Hamas. According to a Washington Institute poll conducted before the war, 70 percent of them would support the Palestinian Authority taking over administration of Gaza. Although the PA lacks the capacity and political stability to do so at the moment, it remains the only viable long-term alternative to Hamas. After the war, Arab states will be crucial to financing and managing the rehabilitation of a post-Hamas Gaza.
This war is a conflict not only between Israel and Hamas, but also between two competing ideologies, between democratic freedom and fanatical violence. Those who remember the lessons of the second intifada know that violence is not a viable tool to achieve welfare or freedom. Israel needs to eliminate Hamas to show national resilience and reestablish deterrence—but also to defeat the ideology of violence as a legitimate political tool.
This summary was prepared by Sydney Hilbush. The Policy Forum series is made possible through the generosity of the Florence and Robert Kaufman Family.