Iran-Backed Militias Applaud Hamas, Threaten Americans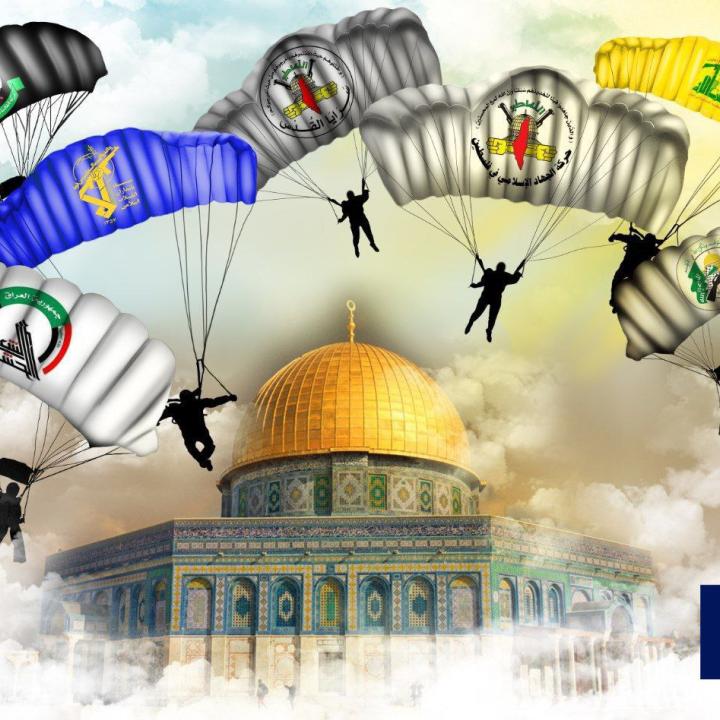 Iraq's "resistance" militias all rhetorically supported the attack on Israel, but with interesting differences: Badr threatened Americans, while others seemed to downplay potential involvement.
Unsurprisingly, Iran-backed terrorist and militia groups in Iraq (the self-styled muqawama, or resistance) were quick to provide rhetorical approval for Hamas's murder of hundreds of Israeli, American, and other foreign civilians in the October 7 assault from Gaza, along with varying threats of involvement that will likely prove to be empty.
Badr Threatens to Attack U.S. Targets
The most prominent muqawama statement was issued by Hadi al-Ameri, who heads the Badr Organization and the Coordination Framework, the Shia leadership coalition that oversees militia political parties. During a rally for the muqawama's Nabni coalition ahead of last week's provincial election, Ameri declared, "Our stand is clear. If the Americans intervene in the battle with Hamas, we will attack all U.S. targets. Therefore, they need to stop the support for this Zionist entity" (Figure 1). The angry remarks appeared to break his longstanding habit of not explicitly calling for the killing of Americans.
Asaib Ahl al-Haq "Heartened" by Hamas Killings
In an October 7 statement, Qais al-Khazali, the head of Asaib Ahl al-Haq (AAH) and cofounder of the Coordination Framework, hailed the Hamas operation: "We and all Muslims and the free resistors were heartened by the result of operation tawafan al-Aqsa [Jerusalem Flood]...We are watching the events and are ready" (Figure 2). These understated comments may stem from a desire to appear less extreme than other muqawama politicians, in line with his longstanding but improbable effort to be delisted as a terrorist and openly embraced by major Western embassies.
Kataib Hezbollah MPs Stay Quiet
Kataib Hezbollah (KH) did not put out a statement through spokesman Abu Ali al-Askari (aka Hossein Moanes), either using his kunya or in his own name as a member of parliament's Hoquq bloc. Instead, comment came from KH's (apparently restored) secretary-general, Ahmad Mohsen Faraj al-Hamidawi (aka Abu Hussein), who noted on October 10, "We congratulate the Palestinians, our Islamic world, and the mujahedin of the Islamic Resistance in Palestine for their great victories for the consecutive fourth day." He also stated, "Muqawama religious duty obligates them to be on the battlefield," noting that KH rockets, drones, and special forces had been alerted to target Americans and that KH missiles could hit Israel and its supporters if required. He then asked muqawama supporters to attend Friday protests on October 13.  
HaN and KSS Somewhat Muted
Akram Kaabi, head of Harakat Hezbollah al-Nujaba (HaN), put out a bland statement on October 9 asking muqawama supporters to participate in a protest called by Muqtada al-Sadr to support Palestine and condemn Israel. At the same time, he indicated that his group would not join the war unless Israel expanded the geographic scope of the battle. Kaabi also stated that if the United States or any other country intervenes against the Palestinians, it will face a military response (Figure 3).
Similarly, the commander of Kataib Sayyid al-Shuhada (KSS), Abu Ala al-Walai, stated that his militia would only become involved in the fight if the United States intervenes directly. According to muqawama social media platforms, both Kaabi and Walai reportedly traveled to south Lebanon for meetings in the "operations room."
Other Militias
Shebl al-Zaidi, head of Kataib al-Imam Ali, put out several statements supporting the Palestinians and hailing Sadr for calling protests in Baghdad. He urged Iraqis to collect donations for Palestinians and asked the government to work on delivering those donations as soon as possible. Zaidi is very active on X/Twitter, largely to stay relevant; he also has close business ties to Lebanese Hezbollah.
What They Mean
Iran-backed militias seemingly coordinated their statements to downplay the likelihood of them becoming directly involved. There is an element of theater here: they are conditioning their kinetic involvement on unlikely developments (i.e., Israel or the United States deciding to broaden the war regionally), allowing them to sound tough while issuing likely empty threats. Ameri's threat to harm Americans was a notable loss of message discipline, in contrast to KH and AAH's quite cautious approaches. Iran-backed groups with the most direct ties to Hezbollah and the Syrian theater—HaN and KSS—were strongly supportive of the "axis of resistance" but still disciplined enough to stay on-message about not broadening the war. This indicates that Iraqi muqawama players are slotting into the "extended deterrence" system of Iran and Lebanese Hezbollah.