Exposing Kataib Hezbollah's Royal Family? Insights from Recent Leaks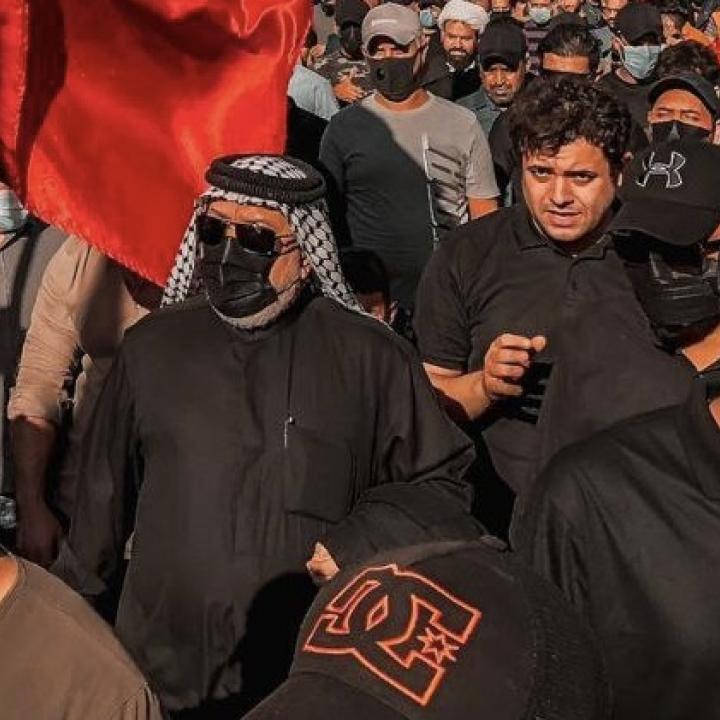 The unmasking of Abu Hussein and his brothers puts the deposed Kataib Hezbollah official on the receiving end of his favorite tactic: leaking the faces and names of rivals.
On February 20, a small, anonymous, six-year-old Twitter account (@ahm_ks90) posted a series of tweets containing previously non-public information about Kataib Hezbollah's deposed sectary-general, Ahmad Mohsen Faraj al-Hamidawi (aka Abu Hussein), and several of his family members who hold key roles in the Iran-backed militia. (Abu Hussein lost a leadership vote among KH's Majlis al-Shura on July 29, 2021, but he has refused to stand down.)
One post publicly revealed his face for the first time (Figures 1 and 2).  He had previously been photographed wearing a facemask, sunglasses, and head covering during his only public appearance on November 6, when he took part in the condolence ceremony for a muqawama (resistance) member killed while trying to storm Baghdad's International Zone.
On January 23, the same Twitter account posted two more photos side by said, claiming that they showed Abu Hussein's son Zaid running protection for his father at the November 6 ceremony. On March 6, the account corrected part of this claim, noting that the right-hand unmasked photo was not Zaid but a different unnamed relative of Abu Hussein.
Other  information posted by the account on February 20 included the claimed location of Abu Hussein's house: on Medhmar Street in the Baladiyat district of Baghdad (Figure 5).
The February 20 posts also claimed that five of Abu Hussein's brothers have held important positions in KH: Arfad, Awqad, Asad, Amjad, and Akhlad (Figure 5).  
According to the Twitter account, Arfad (aka Abu Karrar al-Hamidawi) previously served as a lieutenant colonel in the Iraqi army and was later killed in Syria. A photo of him wearing an Iraqi army uniform was included in the posts (Figure 6).
The account also makes the first public mention of Asad (aka Abu Ali al-Hamidawi), who is described as responsible for KH's tribal relationships. This includes very active membership in a Hamidawi tribal entity called Dira Aal Hamid (shield of the house of Hamid) (Figure 7).
Awqad is claimed to be responsible for KH's money laundering efforts, mainly via Turkey. The account claims that he runs a tourist company in Baghdad used for this purpose (Figure 8).
Interestingly, muqawama accounts such as Sabereen News. have been silent about these apparent identity leaks. Although major militia accounts often withhold comment on such material for a variety of reasons, they also tend to ridicule information that is easily disproved, and they did not do so here.
In any case, the leaked information on Abu Hussein's identity, his family home, and the names of his brothers fits with other materials viewed by Militia Spotlight. For instance, Militia Spotlight independently discovered Arfad's identity, his photo, information about his role in KH, and the circumstances surrounding his death in Syria.
The February 20 leaks are likely an example of the various ways in which Abu Hussein's enemies inside and outside KH can weaken him by unmasking him. This particular leak may be payback for previous actions taken by KH, including its leaking of information about Bassem Mohammed Hasab al-Majidi—the man who received more votes than Abu Hussein in the July 29 leadership meeting—as well as his son. Alternatively, another rival or wronged enemy of Abu Hussein could be leaking the data. In a movement that prizes anonymity, Abu Hussein and his family probably have too many enemies to retain their privacy.