Did Pompeo's Visit Shift the Annexation Debate in Israel and Washington?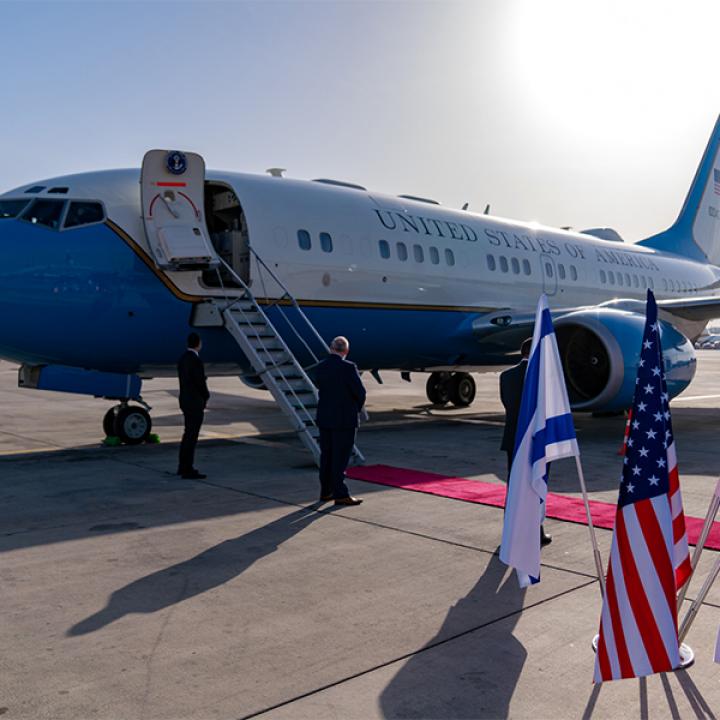 The Trump administration has signaled that it won't be bound by Netanyahu's summer rush schedule on the issue, adding to the many foreign and domestic factors that could lead the prime minister to delay or curtail the move.
On May 18, Israel swore in its new cabinet, ending 507 days of caretaker governance punctuated by three inconclusive elections. Under the coalition deal reached by Prime Minister Binyamin Netanyahu and new defense minister Benny Gantz, a resolution to apply Israeli sovereignty to portions of the West Bank can be brought before the cabinet as soon as July 1—provided the government obtains "full agreement" from the United States for the move, conducts "international consultations," and ensures the "preservation of existing Israeli-Arab peace treaties." Although Washington and Jerusalem's internal views on the matter still appear to be crystalizing, Secretary of State Mike Pompeo's May 13 trip to Israel may have provided some early clues.
POMPEO SIGNALS CAUTION
Annexation was hardly the lone issue on Pompeo's agenda when he arrived in Jerusalem. One of his main objectives was to raise U.S. concerns that Israel's regulatory framework is not sufficiently rigorous to screen private sector technology cooperation with China, and that it needs to be more vigilant against Beijing enmeshing itself in Israeli infrastructure projects (e.g., a major desalination plant contract about to be decided). Another objective was to address Israeli concerns about Iran, including the pace of its uranium enrichment, its dangerous role in Syria, and its recent cyberattack on Israeli water facilities. (There is speculation that Jerusalem consulted Pompeo before retaliating with a May 9 cyberattack on a major Iranian port.)
Yet Pompeo also wanted to get a pulse on how Gantz and new foreign minister Gabi Ashkenazi feel about annexation, since their views differ from Netanyahu's. Previously, Pompeo has only dealt with Netanyahu on such matters, but this visit included solo meetings with the other two leaders as well.
Thus far, Washington has remained circumspect about the details of annexation, withholding explicit approval for Israel's July 1 timetable. Around the time of Pompeo's visit, a White House official said on background that this date was "not sacred" for the United States, and the secretary's recent interviews signaled that Israel should be cautious about rushing toward such a deadline. The administration's general approach has been to avoid taking a public position at odds with Israel while still emphasizing that Jerusalem needs to navigate the issue carefully. As one senior official said on background after Pompeo's visit, "[Israel's] got a coalition government that has various strands. And I think it's going to take them a while to come together with what they're going to do."
For now, the trip seems to have empowered the Gantz-Ashkenazi wing. Although Netanyahu could get the requisite numbers in parliament to move forward on annexation without these coalition partners, U.S. officials privately suggest that the administration wants to see broader Israeli approval of the idea beyond his base, and that support from Gantz and Ashkenazi is important.
One concern publicly expressed by both ministers is the potential Arab reaction to annexation. U.S. officials privately say they are doubtful that Washington could substantially smooth over a negative response from Jordan and other regional actors; the question is whether Pompeo's trip sufficiently tempered Israeli expectations on that front.
Another question is whether the Trump administration's key players are all on the same page. They agree that showing support for Israel is especially crucial in this U.S. election year, but their views on annexation are at odds. Senior advisor Jared Kushner appears to see the issue as merely an instrument for compelling the Palestinians to make a counter-offer, thereby preempting immediate, unilateral annexation and leading to negotiations under the aegis of the Trump peace plan. Some observers speculate that Pompeo has been careful to align with Kushner's approach. Yet the U.S. ambassador to Israel, David Friedman, is ideologically supportive of the settlement movement and has called for front-loading all proposed annexations.  In an interview with Israel Hayom shortly before Pompeo arrived, Friedman expressed hope that such moves could take place within weeks. He has also been known to mock the possibility of a Palestinian state, at best describing it as a very distant objective.
FACTORS THAT COULD SHAPE NETANYAHU'S THINKING
Several clues suggest that Netanyahu might not intend to immediately annex the estimated 30 percent of the West Bank allotted to Israel under the Trump plan, and that the real debate is between deferring the issue entirely or implementing a smaller annexation, perhaps encompassing some or all settlement blocs largely adjacent to Israeli urban areas. The first clue is that Netanyahu has a history of launching trial balloons, believing it is easier to assert a maximalist opening position, then measure the reaction and make concessions during subsequent bargaining. In that sense, his push for full application of sovereignty in July may just be a negotiating tactic.
Second, he did not include the pro-settler party Yamina in his coalition. Although his longstanding personal enmity toward the party's leadership is unmistakable, he may also have excluded it to avoid constraining his maneuverability on annexation. Ironically, having Yamina publicly criticize him from the right could help him deal with foreign and domestic interlocutors pushing for concessions on the issue.
Third, in remarks made after being sworn in this week, Netanyahu listed several other issues as top priorities ahead of annexation: combatting an expected new wave of COVID-19, grappling with the pandemic's deep economic implications, dealing with challenges from Iran, and addressing the possibility that the International Criminal Court (ICC) will launch an investigation into Israel. Netanyahu mentioned annexation as a fifth priority below all these other issues, calling it a "personal preference."
Fourth, the ICC's deliberations could affect Netanyahu's annexation calculus. In the coming weeks, three international judges are expected to rule on whether the ICC prosecutor has jurisdiction to investigate Israel—a possibility that Netanyahu has described as a "strategic threat." Will this lead him to postpone the annexation decision until the ICC issues its ruling on jurisdiction? For his part, Pompeo publicly commented on the matter a day after his visit, opposing the idea of opening an ICC investigation and threatening consequences if that happens.
Fifth, Netanyahu is usually careful to avoid head-on conceptual clashes with his security chiefs, who favor a pragmatic approach to annexation in order to preserve close ties with their Arab security counterparts. In early April, over 200 retired Israeli generals issued a joint letter highlighting the many factors Israel must consider in making its decision, including the future of the Jordan-Israel peace treaty, the risk of unrest in the West Bank, a potential halt in Palestinian Authority security cooperation with Israel, and even the possible collapse of the PA itself. These concerns were reinforced in a recent Yediot Aharonot op-ed by leading defense figure Amos Gilead, who concluded that annexation offers few benefits and considerable downsides. Indeed, when interviewed by Der Spiegel last week, Jordan's King Abdullah indicated that any such move would trigger a "massive conflict" with Amman, echoing previous warnings by Prime Minister Omar Razzaz that Israeli annexations would freeze the peace treaty.
Sixth, Netanyahu is well aware that Europe, Israel's largest trading partner, has been very critical of the idea. It is unclear if the EU would be able to achieve the consensus required for multilateral sanctions against Israel if annexation becomes a reality, since some Eastern European member states tend to support Jerusalem on most issues. Yet opposition from individual countries could have ripple effects beyond the bilateral level. For instance, the EU's Horizon 2020 program has encouraged technological cooperation with Israel's scientific community to the tune of hundreds of millions of euros' worth of investments. But the program will soon be replaced by its successor, Horizon Europe, which requires foreign countries to obtain consensus EU support for admission.
Despite all of these factors, however, some observers point out that this is likely Netanyahu's last term in office, and that he has committed to handing power over to Gantz in November 2021 per the terms of their rotating premiership. He may therefore believe that pushing forward with annexation sooner rather than later is his last chance to define his political legacy—particularly if President Trump is replaced by Joe Biden, who opposes the idea. In other words, urgent political stakes could conceivably lead both Netanyahu and Trump to rush the matter even in the face of negative policy consequences.
CONCLUSION
When remarking on annexation during last week's trip, Pompeo framed the issue as one for Israel to decide—a formulation likely shaped by the sensitivities of the U.S. presidential election season. Yet evidence also suggests that he told Israeli officials Washington will not be bound by the July 1 timetable. Moreover, no international actor has articulated any policy benefits that Israel might accrue from taking unilateral action, while several governments have spelled out the downsides of such a move. Thus, while one cannot rule out Netanyahu pressing forward, it is worth questioning whether the traditionally risk-averse leader will sharply scale back the scope and timing of his proposed annexation. The answer may depend on how the international and domestic political climate takes shape in the coming weeks.
David Makovsky is the Ziegler Distinguished Fellow at The Washington Institute, creator of the podcast Decision Points, and coauthor with Dennis Ross of the book Be Strong and of Good Courage: How Israel's Most Important Leaders Shaped Its Destiny.