Deepening Russia-Iran Relationship Should Worry Israel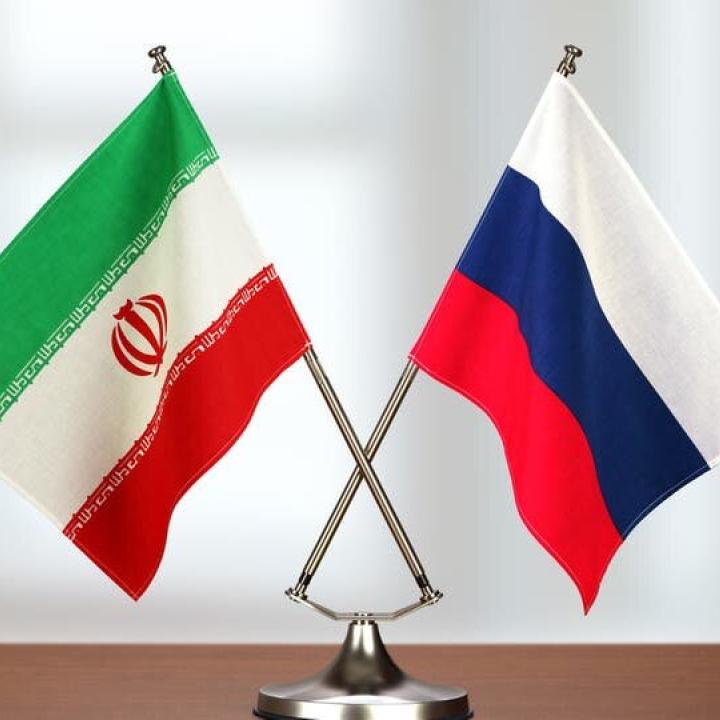 The Kremlin will have many ways to thank Iran for supporting its war against Ukraine.
In the past few weeks, officials in both the United States and Britain have observed deepening military ties between Russia and Iran. On December 16, CIA director William J. Burns explained the situation this way in an interview with PBS NewsHour: "What's beginning to emerge is at least the beginnings of a full-fledged defense partnership between Russia and Iran, with the Iranians supplying drones to the Russians, which are killing Ukrainian civilians as we speak today, and the Russians beginning to look at ways in which, technologically or technically, they can support the Iranians." Burns went on to say that this development "poses real threats to Iran's own neighborhood, to many of our friends and partners in Iran's neighborhood as well."
The CIA director's assessment is accurate, and the development presents a threat specifically to Israel. Russia's sudden reliance on Iran for military aid will soon prompt a repayment of the debt, and Israeli decisionmakers must be attentive and prepared. To be sure, Russia will be able to reciprocate in numerous ways that can augment Iran's military capabilities.
A Changing Bilateral Rapport
Since Russia invaded Ukraine in February, Iran has been one of the Kremlin's most steadfast supporters. The regime in Tehran has provided hundreds of drones, perhaps more, to Russia's military and has sent its own trainers to Crimea to help the Russian military make good use of these weapons. Recent reports also indicate that Iran is planning to provide Russia with advanced short-range ballistic missiles and helping Russia establish its own production line of Iranian drones. So far, Russian forces have used these weapons widely but with limited success—although enough success to occupy Ukraine's air defenses and inflict significant damage on civilian targets. Communication between Russian and Iranian leaders suggests President Vladimir Putin and his generals very much appreciate Iran's steady flow of military aid.
Today's enhanced relationship nevertheless must be qualified. The two countries have maintained a relationship for years, encompassing the military and economic fields, and they have recently cooperated against common enemies in the Syrian war—although their interests are not fully aligned there. Both countries also have long sought to limit the U.S. role on the world stage and, in turn, empower each in its respective sphere. But Russian and Iranian interests also diverge. Russia maintains close relationships with some of Iran's enemies, especially Israel and Saudi Arabia, and the countries compete for energy market share, especially now given Russia's increasing reliance on Asian oil buyers.
What has changed in recent months is Russia's elevated perception of Iran in light of the boost Tehran has given to Moscow's bombing campaign. This raises the likelihood of generous compensation later on. In particular, recent reports indicate that Russia has already trained Iranian pilots to operate advanced Russian aircraft and might provide Iran with helicopters and air-defense systems.
Moscow's Possible "Gifts" to Tehran
Russia can improve Iranian military hardware capabilities significantly, mainly through the provision of air-defense systems, which would honor a longtime Iranian request. Russia has rejected past such inquiries, fearing the relationship problems that agreeing would create with other countries, including Israel, Saudi Arabia, the United Arab Emirates, and Turkey. But the likelihood of an affirmative Russian response has now risen.
Should Iran obtain advanced air-defense systems from Russia, the Tehran regime will be better equipped to thwart any future possible attack on its nuclear infrastructure or other strategic facilities. Add the possibility of acquiring advanced aircraft such as the Sukhoi Su-35, and the challenge of executing an aerial attack against Iran while minimizing losses becomes yet a bigger headache for military planners.
Russia can also provide Iran with weapons originating outside its borders. In the past year, it has already delivered to Iran Western weapons seized in the Ukraine fight. Thereafter, the Islamic Republic can reverse-engineer these weapons to achieve two objectives: learning how to better defend against the weapons; and learning how to design and produce their own versions. Iran has already shown much innovation in reverse-engineering Western weapons and proliferating them across the region. Examples include antiaircraft systems designed partially based on U.S.-made surface-to-air-missile systems, which were shipped to the Houthis in Yemen, and—judging from Iranian statements—drones designed from a captured U.S. drone.
Yet a focus on military hardware can obscure other threats to the balance of power between Israel and Iran, first among them intelligence. Here, Russia enjoys advanced capabilities in both imagery and signals intelligence and could furnish such capabilities to Iran, or share sensitive intelligence that could help Iran better defend itself. Imagine here a scenario in which Russia obtains intelligence on Israel's future war plans, or on covert Israeli operations in the Middle East. Whereas Russia might previously have hesitated to share such information, it may now be more forthcoming, considering the risks to its own people Iran has assumed by arming Russia.
Cyber constitutes another area of concern. Iran already has advanced cyber capabilities, and it has shown a willingness to use them against foreign governments, as demonstrated in the cyberattack targeting Albania in summer 2022. Russia, a cyber superpower, can teach Iranian hackers plenty about conducting more sophisticated attacks against sensitive targets. Russia might even share with Iran crucial vulnerabilities that could help it execute cyberattacks aimed at gathering intelligence or destroying computerized systems. 
Some Israeli analysts have argued that Iran's working relationship with Russia, and specifically incoming prime minister Binyamin Netanyahu's connection with Vladimir Putin, can alleviate these concerns. This argument holds that Russia will not take any steps to dramatically alter the Israel-Iran balance of power, for fear that this would harm Russia's relationship with Israel or push Israel to provide Ukraine with air-defense systems. But this argument fails to understand the fundamental change in Russia-Iran relations—namely, Tehran's rising status in Moscow—a change that will hold if the Ukraine war drags on and Russia needs more Iranian drones and ballistic missiles.
Israeli Steps to Minimize Risk
To bolster its security prospects amid strengthening Russia-Iran ties, Jerusalem should first communicate its redlines to Moscow, making clear that any breach of them will do immense harm to the relationship and might change Israel's calculations about providing Ukraine with air-defense systems. Still, even in the very unlikely event that Russia respects Israeli redlines, it can covertly augment Iran's cyber capabilities or provide sensitive intelligence to the regime. Needless to say, the Israel-Russia relationship is not one of equals, and the Russian military especially has long been pushing to diminish it. Yet imparting these redlines will clarify the Israeli position and might push the Kremlin to deliver more limited compensation to Iran.
Second, Israel should exploit the current spotlight on Russia-Iran relations to push for more American and European actions aimed at hindering or limiting cooperation between the two states. This could take the form of a new U.S.-Europe-Israel working group rooted in shared concerns about the relationship. Such a group could craft more targeted sanctions, expose additional intelligence on the depth of the relationship—as the United States has already done to some extent—and devise other solutions.
Third, Israel should simultaneously communicate with its regional partners—namely the UAE, which appears to have a direct line to Putin and is likewise threatened by the Russia-Iran upgrade—to pressure the Russian president to limit aid to Iran.
The bottom line is this: not far into the future, Iran will receive something in return for its indispensable military generosity toward Russia, and Russia will have many ways to return the favor that could impede Israel's security. When the day comes, Israel will have limited means to respond to this new regional reality, so it must be prepared to the greatest extent possible.
Nadav Pollak is a lecturer at Israel's Reichman University and a former Diane and Guilford Glazer Foundation Fellow at The Washington Institute.­