De Facto Becomes De Jure as MbZ Is Named UAE President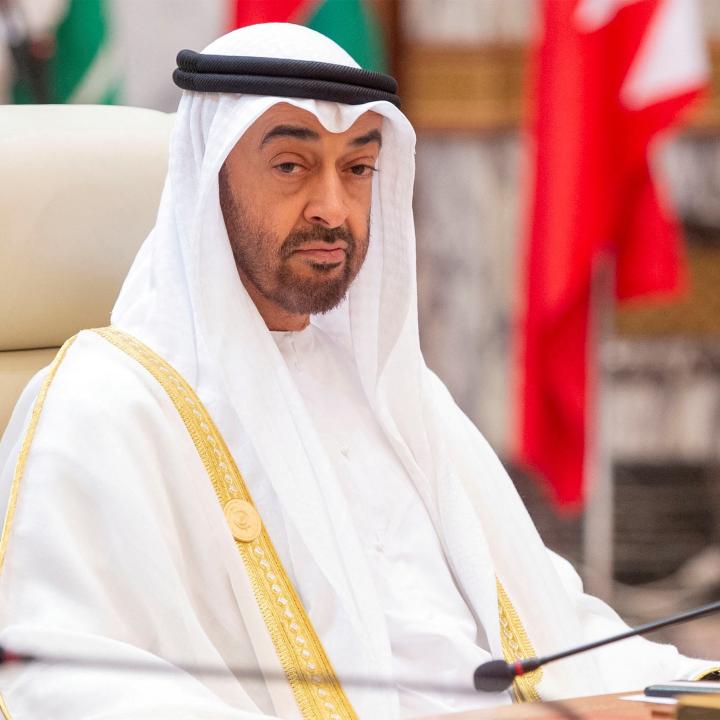 The succession of one of the most energetic emerging Arab leaders suggests an even more active regional role.
After President Khalifa bin Zayed al-Nahyan of the United Arab Emirates died on May 13, he was immediately succeeded by his half-brother, Crown Prince Muhammad bin Zayed (aka MbZ), as ruler of Abu Dhabi, one of the seven member emirates. A day later, the other six rulers chose him for a five-year term as president of the federation. Regional and world leaders have been quick to send condolences or schedule visits to pay their respects in person.
Over the past several years, MbZ (age 61) was already becoming synonymous with Emirati decisionmaking. Khalifa (73) had been greatly incapacitated since suffering a stroke (not his first) in 2014 and rarely appeared in public. As MbZ gradually became the country's de facto leader, he increasingly leveraged oil wealth and diplomatic acumen to successes such as the Abraham Accords with Israel. He also influenced political change in Sudan and other countries, despite the UAE's small citizen population of around one million (boosted by 9 million foreign temporary workers).
It is MbZ's standing rather than Khalifa's loss that has prompted the arrival of so many world leaders in Abu Dhabi, including a U.S. delegation of Vice President Kamala Harris, Secretary of State Antony Blinken, Defense Secretary Lloyd Austin, and CIA Director William Burns. Washington's high-level retinue suggests its determination to overcome lingering awkwardness in the relationship, particularly since the start of the Biden administration and, more recently, the January 17 attack on Abu Dhabi by Houthi rebels in Yemen, which MbZ reportedly believes has not been followed by sufficient U.S. support. Other visitors include French president Emmanuel Macron, British prime minister Boris Johnson, Oman's Sultan Haitham, Qatar's Emir Tamim, and Israeli president Isaac Herzog. Even President Ebrahim Raisi of Iran has sent condolences, and Foreign Minister Hossein Amir-Abdollahian visited Abu Dhabi to pay respects.
Immediate Questions
Who will be the next crown prince of Abu Dhabi? When MbZ assumed that title, he was not chosen by Khalifa. Rather, he was named deputy crown prince by their father—Sheikh Zayed bin Sultan al-Nahyan, the UAE's founding president—in 2003, then became crown prince a year later when Zayed died and Khalifa succeeded him as president. MbZ now has to decide whether to choose one of his five full brothers (collectively known as the Bani Fatima) or, much less likely, one of his several half-brothers. Alternatively, he could appoint one of his four sons, of whom the eldest are Khaled (40) and Dhiyab (33). Particular attention will be paid to any added prominence or authority granted to his full brother Tahnoun, the low-profile national security advisor who went on a diplomatic mission to Tehran last year.
Regarding foreign policy, Emirati relations with Saudi Arabia merit close attention. When King Salman came to the throne in 2015, MbZ was seen as the mentor to the Saudi ruler's son, Prince Muhammad bin Salman (aka MbS), twenty-four years MbZ's junior. MbS quickly emerged as crown prince and is now the kingdom's de facto leader. Yet there is perceived tension in the relationship: MbS wants to make Saudi Arabia the commercial center of the Arabian Peninsula, but this would undermine the UAE's position, particularly for its second-largest emirate, Dubai.
An immediate challenge for Washington is to get relations back on a more even keel. Two key aspects of this effort are the UAE's appearance of supporting Russia's invasion of Ukraine and its willingness to buy military equipment from China. Washington and Abu Dhabi have a shared interest in countering threats by Iran, and any high-profile differences between them could be vulnerabilities to be exploited by others.
Simon Henderson is the Baker Fellow and director of the Bernstein Program on Gulf and Energy Policy at The Washington Institute.