A New Regional Role for Israel, as Washington Shows Signs of Stepping Back
Also published in
Times of Israel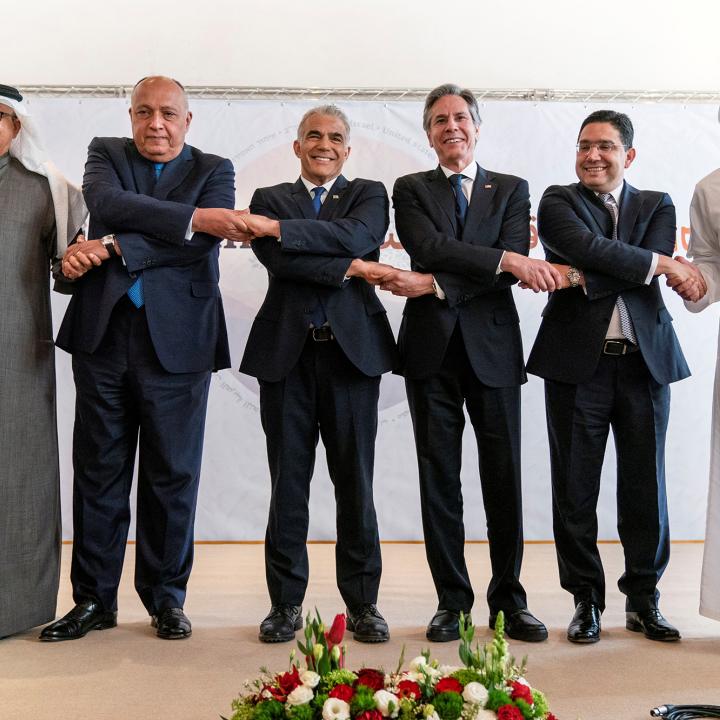 By participating in the Negev Summit, Arab states are signaling their appreciation for Israel's status as both a local power and a unique interlocutor with the United States.
One can feel the tectonic plates in the Mideast shifting. In another step in Israel's integration in the region, four Arab foreign ministers are convening with their Israeli counterpart, and the meeting's location, Sde Boker, matters. The Negev kibbutz is a site in a desert region that is most associated with David Ben-Gurion, Israel's iconic Zionist leader and founding premier.
While Ben-Gurion hoped Arab enmity would eventually be overcome, during his long tenure, he largely focused on regional allies—Turkey, Iran, Ethiopia—that could leapfrog Arab isolation against Israelis. His strategy became known as the Periphery Doctrine, since it meant developing at the edges of the Mideast. But Israel is no longer peripheral in the Mideast.
It is telling that it was Israeli Foreign Minister Yair Lapid who convened the summit and that it is being attended by Secretary of State Antony Blinken. The fact that the Arab countries would attend the meeting is a testament to Israel's increasing centrality in the region. Yet it is also a testament to the fact that part of Israel's strength—not all of it to be sure—is its relationship with Washington.
All the participants at the Negev Summit have their own grievances against the Biden administration, but none of them sees Israel as a substitute for the US superpower. It is fascinating that each of the Arab states attending the summit views Israel as a country that could either improve their standing in Washington or supplement what they are not getting from the US.
Notwithstanding the United States' repeated emphatic denials of deprioritization, the Arab nations see the US as downgrading the Mideast as a top tier concern, and, in the process, downgrading them. In such a world, the Negev Summit, because of Israel's role in it, becomes a vehicle for key Arab states to remind the US not to take them for granted.
And indeed, deprioritizing the region is a luxury the US cannot afford. The Ukraine crisis has reminded the world that Mideast oil is still relevant if the US is serious about weaning Europe away from Russian energy. The fact that the leaders of Saudi Arabia and the United Arab Emirates did not go out of their way to take President Joe Biden's call to raise oil production, asking to reschedule instead, is a reminder of how snubbed these key Arab oil producers feel.
The grievances against Washington vary from country to country, but they are real. In each case, leaders in Arab countries notice when others claim to get more sympathy and assistance from Israel than they do from the US, as it projects its power in the region. Here are some examples.
Arabs notice that it is Israel that is willing to be kinetic against Iran, whether it is pushing back against Iran and proxies in Syria, in Iraq, and even inside Iran itself. In contrast, the US does not retaliate against Iranian strikes at the US—for example, in the al-Tanf base on the Syrian-Iraq border, among other places. It is hard to escape the view that, unless US lives are lost in such attacks, the US does not want any retaliation. During a recent visit to Israel, I heard several Israeli military officials say that Iran seems more fearful of Israel than it is of the United States. Arab states have noticed this.
In this context, Israel has no qualms about highlighting the Houthi rebels in Yemen's connection to Israel. This is done symbolically, in statements by Israeli Prime Minister Naftali Bennett after Houthi rocket attacks against Emirati targets, and, just now, when rockets were fired at oil installations in the Saudi port city of Jedda.
Furthermore, and going beyond words, senior Israeli security officials immediately went to Abu Dhabi to offer key military assistance to the Emiratis dealing with the Houthi threat. Yet a senior Gulf official said they did not feel that they had received sufficient military support or solidarity against the Houthis, as somehow the US saw the idea of active support as encouraging the war in Yemen. Israel does not have the same relationship with Riyadh that the US does, yet it does have significant contacts, and one must imagine that Israel is sharing intelligence with the kingdom against the Houthis.
In short, these Gulf countries tend to see the region through foreign and domestic threats coming from Iran and the Houthis. They perceive Israel as seeing the region through a similar lens. Egypt also falls into the same category as those in the Gulf: it feels it does not get enough from the US, considering the threats it faces domestically. Indeed, Egypt routinely calls on Israel to assist with members of Congress who threaten to reduce US military aid, as Egypt is one of the largest beneficiaries.
To complicate matters, the Ukrainian crisis has exacerbated Egypt's economic vulnerability. It relies heavily on Ukraine for wheat to feed its population of over 100 million. Moreover, Sharm el Sheikh has been a winter resort for many tourists coming from Moscow and Kyiv alike. No more—at least for now.
Enter Israel and Israel's willingness to fill in the gap with direct flight flights to Sharm. With Passover approaching, expect a reverse Exodus among secular Israelis.
Also, given the ties that Egypt and Morocco have with Moscow, officials in both countries feel they are politically vulnerable to Washington. A summit organized by Israel attended by the American secretary of state provides foreign ministers from Cairo and Rabat a measure of political risk insurance.
Morocco has publicly signed a security agreement on its soil with Israeli Defense Minister Benny Gantz, as has Bahrain. Egypt recently expanded its military cooperation with Israel, beyond the long standing intelligence cooperation that both they and Jordan have long held.
These countries see such agreements as worthwhile, not only because of the security value in their own right, but also because they help win points in Washington. To be sure, Israel has to be careful to avoid being misused as the Mideast lobbyist extraordinaire. Turkey recently extended an invitation to visit to Israeli President Isaac Herzog. And Ankara has been in hot water in Washington, due to the Turkish purchase of the Russian S-400 missile defense system. Herzog's own remarks in Ankara made clear that Israel needs to proceed very cautiously, given Turkey's capricious track record, exemplified by President Recep Tayyip Erdogan.
Israel is no superpower and is very mindful that there is no substitute for the United States. Nonetheless, Ben-Gurion would have been proud that, given Arab perceptions that the US is engaged in retrenching in the Mideast, it is Israel being welcomed by key Arab states, expanding its regional profile and at least partly filling that void.
David Makovsky is the Ziegler Distinguished Fellow in The Washington Institute's Koret Project on Arab-Israel Relations and creator of the podcast Decision Points. This article was originally published on the Times of Israel website.