Abdullah and Biden Need to Discuss Economics, Not Just Israeli-Palestinian Tensions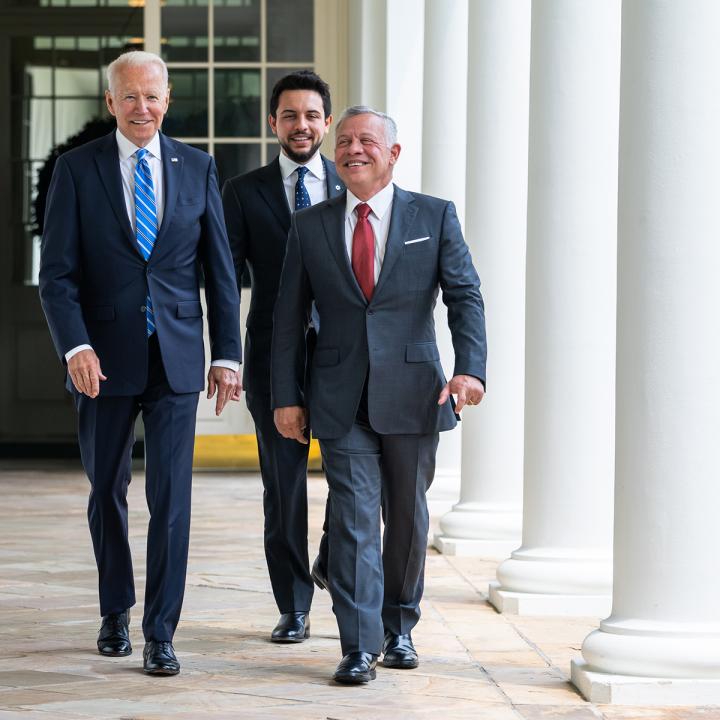 Finding ways to contain the mounting violence next door is crucial, but the two leaders should keep in mind that deteriorating economic conditions can pose threats of their own.
On February 2, King Abdullah II of Jordan will meet with President Biden in the Oval Office, a conversation that promises to focus on the latest spike in Israeli-Palestinian violence and its potential fallout across the Jordan River. The visit coincides with a high point in the kingdom's ties with the United States, but a rough patch in its relations with longtime peace partner Israel.
On the former note, 2022 was a banner year for the U.S.-Jordan relationship, culminating in a landmark memorandum of understanding signed in September. The agreement includes a seven-year U.S. commitment to provide the kingdom with a minimum of $1.45 billion per year in foreign assistance, which Congress could increase through additional appropriations as it did in 2021 and 2022. Even the baseline figure represents a more than $200 million annual increase over the five-year agreement signed in 2018. Included in the deal are budgetary support, military assistance, U.S. Agency for International Development projects, and additional funding to incentivize economic reform.
Last year also saw Washington approve the sale of twelve F-16 Block 70 advanced fighter jets to Jordan. Because this transaction costs more than $4 billion—nearly a quarter of the kingdom's total annual budget—the two governments are creatively underwriting it via "cash flow financing." This mechanism, reserved for Washington's closest allies, will enable the kingdom to buy F-16s now by leveraging future U.S. Foreign Military Financing commitments.
In contrast, the past few weeks have been challenging for Jordanian affairs with Israel. The king's relationship with Binyamin Netanyahu was difficult long before the prime minister's latest return to office, and was sorely exacerbated during the Trump administration by perceptions that Israel did not adequately value Jordanian interests in pursuing peace with the Palestinians or normalization agreements with other Arab states. After a year interlude in which ties improved under Prime Ministers Naftali Bennett and Yair Lapid, Amman has once again become concerned due to the controversial figures included in Netanyahu's new cabinet.
In early January, for example, National Security Minister Itamar Ben-Gvir, head of the far-right party Otzma Yehudit, paid a provocative visit to the Temple Mount/al-Haram al-Sharif. The incident spurred harsh condemnation from Jordan, which was afforded a "special role" regarding Muslim holy sites in Jerusalem via the 1994 peace treaty with Israel. Amman regarded Ben-Gvir's visit as a violation of the site's status quo and summoned Israeli ambassador Eitan Sorkis to the Foreign Ministry for a formal reprimand. Two weeks later, Sorkis was summoned again after Jordanian ambassador Ghassan Majali was temporarily denied entry to pray at al-Aqsa Mosque.
Although Netanyahu made a surprise visit to Amman shortly thereafter, media reports and official statements regarding his meeting with the king could not be characterized as warm. Meanwhile, escalating violence across the river and the vanishing horizon for political progress have made Jordan reticent to participate in the Negev process, a forum that includes the United States, Israel, and four other Arab peace partners.
President Biden and King Abdullah will no doubt review both the state of play between Jordan and Israel and the latest U.S. diplomatic efforts to preserve calm in the West Bank and Jerusalem—a campaign that has included visits by the CIA director, national security advisor, and secretary of state in the past week alone. These officials apparently succeeded in restoring security coordination between Israel and the Palestinian Authority, which had been briefly suspended after an Israeli counterterrorism operation in Jenin killed several militants and an elderly civilian woman.
The king's focus on Palestinian issues next door is hardly surprising given the fact that a majority of Jordan's population is of Palestinian origin. And his concern is only mounting given the potential for further security deterioration when the Ramadan and Passover season begins late next month. Accordingly, the Biden administration should recommend a bilateral working-level process between Israel and Jordan if they have not already established one, with the aim of incorporating lessons learned from previous years to prevent avoidable holiday incidents on the Temple Mount/al-Haram al-Sharif.
An equally important topic for Washington to address with the king is economics. The meeting will be the first since Jordan underwent several months of protests over its deteriorating economic situation. The kingdom's economy is perennially challenged, but the COVID-19 pandemic and Ukraine war have exacerbated the difficulties.
The numbers tell a sobering story. Unemployment stands at 25%, and 50% among youths, while female workforce participation is among the lowest in the world. The proposed annual budget of around $16 billion includes a deficit of $2.6 billion, and nearly $2.25 billion is reportedly allocated to service debt. All told, Jordan is carrying almost $41 billion in debt, roughly equivalent to 90% of its GDP. Public sector expenditures—primarily government salaries and pensions—account for nearly 70% of the budget. Meanwhile, the general rise in commodity prices and the kingdom's commitments to the IMF have led it to rationalize the cost of fuel, energy, and water—price increases that helped drive the recent protests.
Jordan has done well in recent years to increase tax revenues and was praised by the IMF in its latest executive board review. Nevertheless, the economic situation remains precarious, and some of the kingdom's future plans do not inspire confidence. In January, for example, the government announced it was moving forward with a deferred plan to build a new administrative capital some twenty-five miles outside Amman. Much like Egypt's ambitious "New Cairo" megaproject, Jordan's roughly $11.5 billion initiative is raising some eyebrows.
The well-being of Jordan's economy—and, by extension, its domestic stability—are no less important to regional security than developments between Israel and the Palestinians. President Biden's meeting with King Abdullah is a good opportunity to discuss the trajectory of this key issue and encourage Amman to stay the course on economic reform.
David Schenker is the Taube Senior Fellow at The Washington Institute, director of its Program on Arab Politics, and former assistant secretary for Near Eastern affairs at the State Department.