A Longer and Stronger Deal for Jordan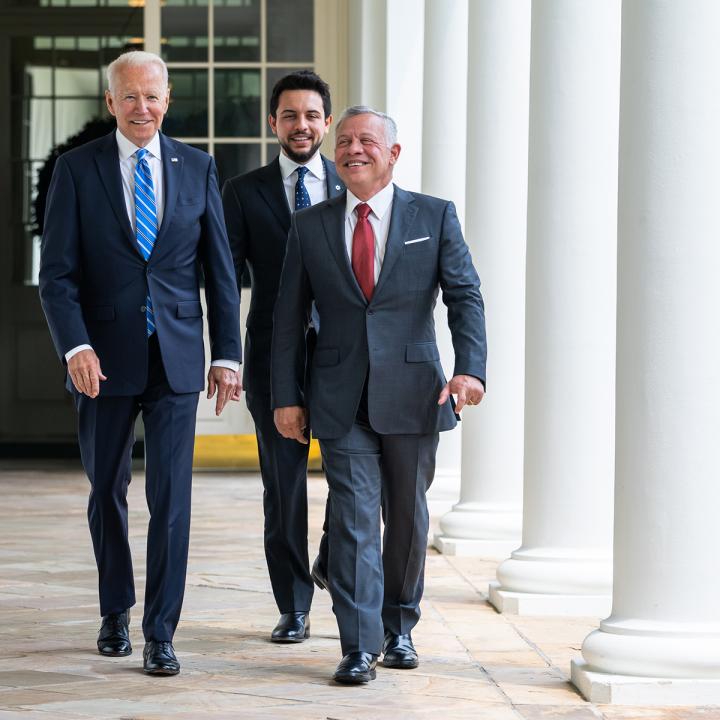 The kingdom can only transition from its crisis footing to a period of sustained economic growth if it receives more assistance over the coming period.
The current U.S.-Jordan Memorandum of Understanding (MOU) expires this fiscal year, and negotiations are underway for an updated version. As talks continue, Washington should acknowledge the partnership by continuing to pledge assistance commensurate with the kingdom's role in managing stability in an ever-dangerous neighborhood. At the same time, the United States should require Jordan to demonstrate a continued commitment to essential reforms.
Bilateral Assistance by the Numbers
The United States supports Jordan as a longtime ally in a difficult region—bordering an active war zone in Syria and a permanently unstable Iraq while also serving as a key component in Israel's security. It is thus in the U.S. interest to maintain stability in the kingdom, which hosts more than 1.3 million Syrian refugees, representing around 15 percent of the Jordanian population. The dollar cost of U.S. assistance to Jordan is proportionally high, but the benefits include a close partnership on security and political issues.
Signed during the Trump administration, the previous MOU pledged $6.375 billion over five years, or $1.275 billion per year, a notable signal of support amid the administration's cuts to foreign assistance elsewhere around the world. The FY 2018–22 agreement was the third U.S.-Jordan MOU; the previous ones covered FY 2009–14 and 2015–17. Though not legally binding, these agreements established a solid baseline for underlying support and allowed Jordan to plan the portion of its budget that relies on foreign aid. Each of the past five years, total U.S. assistance to Jordan exceeded $1.5 billion, which was at least $200 million per year higher than the target of the third MOU.
As context, Jordan is the second-largest recipient of U.S. foreign assistance in the Middle East after Israel, having surpassed Egypt in FY 2018 and Iraq in FY 2013. Israel receives around $3 billion annually in military aid. Jordan, as of FY 2021, was the third-largest U.S. aid recipient in the world after Afghanistan and Israel. The recent shift in U.S. policy with respect to Afghanistan and the onset of the Ukraine crisis will shift these rankings in 2022 and 2023.
At the time of the original MOU with Jordan, the United States gave equal amounts for economic and military aid; this balance is now more than four-to-one, as the economic needs of the kingdom have grown while the procurement requirements of the Jordanian Armed Forces remain stable—although desired upgrades to their F-16 fleet would require additional funding. During the same period, total U.S. aid to Jordan has more than doubled, from $776 million in 2012 to $1.65 billion in 2021. Further, the majority of economic aid now goes directly toward supporting Jordan's budget. The United States provided budget grants totaling $745 million each in 2019 and 2020, $845 million in 2021, and $845 million again in the 2022 appropriations bill passed this March. (The original Senate version of the appropriations legislation designated $400 million of the total aid package to incentivize continued economic reforms, but that language was dropped in the omnibus bill.)
It is a testament to Jordan's strong bipartisan support in Congress that the amount of direct budget support is specified in the appropriations language. The United States rarely provides such funds to any country, and nowhere near the level of $845 million. In addition to direct budget and military assistance, Jordan receives other U.S. funding for economic development and governance projects, border security, and smaller-scale security needs.
Economic Needs
Jordan historically has relied on foreign support, including economic aid, because it lacks sufficient natural resources, including water and energy—although its solar power production is increasing rapidly. The 2011 Arab Spring uprisings not only required Amman to respond with more social spending, which it could not afford, but also corresponded with a cutoff of subsidized gas from Egypt due to attacks on the pipeline. This forced Jordan to buy more expensive hydrocarbons and inflated the debt of its National Electric Power Company (NEPCO).
Further, the kingdom has hosted more than one million Syrian refugees outside UN-managed camps, a cause of funding strains in healthcare, education, and social services. The refugees competed for jobs as well. All these factors increased pressure on the country's general budget and were not covered by separate U.S. funding for the UN High Commissioner for Refugees. Jordan's Gulf allies responded initially by providing funds to support its budget, but political tensions with Saudi Arabia eventually dried up those funds. That led the United States to step in, which partly explains the expansion of the MOUs and direct budget support. Jordan also turned to the IMF for assistance and received three agreements totaling more than $4 billion in loans over the last decade, plus another $400 million in emergency relief for COVID-19 in 2020.
The IMF has guided Jordan's economic reforms, first focusing on reducing NEPCO's debt by eliminating costly fuel subsidies—a very unpopular measure. Subsequent moves included increasing and reforming tax collection and reducing Jordan's traditionally high public sector payroll, which has traditionally contributed to East Banker support for the monarchy. The IMF's current Extended Fund Facility is intended to help reduce unemployment among youths and women, improve the investment climate to spur private sector growth, and implement electricity tariff reforms for businesses, which will reduce private sector expenses. Increasing U.S. support will reinforce and amplify these reforms.
Still, Jordan remains in a challenging economic position. The official unemployment rate was 23.2% as of the third quarter in 2021, with the rate for youths at more than 50% and women's workforce representation remaining one of the world's lowest. Like the rest of the region, Jordan recorded negative growth in 2021 due to COVID, which deepened existing unemployment, especially in revenue-generating sectors such as tourism and remittances. The deficit, which continues to balloon, will reach over 110% of GDP this year as a result of extensive borrowing locally and internationally over the last decade.
Jordan's $15 billion 2022 budget includes $2.18 billion in capital investments that aim to expand growth, of which $477 million is designated for new projects. The investment program, however, is unlikely to boost job creation significantly, given that these investments and programs are split across a variety of sectors and many are focused on expanding services. Amman has enacted some plans to increase employment, such as the World Bank–supported National Employment Program, which intends to create 60,000 private sector jobs and job training for six months, with the remaining six months covered by employers. Further, the government is introducing new legislation to consolidate investment codes, with the aim of improving the business climate.
A Fourth MOU
The questions at the heart of a fourth MOU are not just how much aid and for how long, but also whether the assistance should be conditioned on economic or political reforms given the extent of U.S. assistance. (In 2021, the United States provided 84 percent of all budget grants to Jordan.)
The Biden administration's proposed FY 2023 budget includes $1.45 billion for Jordan, a figure that reflects how it sees the baseline of the MOU. Yet Congress provided Jordan with $1.65 billion in assistance each of the last two years. Given congressional support and Jordan's needs, the MOU should target $1.75 billion for each of the next four years. Further, pending a review of needs and progress on reforms, that amount could increase to $2 billion per year for the subsequent three years, for a maximum of $13 billion over seven years, essentially creating an incentive fund of $750 million over FY 2027–2029. Ideally, that level of support would help Jordan transition from its crisis management mode, as Minister of Finance Mohamad al-Ississ describes, to a period of sustained growth and increased government efficiency, with the goal of reducing its need for U.S. foreign aid in the following decade.
The United States also should press its partners to make greater commitments to Jordan, such as the recent solar-for-water deal with Israel supported by the United Arab Emirates, as well as other potential Abraham Accords–related projects that can involve investments in the kingdom. Likewise, Washington should continue encouraging Israel to boost economic opportunities in Jordan, such as the expanded trade deal between Amman and the Palestinian-administered West Bank—once the latest tensions over Jerusalem subside.
In return, U.S. officials should strongly encourage Jordan to follow its Economic Priorities Program, which commits the kingdom to improve its business environment and promote programs and financing required for job creation. Implementing needed reforms in the publicly managed electricity and water sectors is crucial as well.
As Jordan moves away from the pandemic, returns to positive economic growth, and implements ongoing reforms as part of its IMF program, the United States can consider reducing the portion of its assistance that supports the kingdom's budget, especially as a new long-term MOU enters its later years. U.S. budget grants currently constitute nearly 10% of all Jordanian revenue.
On the political level, Washington should continue pressing Amman to ease its restrictions on free speech and the press. Among other concerns, such restrictions are not conducive to a healthy investment climate. Jordan's Commission on Political Reform, led by former prime minister Samir Rifai, recommended several long-term measures for parliamentary reform and political party development. The United States should consider these recommendations separately, however, since the associated issues have their own timelines and must track with broader political changes, guided by King Abdullah's stated goal of transforming Jordan into a constitutional democracy within a decade. Sustained, reliable economic aid will help the country achieve that political goal.
Ben Fishman, a senior fellow in The Washington Institute's Program on Arab Politics, served as director for North Africa and Jordan on the National Security Council in 2012–2013.