Israel's Power Shift: To Bibi, or Not to Bibi
Also published in
Newslooks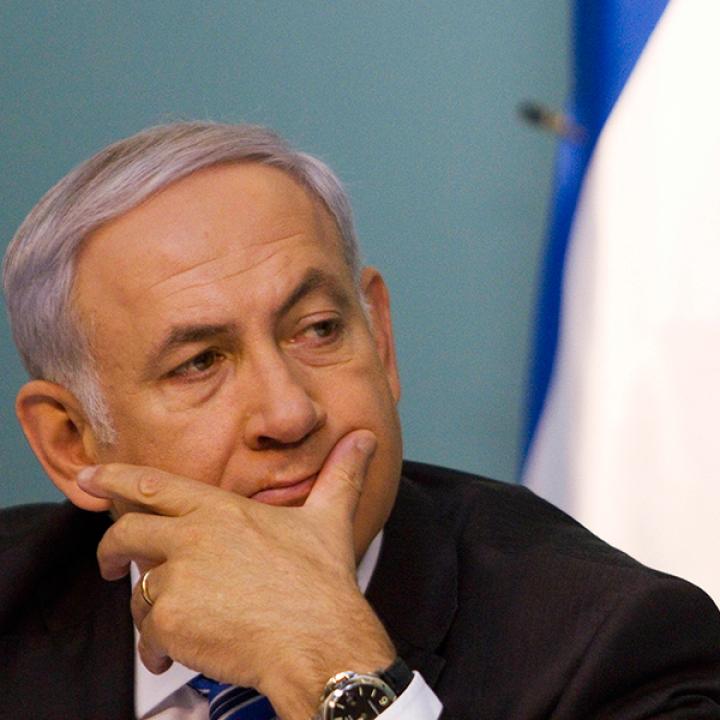 Once Netanyahu finds a way out of his legal troubles, he stands a realistic chance of balancing the demands of his most militant coalition partners with the expectations of the wider Israeli, Arab, and international community.
Political power in Israel has clearly shifted sharply rightward since the November 1 election, but expert views still differ intensely about who is really in charge today. How much will Benjamin (Bibi) Netanyahu, back in power as Israel's prime minister, prove either willing or able to restrain the most hardliner religious nationalist members of his coalition? That is the question this note attempts to answer.
Early indications are mixed, depending upon the issue, the timing, and the influence of other internal and external factors. Netanyahu himself is saying little in public, beyond vague assurances that he intends to preserve Israeli democracy, individual religious liberties and LGBT rights, and ties to the country's American and Arab partners and to world Jewry. And indeed, on balance, Bibi the master political manipulator and relative pragmatist seems likely to prevail on most fronts yet again. That is because he will soon face pressures, incentives, and opportunities to divide and conquer the extremists in his own government.
Right now, however, Netanyahu is in a relatively weak position, since his top priority is to acquire some kind of legislative "get out of jail free card" on his corruption charges. That gives his junior coalition partners, whose parliamentary votes provide half his government's 64-seat majority in the 120-member Knesset, great short-term leverage over the prime minister. They are using it to move quickly on a wide range of legal and bureaucratic fronts, against both Israeli liberals and Palestinians.
But whenever the corruption indictment hurdle is passed, Netanyahu's margin for maneuver will widen. There is no fixed deadline for this parliamentary gambit, but most observers reckon the likely timeline in the range of a few more months at most. And it is even barely possible that some opposition legislators will heed the calls from various centrist Israeli pundits to oblige Netanyahu on that personal issue sooner rather than later, precisely in order to lighten his dependence on his far-right allies.
At that point, the hardline coalition agreement will become, like so many political platforms and campaign promises worldwide, little more than words on paper. Other, countervailing factors will offset some of those words. Those factors, already gathering strength behind the scenes, include both Israeli domestic and foreign policy calculations.
On the domestic front, the most talked-about yet actually the weakest such pushback, from Netanyahu's probable perspective, is mass popular protest. Media hype notwithstanding, the largest demonstration against the new far-right agenda attracted barely 20,000 souls, in a country of nearly 10 million citizens. And the most recent credible poll shows that the majority of those citizens—58 percent—are in fact little concerned about the sweeping judicial "reforms" just proposed by Justice Minister Yariv Levin, which would make the parliament effectively supreme over Israel's generally liberal Supreme Court. For most Israelis, those outside the realm of politics or media, life simply goes on much as before. There will be more protest demonstrations in the coming days, but the country's tested social resilience can survive even these turbulent times, and there will be no revolution against Netanyahu.
More important will be the resistance of Israel's powerful security professionals to other proposed rightwing initiatives. For example, the military chief of staff, Gen. Aviv Kochavi, has reportedly told Netanyahu that if the Border Patrol comes under cabinet firebrand Itamar Ben Gvir's control, that crucial unit should be moved out of the West Bank altogether. The commander of Israel's national police has warned publicly against further provocations, by Ben Gvir or others, at the Temple Mount in Jerusalem. And out of the public eye, the security apparatus seems determined to avoid another armed conflict with Hamas in Gaza. Thus, we witness this paradoxical spectacle: Israel's new government is adopting additional financial, travel, and other penalties against the Palestinian Authority in the West Bank and East Jerusalem—while avoiding any such new measures against Hamas, still sworn to Israel's destruction, in Gaza.
Also on the domestic front, and even less well understood abroad, are the internal divisions within the hardline right camp. A particularly striking case in point was the public statement by Moshe Gafni—a leader of the ultraorthodox Degel Hatorah faction of the United Torah Judaism camp in Netanyahu's coalition—that Ben Gvir's latest visit to the Temple Mount was both a violation of Jewish law and a "needless, useless provocation." On the other hand, Gafni and his party are bitterly opposed to gay rights—while Netanyahu's own Likud party just successfully nominated Israel's first openly gay Speaker of Parliament, Amir Ohana. And some in the traditional national religious milieu resent the ultraorthodox for avoiding military service and contributing but little to Israel's economy. Netanyahu can exploit all these divisions, and more, to refuse some demands by one group in his camp on the grounds that they would alienate a different group.
Looking further afield, two foreign actors—Americans and Arabs—will also urge caution on Netanyahu, probably to good effect. The U.S. government has all but stated that it will not attempt to intervene directly on purely internal Israeli issues, beyond mild rhetorical gestures. But Washington has also already urged more strongly—in the words of Defense Secretary Lloyd Austin to his new Israeli counterpart Yoav Gallant—that Israel avoid anything that would "undermine security and stability on the West Bank."
Here the motives, means, and limits of American influence on Netanyahu must be clarified. The U.S., long before Netanyahu's revival, has in practice abandoned pursuit of a "two-state solution" as an operational goal except in a very distant aspirational sense. Nor is this a matter of conditioning American economic aid to Israel on that or any other issue—if only because Israel's strong economy no longer needs American financial support. Rather, the key leverage at stake is U.S. coordination with Israel against Iran, which could be undermined by upheaval in East Jerusalem, Gaza, or the West Bank.
Netanyahu is all too well aware of this trade-off, and he is clearly stating that Iran remains his foremost foreign policy priority. He can therefore be expected to adjust his Palestinian policy accordingly, at least up to a point, even as the two-state solution slips ever further behind Israeli settlements into the hazy future. That endless grey zone is shifting rightward, but it is highly likely to remain grey. Outright annexation of the West Bank, whatever Netanyahu's coalition agreement says, is almost certainly off the table.
Much the same holds true, finally, of the Arab dimension of Netanyahu's emerging policy. He is determined to preserve and, if possible, expand his legacy Abraham Accords. And his actual and potential Arab partners have already made haste to condemn Ben Gvir's visit to the Temple Mount—while still hosting a high-level Negev Forum meeting with Israel, Morocco, Egypt, the UAE, and the U.S. in Abu Dhabi this very week. From Arab, Israeli, and American policy perspectives, this too is not all-or-nothing; a balance will be sought between bilateral normalization and progress (or at least stability) on the Palestinian front.
On the Arab street, that balance is well captured in polls supervised by the author just after Netanyahu's latest re-election. In the UAE, nearly half of citizens say that "people who want to have business or sports contacts with Israelis should be allowed to do so"—even though just a quarter think the Abraham Accords have already had a positive effect on the region as a whole. Remarkably, those percentages are almost identical in Saudi Arabia, which has yet to join those accords. And even more remarkably, the proportion in both countries who accept contacts with Israelis is quadruple the figure in Egypt, which has officially been at peace with Israel for over 40 years.
Altogether, then, Netanyahu will need to juggle the prospect of the decent relations he needs with Arabs, Americans, and his own Israeli public, against the demands of the most militant elements of his governing coalition. He will temporize, then compromise, and so probably remain in power. Ironically, he is for now the most realistic hope of containing the clear rightward drift of Israeli public policy, both at home and abroad. The next question is whether or not he will take on that unprecedented challenge quickly, before the end of March, when the coincidence of Ramadan and Passover once again threatens to ignite major tensions on the Temple Mount and beyond.
David Pollock is the Bernstein Fellow at The Washington Institute and director of Fikra Forum. This article was originally published on the Newslooks website.