What If It's Not a Tactic? Khamenei's Waning Faith in the JCPOA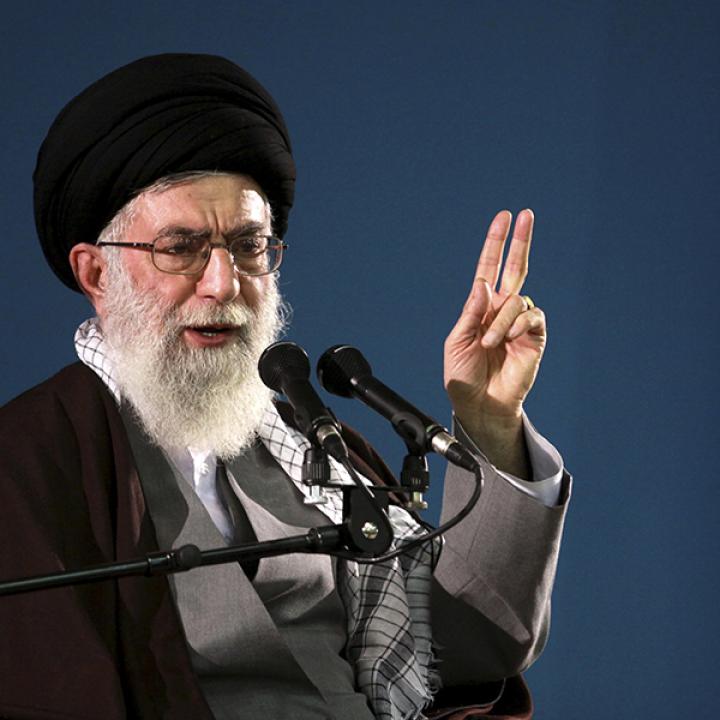 The Supreme Leader's rhetoric in recent months indicates that Iran's experience under the nuclear deal has made him gun-shy about returning to that framework.
Since early this year, Iran and the P5+1 countries have been negotiating to revive the 2015 nuclear deal in Vienna, where Western diplomats have been operating under the assumption that grinding through the process may eventually bear fruit. Yet months have passed and Iran is no less obstinate about sticking to its unrealistic preconditions.
One potential explanation for the mismatched expectations may lie in Supreme Leader Ali Khamenei's recent rhetoric and actions. On July 29, he used his last meeting with outgoing president Hassan Rouhani's cabinet to reiterate his position on the negotiations. In a speech televised nationally, Khamenei warned officials not to trust Western countries, since "they have no hesitation in breaching their [nuclear] commitments." He then urged officials to learn from the experience of Rouhani's administration and "utterly avoid tying their plans to negotiations with the West, for they will certainly fail." Instead, he advised the next government—which will take over once new president Ebrahim Raisi is sworn in on August 5—to rely on the country's domestic capabilities, a theme he often preaches as a means of reducing the Islamic Republic's vulnerability to external economic pressures.
Some might argue that such directives are part of a complicated ploy to squeeze more concessions out of Western negotiators. Yet Khamenei's words and policies hint that he may have genuinely lost all trust in the United States and its allies since 2015. If so, he may believe they will not honor any new nuclear terms reached in Vienna.
In January, for instance, he asserted that Iran is not "in a hurry" to return to the JCPOA and would do so only if Washington lifts all sanctions in advance. Failing that, he argued, U.S. resumption of the deal "may even be detrimental" to Iran.
He repeated this narrative in February, declaring that a U.S. return to the JCPOA "on paper" will not be enough, and that Iran will need to verify the actual removal of all sanctions before it returns to its own nuclear commitments. Similarly, his March 2021 Nowruz speech accused the Obama administration of lifting sanctions "on paper" while continuing to threaten and deter companies from doing business with Iran. Khamenei concluded that if his sanctions removal prerequisite is not met, "there is nothing wrong" with Iran sticking to the status quo, since "being in a rush may have more serious consequences than losing an opportunity."
The same risk-averse mindset was evident in last week's cabinet speech. Khamenei claimed that the United States "has not taken a single step forward" in the Vienna negotiations, and has instead made promises on paper about sanctions removal when "in practice it did not and will not" lift them. According to him, Washington also insisted that the nascent Vienna deal include language obligating Iran to participate in follow-up negotiations—even as U.S. officials refused to give guarantees that "they will abide by their commitments in the future."
The day after the speech, the Supreme Leader's office published an interview with the country's envoy to the International Atomic Energy Agency (IAEA), Kazem Gharibabadi, who broke down the ayatollah's remarks into specific grievances. Among other things, he claimed that the United States
tried to condition resumption of the JCPOA on Tehran's acceptance of separate negotiations regarding the regime's regional behavior;

refused to lift key sanctions or give Iran assurances that it will avoid the nuclear policies of past administrations;

raised excessive nuclear demands far beyond the scope of the JCPOA;

rejected the idea that Iran will return to its nuclear commitments only after it verifies that Washington has lifted sanctions.
So What's Next?
The coming weeks will reveal whether Khamenei is playing a complex negotiating game or truly believes that the risks of reentering the JCPOA without additional guarantees are too great. Absent a thorough verification process for U.S. sanctions removal as a first step, he may be willing to reject the JCPOA entirely, even if it means Iran will miss out on economic benefits and face new international pressures for failing to compromise.
In the meantime, the regime continues to partly restrict the IAEA's access to nuclear sites and expand its nuclear program (e.g., by enriching uranium to 60 percent, conducting R&D on advanced centrifuges, and producing uranium metal). Such moves could be another indication of hard bargaining on Khamenei's part—a way of pressuring Washington to give in to his maximalist approach or else risk escalation and further nuclear advancements. Yet U.S. officials have repeatedly rejected his demands. More important, they warn that the situation could soon reach a point at which returning to the JCPOA no longer makes sense for the United States, since the deal's restrictions will no longer provide sufficient advance notice of Iran reaching the nuclear weapons threshold (i.e., a "one-year breakout time"). One way or another, Khamenei's true motivations may be revealed shortly if he continues his brinksmanship strategy.
Omer Carmi (@Carmiomer), a former visiting fellow at The Washington Institute, previously led IDF analytical and research efforts pertaining to the Middle East.